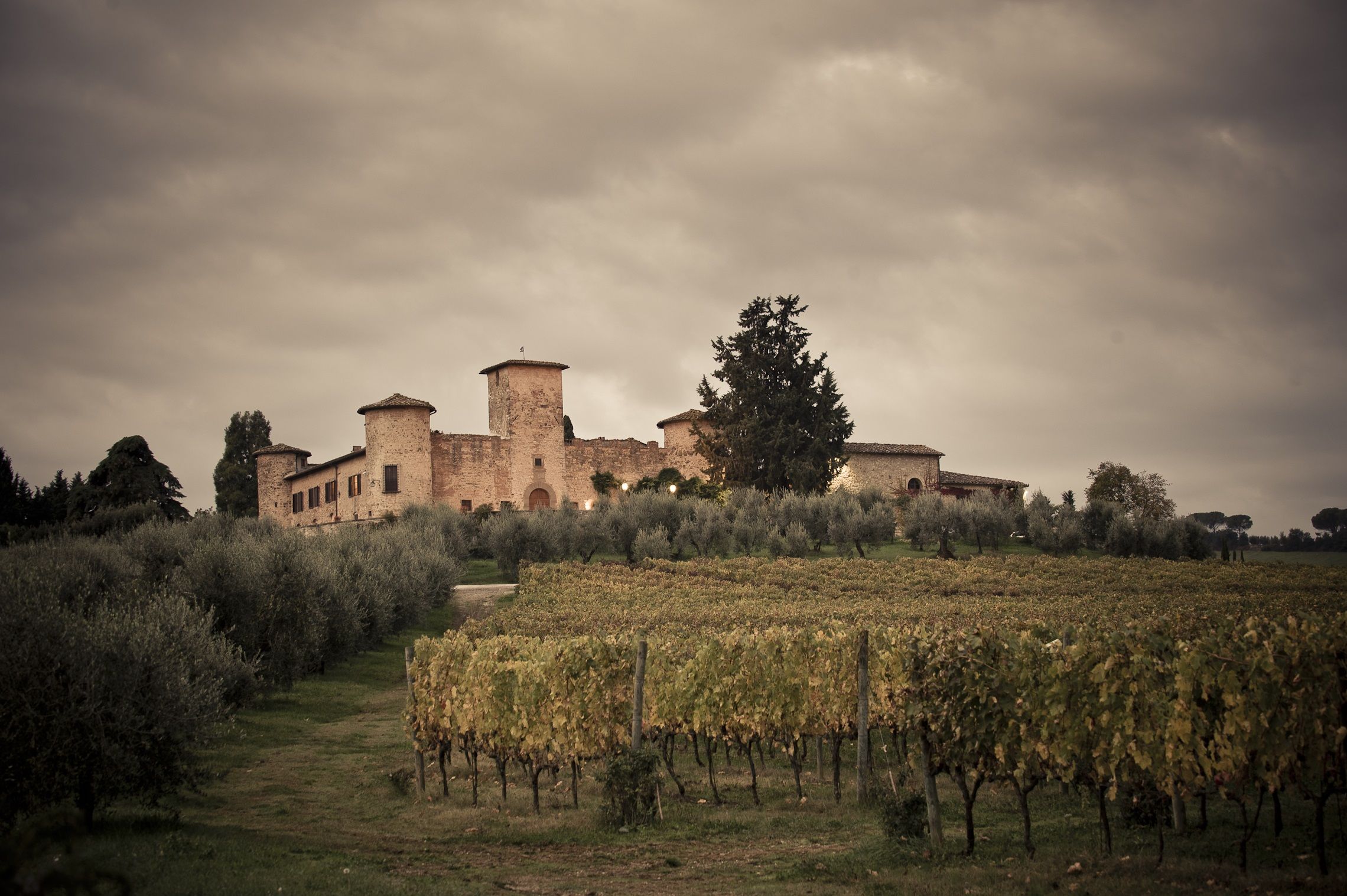 Photos Courtesy of Castello di Gabbiano
Before arriving in Tuscany, I tried to imagine what the Italian countryside would look like in the fall: trees slowly shedding their yellow and orange leaves, rows off grapevines rolling down the hills, layers of lush green mountains sitting solemnly in the distance. Driving around the winding roads to my accommodations at Castello di Gabbiano, I quickly saw that my assumptions were correct. It was exactly as pictured, yet something about it was really surprising.
Yes, my expectations had been met, but the way in which they were exceeded was completely overwhelming. Standing there at the entrance to the castle—staring out onto the most beautiful leaves, vines and mountains—it could only be described as surreal. It was soon evident that scenery this simplistically stunning was something that could never be captured on film or given justice by words…but of course that wouldn't stop me from trying.
Ten miles north of Florence, Castello di Gabbiano is perched on a hilltop in the heart of the Chianti Classico region. Not accessible by public transportation, a car or shuttle is necessary for the 40-minute drive from Florence Airport, Peretola to the castle. The tower at the center of the sprawling structure dates back to the 11th century, when it was built to defend a communication route stretching between Florence and Siena.
It later became owned by the prominent Bardi and Soderini families who both contributed to the expansion necessary to making it a home. The families that have since owned the property continued restoring it, making sure to maintain its distinctive French-influenced architectural design. Fun folklore: The people of Gabbiano like to pass down a story that Michelangelo used to stay at the castle. He was rumored to be good friends of the Soderinis and would relax under a tree in the front (where a stone table now sits) in hopes of drawing inspiration.
Upon arriving, guests enter through an enormous wooden door, before being shown to their accommodations. In case you should forget you're in a Tuscan castle, once inside your room, you are immediately reminded. The spacious space is outfitted almost entirely in calming whites and pale pinks including the large armoire, day bed, sitting area, desk, and sheer, flowing curtains, anchored by a gold chandelier hanging over the bed. There is also a splash of bright orange in the stand-up shower and exposed wooden beams above. The window next to the bed faces the same gorgeous view that initially greeted me.
Each of the eleven rooms has its own unique characteristics, but shares the same charming design elements. Some have bathtubs, others a fireplace and one even has stairs up to a loft with day bed and dresser—great if you're traveling with a friend or children. Fresh towels, a hairdryer, and iPod dock are provided, but no phone or television will be found, allowing the focus to be on relaxing in peace and quiet. My room happened to be next to the office and reception area, so it could be a little noisy from time to time when guests were arriving or departing. The upside (or downside if you're really looking to unplug) is the location has great Wi-Fi reception not often found throughout the rest of the castle.

Surrounding the estate is 340 acres of native vines that have been replanted and revitalized since 1996, made up of 80 percent Sangiovese, 14 percent Merlot, 5 percent experimental vines, and 1 percent San Colombano, Malvasia. Using both modern techniques and ancient, manual methods in the growing and fermentation processes ensures the product is of the highest quality while maintaining clear ties to the land in which it was grown. Their newest blend, Solatio I.G.T. Rosso di Toscana, will be available in the U.S. in the next year. The smooth, light and fruity wine is comprised of 50 percent Syrah, 45 percent Cabernet Sauvignon, and 5 percent Sangiovese, and pairs well with red meat and aged cheeses—which I can personally attest to, having enjoyed some local Pecorino with a glass over lunch.
Behind the main structure in a 16th century farmhouse is the castle's restaurant, Il Cavaliere where you can enjoy lunch in front of its arched open windows exposing the vineyards laying just outside. Also adjacent to the dining room is the spice and vegetable gardens used by Chef Paolo and his staff to create the ultimate in farm-to-table dishes throughout the day. Guests can also arrange for themed menus, special tastings, private dinners or cooking classes.
During a private cooking lesson alongside Chef Paolo, guests can make such dishes as a shaved artichoke salad with pecorino, pancetta and Castello di Gabbiano's own olive oil that they press not too far from the property. My favorite part was learning how to make homemade cavatelli—kneading the dough, indenting each piece, and waiting only a minute for them to cook. Sitting down to the prepared meal, looking out onto the land where the ingredients were picked was a definite highlight of the trip.
After five days of learning all about Gabbiano's winemaking, olive oil pressing, pasta rolling, and longtime traditions, I was racking my brain for a way to stay. Perhaps Chef Paolo was impressed by my cavatelli technique and needed an extra hand in the kitchen? Unfortunately, he has all the professional chefs he needs on staff so it was time to head home…but not before taking in that epic view one last time. I could attempt to describe it again, but it's truly one of those things you have to see for yourself to understand.