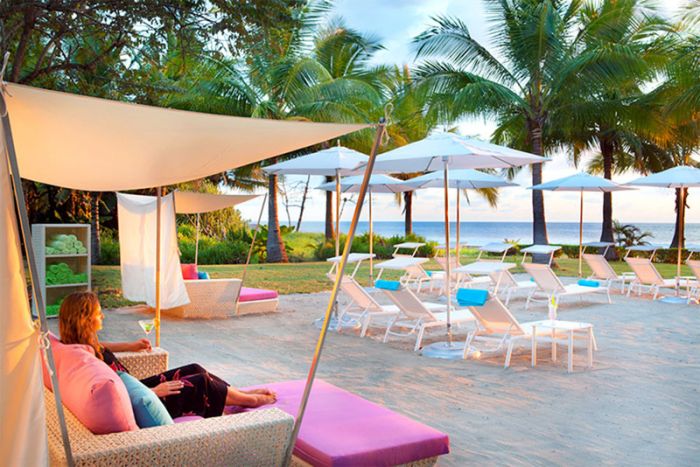 Photos Courtesy of Azul Ocean Club
Last year, Costa Rica tourism set a new record with 2.6 million visitors making their way to the Central American country. As tourism grows each year, it can be challenging to find your little piece of heaven that has both a local feel and just enough attractions to fulfill your touristy itch.
In that way, Azul Ocean Club hotel is a nice departure from the larger hotel brands that sprinkle the busier areas of the Central American country. Sitting on the Guanacaste coast, the boutique hotel is a 90-minute drive from Liberia International Airport (LIR) or four hours from San Jose International Airport (SJO).
Of the 15 air-conditioned units, guests can either book a deluxe guestroom or one of the one- and two-bedroom villas. Surrounded by tropical forests and lush gardens, the contemporary accommodations offer little in the way of plush furnishings but rather opt for clean white décor with minimal splashes of bold colors. In the two-story, two-bedroom villa which sleeps six adults, the main floor holds the kitchen, sitting room, dining room, second bedroom and a hammock on the balcony. The master sits on the second floor with a king-sized bed, private balcony and a rain fall shower in the spacious bathroom.
When not in your villa, the property has a variety of tours and recreational activities on offer for exploring the small town or other areas of Costa Rica. Whether you traveled to surf, snorkel, sport fish or practice yoga on the beach, Azul can help you with your plans and suggest the best options for getting your adventures started. They also have guided tours such as the zip-lining canopy tour which sends you in the air through the dry forest on 10 suspended cables sitting over 390 feet high.
Nearby are also five different beaches including Negra (Black) Beach which is famous for its world-class waves and break. Considered one of Guanacaste's most popular, it is great spot for surf junkies as well as sun bathers. As a socially responsible hotel, it's also fitting that close-by is the Costa Rica Ostional Wildlife Refuge, one of the country's most important sea-turtle nesting sites. The refuge safeguards marine wildlife and acts as a refuge for Leatherbacks, Olive Ridley, and Green turtles nesting ashore throughout the year.
BLUE 47 and Seaside restaurants are the hotel's two dining options with BLUE being the more formal of the two. Seaside serves lighter meals near the pool. There is also a spa on the property that offers the latest massage techniques, aromatherapy, hot rocks, bamboo, and couples massages.
Azul Ocean Club may be one of Costa Rica's best kept secrets with just enough seclusion to make your trip intimate and just enough activities to feel like you had a chance to get to know the country better. Rooms begin at around $104 a night and include breakfast and complimentary Wi-Fi.
See more of our Best Luxury Villas here.