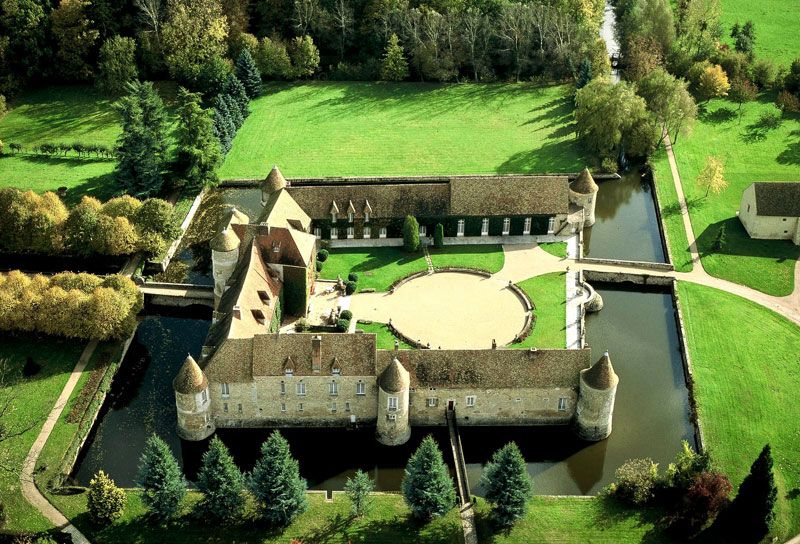 Photos Courtesy of Chateau Villiers le Mahieu
France is remarkable; a place known for its pastries, luxury shopping and storied past filled with artists such as Picasso, Monet, and Degas; and at one time was one of the most powerful countries in Europe. But there's something to be said about the traveler who—instead of booking a hotel in the heart of Paris—looks to stay at a chateau hidden in the French countryside to really immerse themselves into the culture.
While Paris is not to be missed during your first French vacation, for those who've experienced it many times before, Chateau Villiers le Mahieu, might be worth the 30-minute trek from The City of Lights.
The villa is a 17th century residence surrounded by a lagoon, lush green trees and manicured lawns, a nice departure from the busy Parisian city life. From the moment you enter through the wrought iron gates, the 93-room hotel immediately takes you back to medieval times. Inside, rock walls pair with modern furnishings that make up the elegant décor.
Designed with monochromatic themes, neo-classical curves and warm colors, the accommodations have all been furnished in unique ways with all the conveniences of a luxury hotel. Some offer valentine-reds and purples while others pinks, blues and off-white hues. Each comes with plush sofas, expensive fabrics, palatial beds, LCD televisions, and internet access. Only 67 come with air-conditioning, however, so be sure to ask prior to booking if visiting during the warmer months.

Chateau Villiers le Mahieu is great for simply relaxing and soaking in all that the countryside has to offer. Yet, if wanting to add some activities to your day, you can find tennis, biking, boating, billiards, table tennis, boules and swimming within the property. The villa's nearly 23,000-square-foot spa is a nice perk for the chateau, and features a posh blue-lit pool, hammam, sensory room, well-equipped fitness center, and a sauna. Also on site is a restaurant and bar where you can mingle with other guests or enjoy a romantic dinner outside by an orchard on the lawns.
Traveling comes in many forms, and for those that do it often, sometimes going off-the-beaten path proves the most rewarding. The 800-year-old building is sure to come with many stories, and if you're lucky, you may even get to hear some of them. Rates begin at 273 € (USD $378) a night and discounted rooms are available for corporate events or wedding parties.