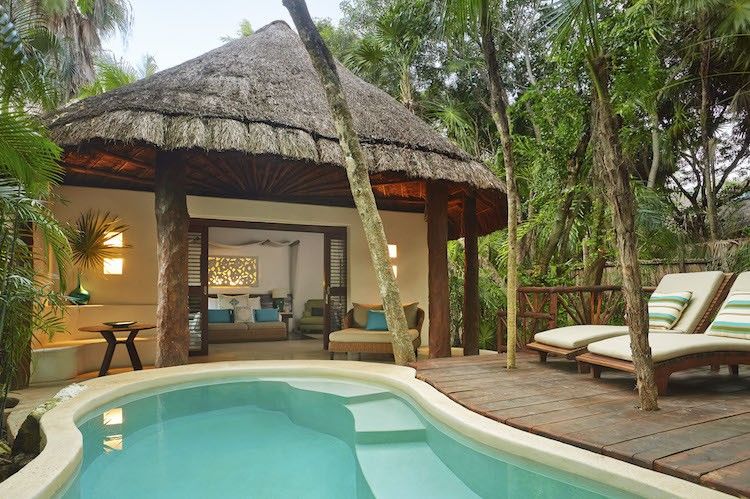 Photos Courtesy of Viceroy Riviera Maya
There is quite simply no other luxury boutique property on Mexico's captivating Playa del Carmen to compare to the Viceroy Riviera Maya. There are bigger hotels, flashier resorts and properties with crowded bars and longer swimming pools, but nothing can match the Viceroy's sheer beauty, perfect harmony with its natural setting, privacy, romance and great design. On a recent visit to the area I checked out the resort's newly-built Signature Villas, a subtle yet artful upgrade to the property's posh accommodations which number just 41 and each occupying its own swathe of lush jungle. The unspoiled six-acre sanctuary fronting an enchanting stretch of pristine white sand beach is justifiably renowned among elite travelers who now have even more reason to visit.
The Signature Villas offer a perfected floor plan encompassing 1,400 square feet of living space crowned by a thatched roof that blends into the rich greenery. As with the property's other top-drawer accommodations, they offer spacious private patios with heated plunge pools, baths with deep soaking tubs, indoor and outdoor rain showers, king-size beds with Egyptian cotton bedding, and separate dressing areas with his and hers closets. One of the elegant oasis' ingenious touches are bamboo screens that can be removed for better views from the back terrace or left in place for maximum privacy. As always, the resort's service is pitch perfect without being intrusive.
Celebrities and jet setters can also check in to the ultra posh 2,900-square-foot Ocean View Two Level Villa, one of Mexico's most exclusive retreats. The duplex villa is decked out with lounging and dining areas, a guest bath and private swimming pool. A spiral wooden staircase leads to the villa's opulent master bedroom opening onto its own oversized, ocean-view terrace large enough to host intimate cocktails or catered meals. And one cut above the Signature Villas are the 1,700-square-foot Premium Villas, topped only by the handful of suites with ocean views or direct beach access. Aside from the duplex there are now six categories of villas at the property, all of them offering world class indulgence.
"Eco-luxe" is the perfect term to define the resort, and finds its ideal expression in the décor of the Signature Villas, which convey the right note of luxury without being gaudy or distracting. Natural materials and earthy palettes set off by rich wood, stone, linen and pottery mixed with touches of plant life create an elegant, soothing retreat. Custom furniture and upholstery with finishes unique to the property reinforce the individuality and personality of the resort. The magical, sensuous setting amidst the palm trees and tropical vegetation, is neither too manicured nor threateningly wild. It could not be replicated by any gardener, but is rather the result of careful integration with the native landscape.
The Viceroy also offers two dining venues, a fitness center, library lounge and the seaside Wayak Spa. Unlike with many luxury hotels though, the spa has not been turned into a cookie-cutter brand but rather has an emphasis on the natural beauty and local tradition. It offers Mayan-style temazcal sauna baths, massages, facials, and treatments using natural marine elements combined with native, aromatic herbs in a natural setting designed to soothe and reinvigorate. In addition to the two dining venues there is also a comprehensive room service menu and as always the Viceroy's "dine anywhere, anytime" policy allows guests to set their own schedule.

The signature fine dining venue, La Marea, is overseen by Chef Jetzabel Rojas Barragán's who presents artful contemporary interpretations of Mexican cuisine with Mediterranean influences. Barragán, a graduate of the culinary Institute of Mexico, gained early experience in restaurants in the United States and was profoundly influenced by renowned restaurateur Thomas Keller of The French Laundry and Per Se fame. Most recently the resort is began offering a Master Grilling Class taught by Barragán. With a partially open dining area, the eatery overlooks the swimming pool romantically lit by hanging lanterns at night.
The Viceroy Riviera Maya has always attracted an A-list clientele, but with the addition of the new Signature Villas, there may be more famous faces than ever at the resort. So don't be surprised if you see a certain famous actor or actress hanging out by the pool.