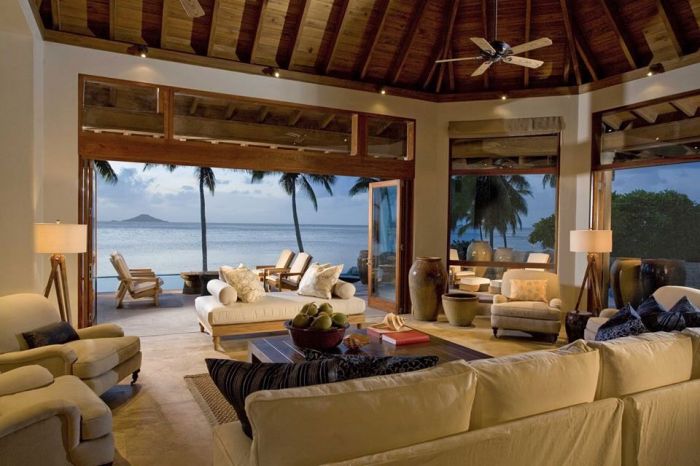 Photos Courtesy of Villa Aquamare
While house parties are fun in the moment, there's no denying that cleanup is a chore that may have hosts second guessing throwing another. Solution? Throw your party elsewhere and let someone else do the dirty work. Villa Aquamare in the British Virgin Islands invites you to have the Ultimate House Party for up to 30 people on their private semi compound estate composed of three of the resort's villas.
And, with the sheer seclusion offered to those staying at the Virgin Gorda enclave, the party can be as exciting or as chill and elegant as guests like and can go on for however long they wish. We sense a win-win here!
Coming in at $51,500 for seven nights of unapologetically luxurious living, the package comes with three 8,000-square-foot villas, each with five bedrooms, terraces, full gourmet kitchens, private infinity pools and more. And, while the Ultimate House Party offer is an ideal for family reunions and celebratory events, it's also the perfect reason to throw a party just because.
Along with its stellar accommodations, the package also comes with a number of features to further set itself apart from other vacations. These include an airport or Spanish Town Marina meet & greet to help get acquainted with the area, land transfers to Villa Aquamare, access to Beach Park and its offshore reef as well as kayaks and snorkeling equipment to take the fun to the refreshing waters.
What would you do with your seven days at Villa Aquamare for your Ultimate House Party? Would you take family or friends (we're happy to join, in case you were wondering)? Let us know in the comments below!