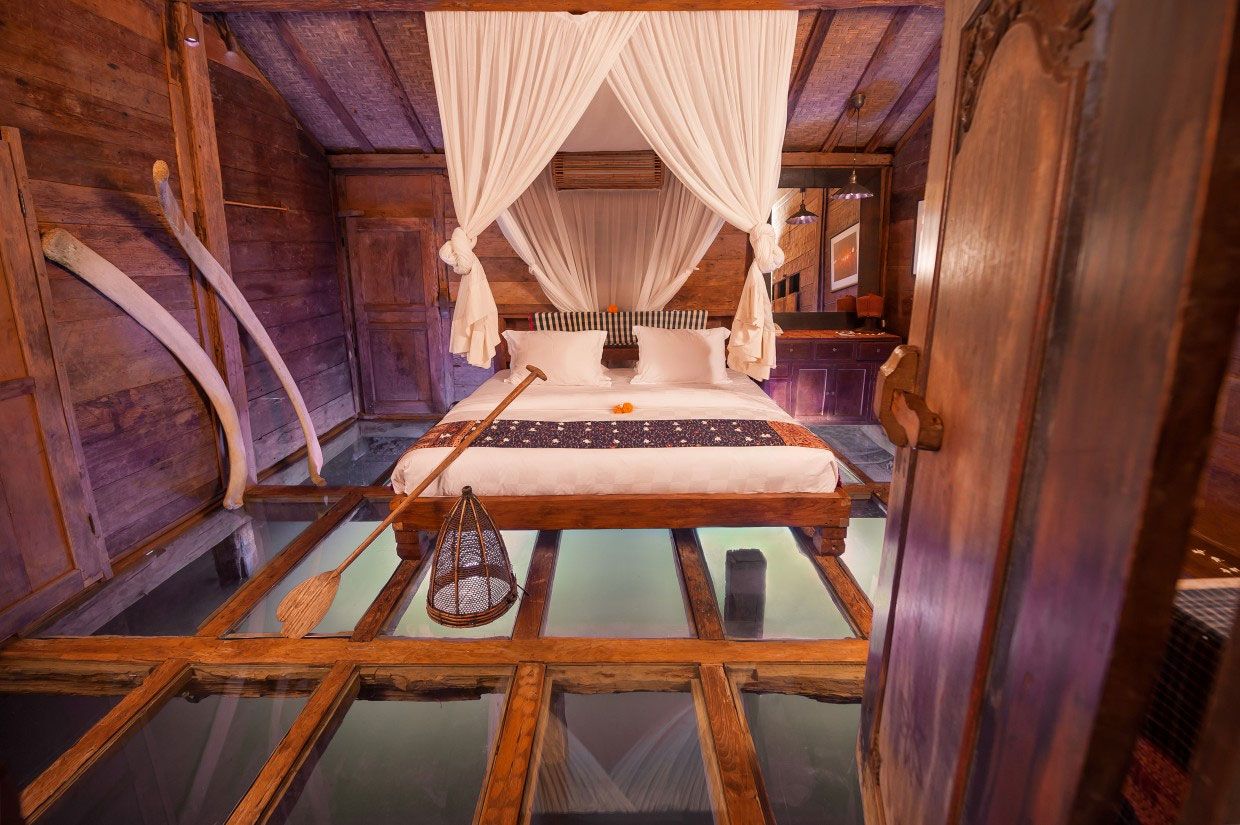 Photos Courtesy of Bambu Indah
Originally meant to be 11 private homes in Bali for hosting their friends and family, Canadian-born jewelry designer John Hardy and his wife's collection of antique Javanese houses are now used as an eco-friendly boutique hotel in Ubud. Bambu Indah, translated beautiful bamboo, celebrates Balinese culture and modern luxury through sustainable practices.
In 2013 the property won the HICAP Sustainable Operations award, an accolade launched in 2007 with the "aim of recognizing hotel operators and developers in the Asia Pacific region who demonstrate exemplary sustainable practices and environmentally and culturally responsible development." Using restored antique houses paired with sustainable bamboo instead of concrete, the stilted buildings can be moved or removed with minor effects to the earth.
Of their 11 villas, the Udang House may be the most unique of the bunch. The home sits above a fresh shrimp pond and inside the bedroom, tempered glass floor panels allow guests a sneak peek into the underwater world underneath them. With minimal décor, the room's main focus centers on the stunning views below with only a king bed, vanity and authentic shrimp basket lamps furnishing the room.
In the bathroom, natural light fills the space under a glass-tiled roof and the shower is partially indoors and outdoors. In the evenings, the Balinese moon shines through, creating a romantic atmosphere that merges with the island's cool breezes and the organic sounds of its surroundings. Outside, your private porch offers a small table with chairs and a cushioned bench to relax in while viewing out onto the fresh water fountain that supplies the hotel's natural pool.
The Kolam (or swimming pool) is completely man-made and free of chemicals and concrete. To create it, the property dug a hole into the ground and lined it with recyclable high-density polyethylene. To naturally cleanse, filter and oxygenate the water, they then created a vegetation regeneration zone and lava stones to nurture beneficial bacteria. Surrounded by large mountain stones, palm trees and lush foliage, the clear, pure pool is so clean you could actually drink it. That is, if you don't mind having fish swim through your drinking water.
As Bali is all about relaxing, the owners made sure to include a spa. Guests have the option of receiving treatments at the facility or within the privacy of their house. Based on their current menu, they do not offer facials but do have manicure and pedicure treatments and an array of massages available, including Balinese-inspired therapies.
At Minang House, morning yoga sessions, special events and private dinners take place in this stunning structure. Having visited Padang highlands in Sumatra, a Fulbright scholar discovered a great Minangkabau Rumah Gadang (large clan house), the last of its kind. Wanting to create a similar one for the property, she measured it exactly and offered to create a replica out of sustainable black bamboo from the forests of Java. What remains is a beautiful piece of art made from various woods with no straight lines, walls or poles and each curve of the roof has the exact symmetry of a rising full moon.
When it comes to dining, like everything else about the hotel, Dapoer features local cuisine and organic produce farmed from the property's own vegetable and herb garden. With natural fertilizers and by composting waste, the garden remains free of unwanted chemicals and pesticides. They are also committed to using at least 75 percent Indonesian-produced ingredients.
Its natural beauty aside, Bambu Indah is a good choice for eco-travelers who prefer trekking off the beaten path. It is designed in a way to embrace nature which means you will most likely encounter mosquitoes, bugs and dirt, but at least you'll get a chance to fully appreciate Bali for all its character. Because the property is made up of flat-stone pathways and wooden bridges, it is not a recommended destination for those in wheelchairs or with strollers. Rates for the Udang House begin at $195 a night (a steal, really) and includes daily breakfast, afternoon tea, housekeeping services, private bathrooms, air-conditioning, complimentary wireless internet and refrigerators with a mini bar.