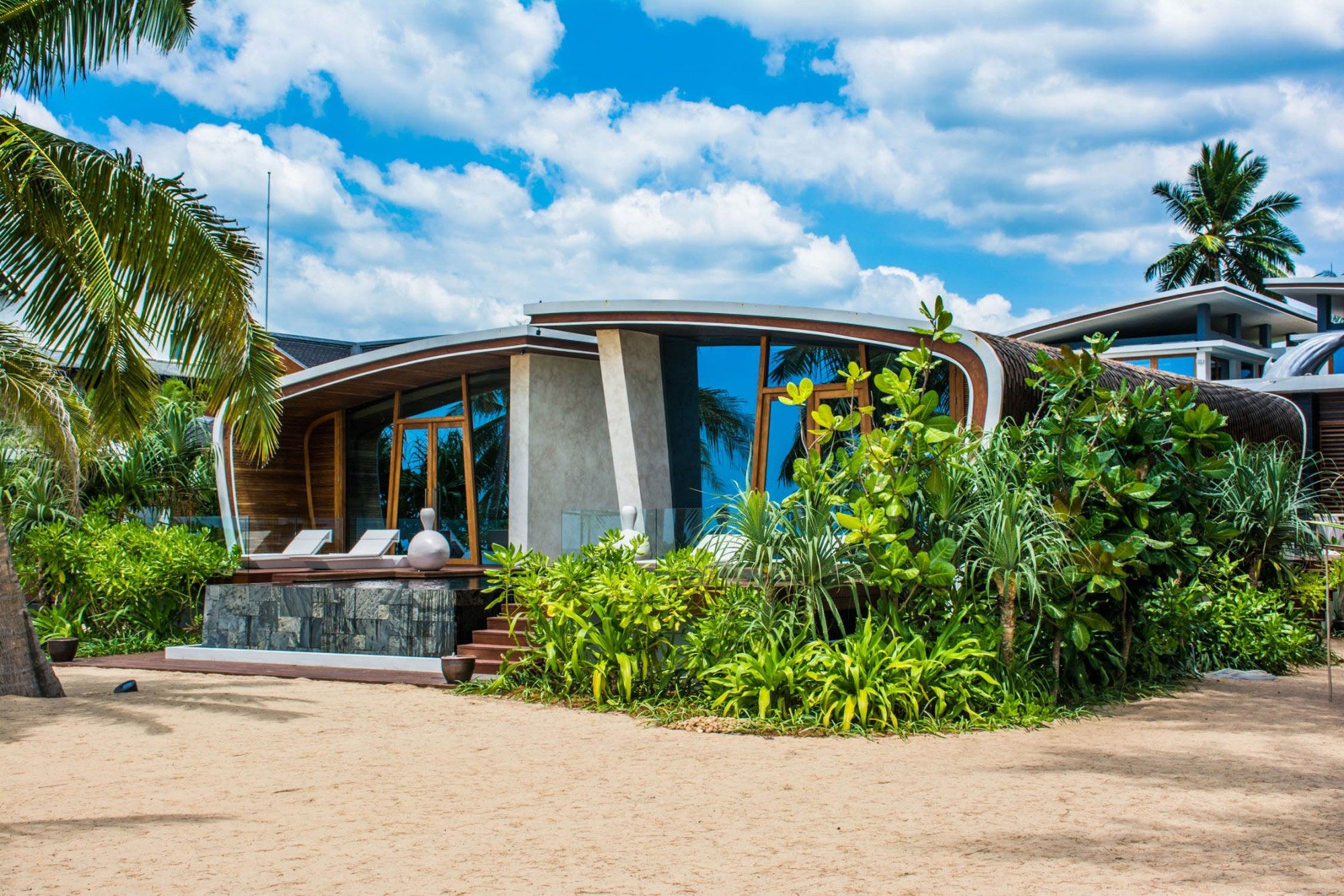 Photo Credit: No Destinations
An architectural masterpiece, Iniala Beach House in Phuket is a place where no indulgence is out of reach, itineraries are tailored to fit your desires and exclusivity is key; it's the stuff of dreams. This property in Thailand is home to a few beachfront villas decorated with the most creative art and furniture you can find from around the world. It is also a place where guests can hire the best chefs and sommeliers around to prepare your meals. It's a place where relaxing on the beach under the warm sun is just another day in paradise.
Staying at the ultra-exclusive Iniala is like having your very own secluded beachfront villa with a USD $200,000 bed to sleep in. It's a place that is completely over the top, totally innovative, and yet still manages to feel completely laid back. This type of indulgence is rare. It's meant for business tycoons and heirs to great fortunes but is just as comfortable for avid travelers looking to relax for a week. Guests are treated to an indulgent experience that will definitely leave them wanting more.
Photo Credit: No Destinations
Your Own Private Hub
In terms of accommodations, guests can choose to book suites or villas. The latter come complete with a dedicated team including a driver, butler, chef, spa therapist and a housekeeper. Ours was the Collector's Villa, which is three large separate suites configured to form a sprawling residence, with a large infinity pool in the center. The residences includes a separate glass-enclosed dining room, living room and a private spa, all located directly on the beach. Should you want to screen the latest movie with 21 of your closest friends, that can easily be arranged in your own private cinema room as well.
The beachfront views aren't the only thing that stand out though. The architecture of the villa and the art that fills it, are equally (if not more) impressive. From walls covered in custom ceramics to an Edra "octopus" couch in the living room, to the spa completely fitted with mother of pearl, this villa will get any art/architecture aficionado giddy. The details aren't to be missed in this masterpiece. Every facet of Iniala has been carefully curated by the best, and it shows.
Photo Credit: No Destinations
The room we settled into was the Owners Suite designed by Jamie Hayon from Spain, complete with an oversized bathroom, Jo Malone amenities and of course, a bright and sunny porch leading straight to the beach. The design was elegant, had wraparound floor-to-ceiling windows, a large cocoon-like bed and minimal furniture. Nervous at first, I began to acquaint myself with our new surroundings. I was a bit afraid to touch anything, but that only lasted until we were treated to a glass of wine and freshly made macaroons. A perfect place to call home for the next few days.
Photo Credit: No Destinations
A Typical Day Here is Anything but Normal
Hungry? Just ask for anything you are in the mood for and the chef will prepare it. Thirsty? The sommelier will be happy to recommend a wine from their vast collection or create a cocktail of your choosing. If you're in the mood for a spa treatment, tell your villa manager what time works best for you. Basically, whatever you're in the mood to do, is easily within reach.
We started our days with coffee on the patio followed by a dip in the ocean, and perhaps even a little kayaking. For breakfast we enjoyed fresh baked breads (prepared at Iniala's private bakery), freshly made juices, and an extensive menu selected that day by the chef. Afterwards we'd head over to the pool, or onto the beach and enjoy the incredibly calm, and oh-so-warm ocean water.
Photo Credit: No Destinations
Lunch is served in the beautiful glass-enclosed dining room overlooking the beach, and like breakfast, the menu is tailored to your own personal preferences. All the meals are freshly-prepared, healthy and incredibly delicious.
During the day, guests can take advantage of the personal trainers that the property has, and try your hand at various fitness classes such as Muy Thai boxing. After an hour of learning some basic moves during the class, we were ready for something a little less strenuous, so we headed over to the spa for a massage. Our treatments ended right before the sunset, so wrapped in our robes, we settled into one of the many balconies overlooking the ocean to take it all in. Like clockwork I would daily fall asleep here for a few minutes until being awoken by our delivered afternoon margaritas. This is what Iniala is all about; over the top service, an anything-goes attitude, and somehow they've managed to find a way to keep the demeanor barefoot luxury.
Photo Credit: No Destinations
Basque-Inspired Cuisine at Aziamendi
If you're going to go through the time and effort to create something as extraordinary as Iniala then you might as well kick it up another notch and create a gourmet restaurant to match. Aziamendi is the brain child of three-Michelin Star Chef Eneko Atxa from Spain and his Chef de Cuisine Alex Burger. Together they serve a highly-creative degustation menu with superb wine pairings. Whether you're a guest or are staying elsewhere in Phuket, Aziamendi is open to anyone who appreciates creative foods in a stunning environment.
Dining at the restaurant is not just about eating, there is a whole experience that accompanies it. You'll start your night in the art gallery with a cocktail (or two) amongst a fabulous art collection. You can even play pool on a Swarovski pool table if you want, as you snack on gourmet pinchos. Once done with drinks, guests are led down a path towards the restaurant where a few surprises await. During our dinner we were given some fresh hibiscus juice before being led to the garden where we sampled a cherry tomato from a blooming bonsai tree, complete with edible bark.
Photo Credit: Iniala Beach
Upon entering Aziamendi, you immediately notice the beautiful art from around the world, the unique architecture, and the dark and sexy vibe of the restaurant. As dinner started we were greeted by head sommelier Fabien Etienne who explained the wines we would be drinking. That night we tried their seven-course tasting menu which featured truffle eggs, foie gras ash, oxtail ravioli and duck a l'orange among other dishes. If you had to categorize the cuisine being served, it would be Basque-inspired, with a little bit of local Thai influence.
We had a chance to chat with everyone from the baker to the chef, to the sommelier and the general manager, and the attitude is the same, they know good food and they are all extremely passionate about what they are creating. On our own travels, we've found that for a restaurant to be extraordinary, it must have three components: an impressive ambiance, stellar service and incredible food. Aziamendi delivered on all three.
Photo Credit: No Destinations
Would We Go Again?
Easily, yes. A hundred times yes! From the amazing service and food, to the fantastic accommodations and location, Iniala does not disappoint. What I love most about it is that they have managed to effortlessly combine a luxury experience with a very laid-back and easy-going atmosphere. It's extremely exclusive without being pretentious, and it's exactly the type of place that we love. The only negative about our entire experience was getting into the car and leaving.
Photo Credit: No Destinations
Photo Credit: No Destinations
Photo Credit: No Destinations
Photo Credit: No Destinations
Photo Credit: No Destinations
Photo Credit: No Destinations
Photo Credit: No Destinations