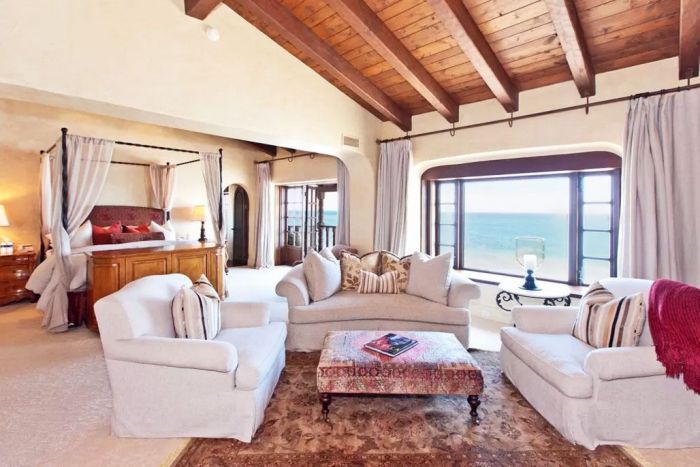 Photo Credit: Airbnb
These days, it feels like you can rent out just about anyone's house through home-sharing sites. Not only can you sleep in one-of-a-kind units around the world, you can also sleep in your favorite celebrity's bed too! Maybe not their current place of residence, but thanks to the sharing economy, you can now get cozy in the former homes of Hollywood A-listers. To get a glimpse of where Sonny and Cher wrote songs or what Denzel Washington considered a good real estate investment, here is a look at six celebrity-approved vacation rentals you can book right now:
Photo Credit: Airbnb
Julie Andrews — Hudson Valley, NY
The Rubber House in Accord, NY calls itself, "an architectural case study home nestled in prehistoric boulders," and goes on to say it is a space for creative types seeking inspiration and seclusion. Built for famed choreographer Eugene Loring and his partner, the studio was at one time owned by Oscar-winning actress Julie Andrews. Located by the Mohonk nature preserve, the house is surrounded by giant, moss-covered prehistoric boulders within a forest of trees. Designed by architect Tom Pritchard, from the outside, the unconventional home boasts a modern look with a grey, metal exterior and large windows. Inside, the residence features two bedrooms, 2.5 baths and accommodates four guests. The vaulted glass chef's kitchen is the highlight of the home which is situated next to the open living and dining rooms. Along with a fireplace and library, the estate's amenities include a writer's tower and a dance studio with 20-foot skylit ceilings and a wall of mirrors. The master comes with its own fireplace and 270-degree views over the private meadow. The home rents for $350 a night.
Photo Credit: Airbnb
Denzel Washington — Malibu, CA
Prior to Denzel Washington residing in this three-bedroom Malibu residence, American recording artists Captain & Tennille called this beachside retreat home. After the pair moved on, the Training Day actor took over the house, which sits on a 300-foot-high bluff and can accommodate up to eight guests. The three-bedroom, two-bath home boasts 180-degree views and is only a few yards away from Broad Beach. Exuding old Malibu charm, the estate features open-beamed ceilings, plenty of large windows and is surrounded by juniper and California pepper trees. Along with the main house, there's also a guest residence, detached gym, outdoor patio and a Jacuzzi tub. The home rents for $490 a night.
Photo Credit: Airbnb
Emily Blunt — Hollywood, CA
Known for her roles in movies like The Devil Wears Prada and Into the Woods, actress Emily Blunt's former LA home is listed on Airbnb with room for up to 16 guests. The residence sits on 3/4 of an acre in the Hollywood Hills and includes six bedrooms, eight beds, three bathrooms and views of the city. With over 3,000 square feet of space, the single-story home boasts an open plan living room, marble countertops, French doors opening to the patios, hardwood floors and Art Deco chandeliers. Out back, the patio includes lounge chairs and a Jacuzzi hot tub. The home rents for $795 a night.
Photo Credit: Acme House Co.
Kirk Douglas — Palm Springs, CA
In 1955, this Palm Springs residence was built for Oscar-winning actor Kirk Douglas. In the years since his ownership, the mid-century home has undergone renovations but has managed to retain its retro-chic vibe. Blurring the lines between indoor and outdoor living, the four-bedroom, three-bath estate features an open-style floor plan, modern décor, whimsical furnishings, bold splashes of color and an outdoor resort-style pool yard. The latter boasts al fresco dining for up to eight guests, an outdoor living room with fireplace, two-person outdoor shower, tanning deck and a barbecue. Located in the Movie Colony East neighborhood, it is just a quick walk to the Uptown Design District and Ruth Hardy Park and a mile away from the city's quaint restaurants, galleries and shops. The home rents for $2,020 a night.
Photo Credit: HomeAway
Frank Sinatra — Palm Springs, CA
Commissioned in 1947 by Frank Sinatra, architect, E. Stewart Williams set out to construct the crooner's dream estate in Palm Springs. The mid-century abode is a beautiful four-bedroom residence boasting the kind of classic Hollywood charm that Sinatra is known for. In fact, many of his original touches can still be seen throughout the property. Floor-to-ceiling windows, St. Charles cabinets, stone flooring, a gourmet kitchen with Viking appliances, and a great room with piano make up its interior furnishings and amenities. Outside, the piano-shaped pool and outdoor terrace are accompanied by a separate pool house equipped with changing cabanas, a wet bar and kitchenette. On two sides of the master bedroom, sliding glass doors open to the terrace, allowing for natural lighting and warm summer breezes to flow through. The house rents for $2,450 a night.
Photo Credit: Airbnb
Mariah Carey — Malibu, CA
Having one of the best and most recognizable voices in the music industry means living in any old house just won't do. Formerly Mariah Carey's place of residence, the four-bedroom, four-bath villa is perfectly-suited for a legendary diva, and rightfully so. Located right on the sands of Carbon Beach, the residence includes exposed-beam ceilings, two downstairs bedrooms, a living room with fireplace, gourmet kitchen, spacious entertaining area, an indoor/outdoor Jacuzzi and a master suite on the second level. The expansive master faces the ocean with its own private balcony and comes with a sitting room, bath suite and fireplace. The villa features stone flooring and warm, leather furnishings, hardwood accents and neutral colors, creating an inviting Mediterranean-style setting. From the house, it's only a short drive to Malibu's main hub. The home rents for $10,000 a night.