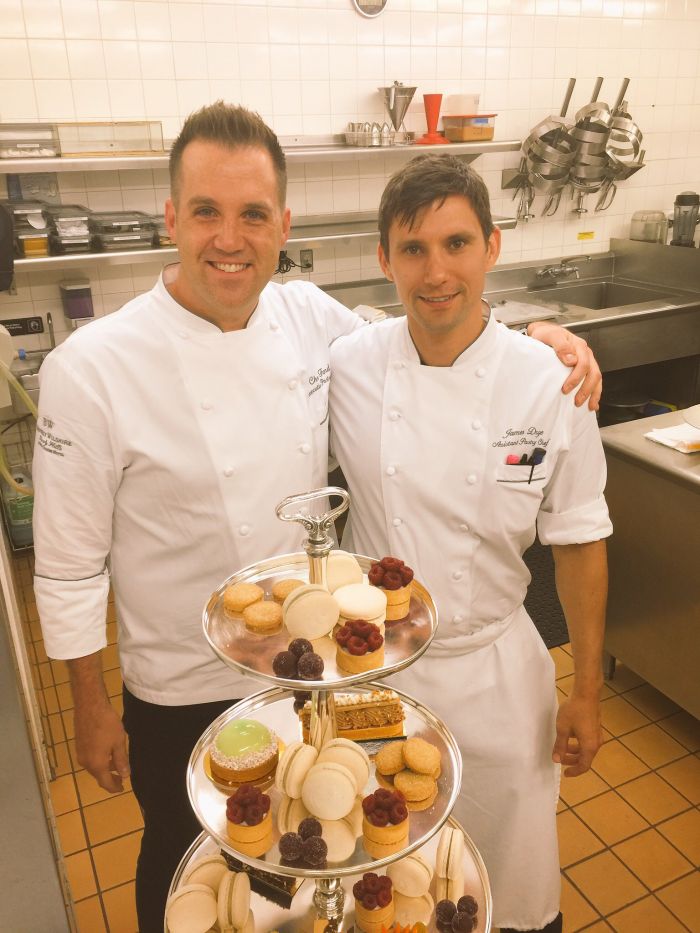 Photo Credit: Jill Weinlein
On Saturdays, at the luxurious Beverly Wilshire Hotel in Beverly Hills, the pastry kitchen located below the elegant lobby is blasting the Black Eyed Peas songs such as "Let's Get it Started" and "Where is the Love?" while Executive Pastry chef extrordinaire Chris Ford and his staff bake, mix, stir and glaze some of the most beautiful pastries in the world.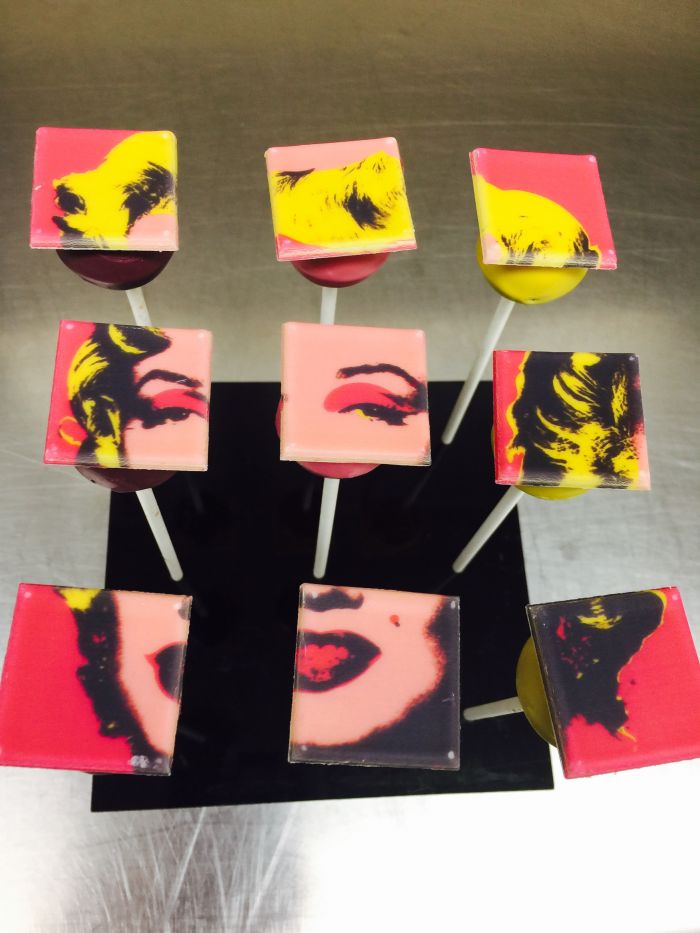 I was invited to take the stairs down into the heart of the hotel, the pastry kitchen, to meet Ford for a tour of his kitchen and make a dessert with him. This talented chef bakes for locals, visitors and guests dining at the world class hotel's restaurant THE Blvd. He also creates gorgeous treats for banquets and in-room dining for the 395 rooms and suites hotel.
Ford started cooking and baking over 12 years ago, while enrolled at the Le Cordon Bleu program in Orlando, Florida; one of his first jobs in a kitchen was at The Ritz-Carlton there. Within two years, he was hired as a sous chef at ChikaLicious in New York City.
He's worked in Virginia, Washington D.C. and at The Four Seasons in Baltimore, before coming to Beverly Hills to work at Thomas Keller's Bouchon Beverly Hills. When he had the opportunity to work with Bryan Voltaggio in Washington D.C., he went back to the East Coast and helped open a couple of restaurants.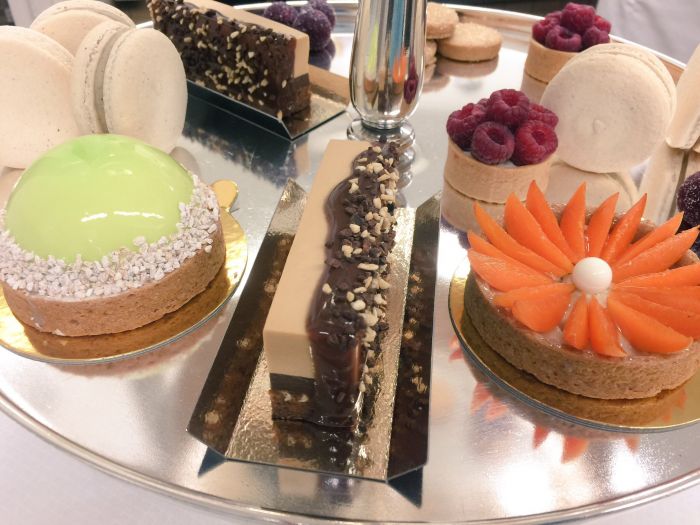 He likes working in hotels and is happy to be back with the Four Seasons Hotels. At The Beverly Wilshire his team includes Assistant Executive Pastry Chef James Drye. Also a Le Cordon Bleu graduate, Drye worked as a pastry chef at SoHo West Hollywood, before baking at the Beverly Wilshire Hotel.
These chefs make some of the coolest cake pops in Los Angeles. On one of the stainless steel counter tops was an Andy Warhol style Marilyn Monroe mosiac cake pop display. I learned during Mother's Day, actress and entrepreneur Jessica Alba was invited into the pastry kitchen with her children to make cake pops with Chris Ford.
After touring the kitchen that includes a seperate ice cream making room, chocolate room, two walk in coolers, a dry room and baking area, we learned how to assemble one of Ford's newest pastry creations: Pretty in Pink. Since raspberries are in season, this layered Mille-feuille dessert featured a caramelized puffed pastry sphere, raspberry pectin gels, pink raspberry mousse, whipped cream and marscapone kisses, and fresh raspberries, before crowned with a raspberry and rose water glazed shortbread donut.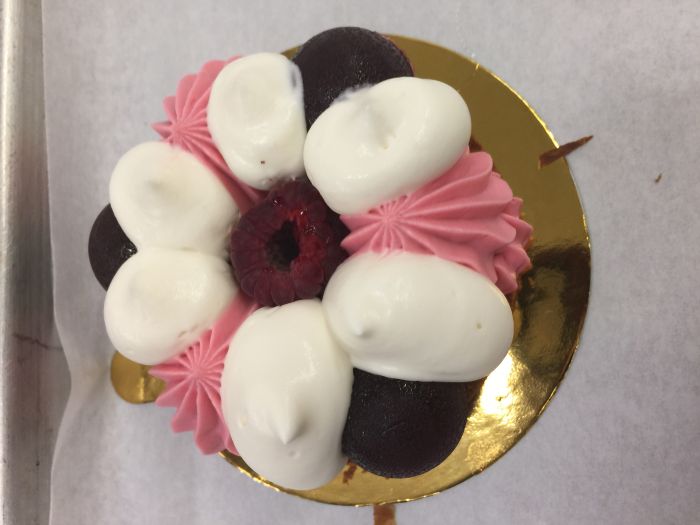 Step by step, Ford and Drye helped five of us assemble our sweet treats to take home in a box. Afterwards we all enjoyed beautiful apricot tarts that looked like flowers, picturesque Mille-feuilles and a Key Lime tart with key lime cremeux and a luscious lime glaze.
When not baking at the hotel, Ford enjoys walking his three small dogs around Marina del Rey and dining out for breakfast at J. Nichols Kitchen also in the Marina del Rey area for pancakes layered with a sunny side egg and barbecued pork.
With my Pretty in Pink dessert box in hand, Ford handed me a bag filled with his Butter Love and Hardwork treats. There were cellophane bags filled with handmade caramels, enhanced popcorn and scrumptious chocolate chip cookies.
To be inspired to recreate some of Ford's pastries, follow him at @ButterLoveandHardwork on Instagram and Twitter.