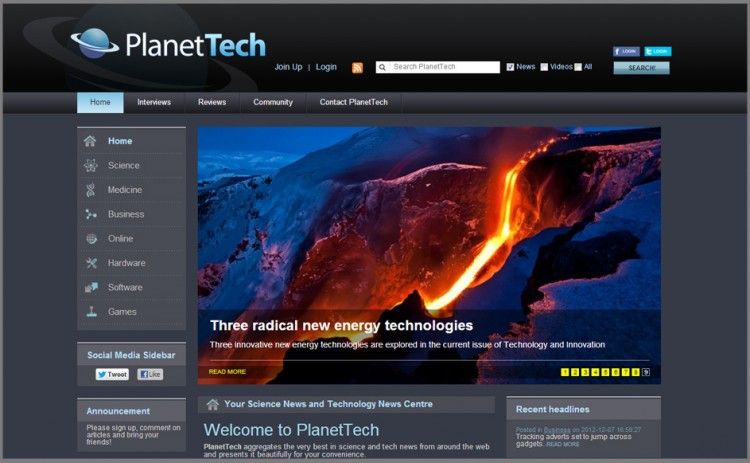 N/A
It used to be that if you wanted to gather the most up-to-date science and technology news, you would have to approach several resources to find it—archived university papers for scientific research studies; NASA.gov for aerospace news; a handful of pioneering upstarts for information about the current state of solar and wind power. And once you knew where to find your information, the sight wasn't necessarily pretty. In the world of science and tech writing, you are dealing with engineers, scientists, researchers, coders, mathematicians and other specialized professionals whose sole purpose is to educate readers on findings in their individual fields. "Pretty" isn't usually part of the formula.
PlanetTech News is changing that formula.
Articles found on this website have all been carefully selected in observance of the latest findings in science news and technology analyses. And for those of us who like a shot of pretty with our sci-tech stories—clean and elegant (Pinterest-friendly!) images align each article as well. The site features reviews of software, reviews of hardware, polls, and a social community where you can forge greater discussions with other engaged users.
"The clean navigation makes me want to dig deeper into the site. You can tell that they really thought about user experience when they were building the interface—refreshing for those of us who want our complicated information delivered in a simple way," says a new site user.
PlanetTech is the brainchild of Alex Muller, an undergraduate student at University College London (currently ranked amongst the top 20 universities in the world), where the Computer Science and Public Engagement departments have cast down enthusiastic support of PlanetTech's no-nonsense approach to gathering and distributing information. The approach —"[Our] team of experts searches the web to collect the very best in breaking news for science and technology. Only relevant and select information is posted each day. Recent topics have included space, environmental, medical and computer sciences. PlanetTech also covers cross-cutting business issues. Finally (considering our audience) we also cover some computer gaming news."
Originally intended for students at high school and university level, PlanetTech News is inadvertently inspiring a much broader audience with its well-placed site features.
Perhaps great timing is the secret weapon to the site's rapid-fire growth—as STEM disciplines become a more active part of the worldwide education story, this site in simultaneously offering an active solution. Users are impressed with the wide range of story topics (science, medicine, business, online, computer hardware, software and games,) and are quick to point out that PlanetTech is a "convenient hub of science and technology news that is neatly collated for both information and enjoyment."
Visit the official site: www.planettechnews.com
Engage on Twitter: @PlanetTechNews