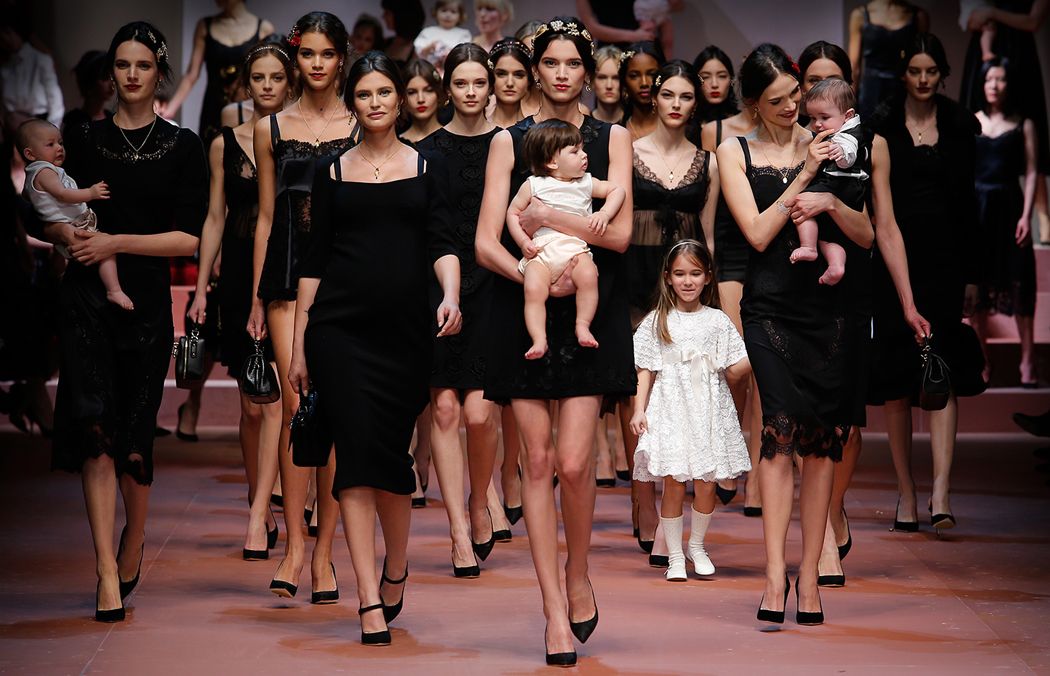 Photo Credit: Dolce & Gabbana
The fashion industry can, at times, be a walking oxymoron. Some remarks are fine, like Karl Lagerfeld's notorious fat comments, while others can be career altering—just ask John Galliano. Today Dolce & Gabbana are facing criticism for a comment made by Domenico Dolce in Italy's Panorama magazine. When talking about traditional families, a subject that the brand focused on during the F/W 2015 runway show, Dolce said, "You are born to a mother and a father. Or at least that's how it should be. I call children of chemistry 'synthetic children.' Rented wombs, semen chosen from a catalogue...psychiatrists are not ready to confront the effects of this experimentation."
Of course the comment incited backlash among celebrities and members of the community including Elton John who started a #BoycottDolceGabbana movement. "How dare you refer to my beautiful children as 'synthetic'. And shame on you for wagging your judgemental [sic] little fingers at IVF—a miracle that has allowed legions of loving people, both straight and gay, to fulfil [sic] their dream of having children." The singer responded on his Instagram. "Your archaic thinking is out of step with the times, just like your fashions. I shall never wear Dolce and Gabbana ever again. #BoycottDolceGabbana." John's response was met with support by names like Ricky Martin, Courtney Love and Victoria Beckham.
Stefano Gabbana supported his design partner by responding to the criticism with his own comment. "Now they are putting words that are not ours into our mouths, saying we're against gay adoptions. Not true. Domenico simply expressed his opinion on the traditional family and medically assisted fertilization," he explained to Corriere Della Sera. It's simply being used as an excuse to put words we never said into our mouths. We're for freedom. Everybody should make their own choices. Domenico has his ideas and has made his choices. Elton John has made different ones. Different choices. Different lives. Same respect."