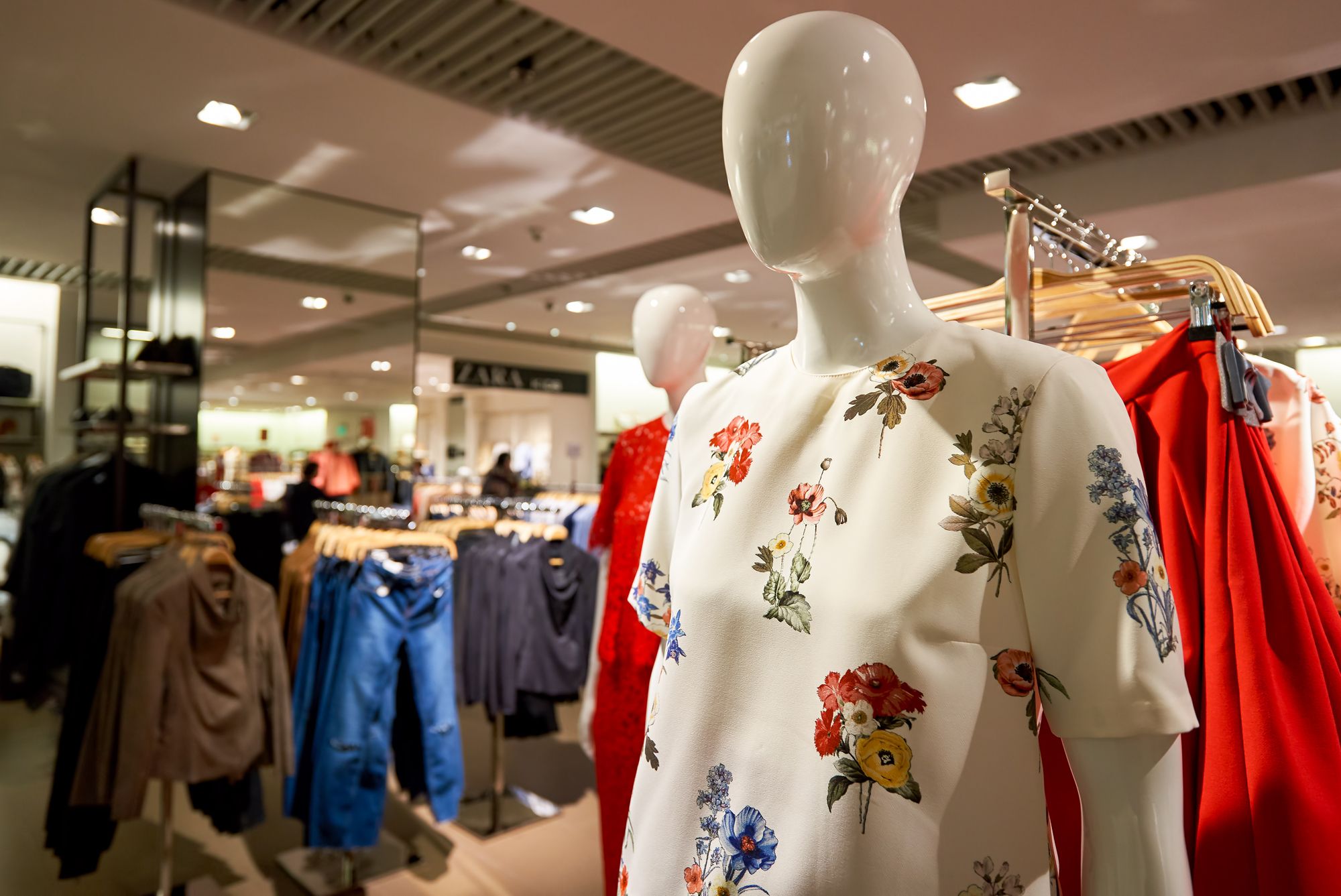 Photo Credit: Sorbis / Shutterstock.com
In a culture where everyone wants everything now, it's no surprise that fast fashion is giving designers a run for their money. Before traditional labels are even done with their show, high-street shops are copying their designs, slapping their own tag on it and selling it to customers. And it's not just high school and college girls looking for the latest trends. With the growing popularity of mixing high and low, almost every woman has a few pieces from Zara, H&M and Topshop in her closet. So how do designers fight back? Can they? With fast fashion stores pirating designs left and right, it's impossible to think there aren't some laws in place to protect luxury brands and designers from having their originals stolen. The problem is fashion isn't protected by copyright laws—as far as the government is concerned design theft is completely legal.
Photo Credit: Zara (L) Net-A-Porter Valentino (R)
Fast fashion companies are creating multi-billion dollar empires by reproducing the latest runway designs. According to the 2016 Brand Z Top 100 Report, fast-fashion brands drove brand value growth in the apparel category last year. Zara was worth a reported $25.2 billion, more than Hermès' $19.8 billion, while H&M was valued at $12.7 billion, just over Gucci's $12.6 billion. The apparel market, which is categorized by mass market men's and women's designers, grew by a staggering 14 percent over the course of the year while luxury apparel dropped by five percent. The apparel market today is worth an estimated $113.9 billion. Luxury apparel is worth $99.7 billion.
Photo Credit: Siraphob Tatiyarat / Shutterstock.com
These knockoffs are clearly cutting into profits, but not every designer is within their right to sue; in most countries fashion is not protected under the same kinds of laws as art, literature, imagery and the like. The US Copyright Act doesn't protect what it deems "functional items" such as clothing as shoes. Designs as a whole are completely exempt from the law, but some aspects of the original, such as a print pattern, can be covered. Trademark laws allow for labels to own certain logos, names and symbols, which is how Christian Louboutin protects his iconic red-bottomed shoes; trade dress laws includes designs that are so identifiable that they have a "secondary meaning" to the consumer, such as the Hermès Birkin. Designers can also opt for a design patent, but the application process is slow and can often take longer than the cycle of the collection, making it useless. In 2012, Senator Chuck Schumer proposed the Innovative Design Protection Act of 2012 (IDPA), which would extend the protection of the Copyright Act to designers and houses, but it was shot down in early 2013.
Photo Credit: Zara (L) Celine (R)
There was a time when it was easy for designers to ignore these copycat retailers. In the past, well-heeled shoppers were exclusively buying luxury items, and knockoffs were not cutting into their bottom line. But any pre-existing social stigma around mixing high-street and luxury designs has vanished; Louis Vuitton customers are now Topshop customers. Brand loyalty is low, so when a shopper is looking to try out a new trend they saw on the runway, chances are better they'll buy it from a fast fashion retailer rather than the original designer, especially if it's available now. Add to this the evolution of technology and the changing patterns of the consumer, and ignoring them is no longer a viable option. Today's Millennials and Gen-Xers expect instant gratification, and with runway shows being simultaneously Instagrammed and shared across global social media platforms, they're able to see, and buy, what's being released almost immediately. And because high fashion's calendar is also six month ahead of each season, this gives fast fashion companies plenty of time to replicate, distribute and sell these designs before originals are even available. Luxury labels are attempting to fight this with newly introduced, "see now, buy now" runway shows, but it's still too early to know if this retail option is going to make a significant impact in the bottom line.
Photo Credit: Milos Vucicevic / Shutterstock.com
For emerging designers, this is only a portion of the struggle. While big name designers have the finances, support and know-how to take on piracy, most early brands don't have any way of fighting back. Young designers can be easily knocked off, and, unfortunately, fast fashion companies know it. Filing patents for an icon or logo, the kind that protects Gucci's Gs or Louis Vuitton's LV, can take over two years to process and cost over several thousand dollars. An almost impossible feat for a label just getting on its feet. If their designs are stolen and they feel they have a legal claim, it can take a tremendous amount of time and money to contest these thefts, and most of the time, up-and-comers can't afford it. In a normal lawsuit the loss of sales is difficult to quantify, but emerging designers also have the added trouble of trying to estimate this number without large sales or a steady fan base.
Photo Credit: Asos (L) Gucci (R)
Oddly enough there are some designers that would argue in favor of copying within the industry. In the 1930s Coco Chanel called these forgeries the "ransom of success" and Balmain's Olivier Rousteing has said that knockoffs make him "really happy." There are intellectual property experts who agree with this way of thinking, suggesting that this cycle of copying actually generates creativity and progress within in the industry. They propose that, while it's a bit of a contradiction, the process of piracy actually contributes to the success of both the luxury and fast fashion companies. Fashion is not like other industries—it's the desire for something new, different or on trend that drives sales, not necessity. Of course there are limits to the amount of patience that can be expected from even the most sympathetic of designers. In 1930, Chanel, who understood that imitations were part of the industry, partnered with Madeleine Vionnet in suing Suzanne Laneil, a designer who was caught replicating 48 of their sketches.
Photo Credit: Angelina Dimitrova / Shutterstock.com
While the argument can be made that piracy actually helps the industry evolve, for the most part it's simply destroying the authenticity of major designers and stealing the creativity of newcomers. By replicating the originals, fast fashion is only diluting the market, making it impossible for talented young brands to grow and stunting the evolution of established houses. Designers are not being paid for their original work and have little to no way of defending themselves. In recent years houses have taken to social media in an attempt to claim what it theirs and open a dialogue about knockoffs in fashion, but this does little to stop what has become an epidemic. Until the law is amended to protect the designers and their creative ideas, copycats will continue to steal ideas and consumers will continue to buy.