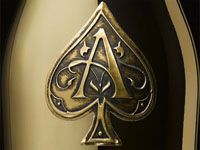 Wine & Spirits:
Celebrating the joys of a life well-lived and success well-deserved always calls for a toast of champagne. As an aspiring connoisseur, I'm indelibly on the hunt for champagnes that offers a multi-sensory delight even beyond the palate. In this quest I have uncovered Armand de Brignac - a treasure, quite literally.
Armand de Brignac is a high-end refined cuveé available in three prestigious selections: Brut Gold, Champagne Rose, and Champagne Blanc de Blancs. These artisanal champagnes are produced in Champagne, France by the Cattier family, which has been cultivating vineyards and overseeing the production of fine champagnes since 1763. So, it's no wonder the result of their effort is extraordinary.
The family's flagship Armand de Brignac product is the Brut Gold, which embodies the traditional French Champagne style of complex and full-bodied tastes that comes from a perfectly balanced blend of Chardonnay, Pinot Noir, and Pinot Meunier wine. This prestige, award-winning cuveé is utterly divine, intermingling sweet and acidic flavors like apricots and apples with light floral aromas and a creamy mouth feel.
There are no assembly processes for the production of this inimitable champagne. Only eight passionate vintners craft it by hand, using old-world production techniques and well honed winemaking expertise that adheres to a heritage of exceptional quality. Exceptional indeed.
Even beyond the cuvée's stunningly silky finish that seems to linger for days, Armand de Brignac's Brut Gold is equitably a feast for the eyes. The opulent gold-plated paperless bottle is breathtaking unto itself. Each is fitted with engraved pewter or tin labels depending on the season, which are hand-applied to the bottle's surface. This distinctive vessel, originally conceived by the André Courrèges fashion house to evoke the style and splendor of the French fasion industry, is meticulously decorated at a single site in France's Cognac region.
My bottle of Brut Gold arrived in an elegant black lacquered wooden case lined in black velvet and embossed with the brand's signature Ace of Spades insignia - all foretelling the remarkable tasting experience that ensued. Bubbles of joy runneth over.
For my fellow Luxe Lifers with discerning taste buds and an appreciation of the finer things in life, Armand de Brignac's exclusive champagnes, which is priced from $300 per bottle, are simply a must. Learn more at
www.armanddebrignac.com
The Luxe List product review editor Merilee Kern scours the luxury goods marketplace for new and innovative must haves. Product submissions accepted via e-mail at Merilee@JustLuxe.com.
- Merilee Kern
JustLuxé.com's "The Luxe List" Product Review Editor