Photos Credit: Tiffany Leigh
Not to be Missed: Modena is Magic in your Mouth
There are very few places that can boast fine automotive excellence, heritage gastronomy, and worldly arts and culture in one location—that is, unless you're in Modena, Italy. The city is located in the country's Emilia-Romagna region and situated northwest of Rome—an easy three hour train ride or 55 minute flight. As one of the major cities in Emilia-Romagna (along with Parma and Ferrara) Modena is known as the motherland of balsamic vinegar, opera, the birthplace of Luciano Pavarotti, and home to Motor Valley, where Ferrari, Lamborghini and Maserati car museums, showrooms and factories (among others) are nestled in the heart of the ancient city.
However, ask any local, and they will state that the food and drink reign supreme here; in fact, when Enzo Ferrari himself was building his cars in his home city of Modena, he was inspired by the epicureans that surrounded him, especially the quality and craftsmanship they upheld for their products. To him, he strived to create cars similar to that of a 25-year-old aged balsamic vinegar—something which required time, a labor of love, respect, and guardianship of the past. It is these qualities, he argued, that allow for a robust sensory experience—and certainly, no one should argue with the maestro of motor vehicles.
Modena, is in fact, the province richest in Protected Designation of Origin (PDO) and Protected Geographical Indication (PGI)—these statuses are highly regarded and uphold Emilia-Romagna's reputation as a food capital. In fact, with a bevy of gourmet experiences, the following is our guide to eating and drinking your way through Modena: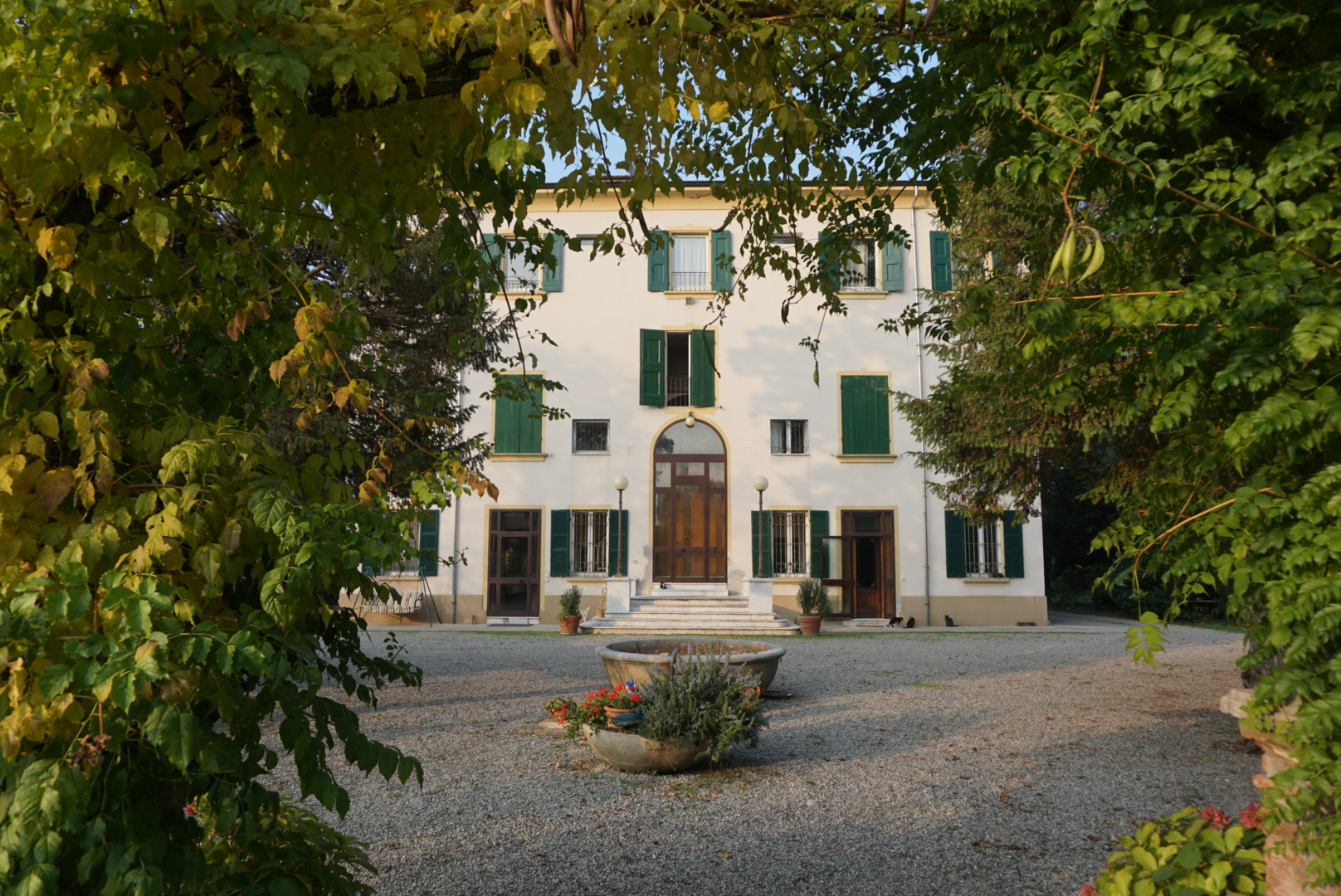 Antica Acetaia Villa Bianca
The intimate experience at Antica Acetaia Villa Bianca is akin to being greeted and hosted by your neighbour or friend. You take a stroll through Dr. Emilio Biancardi's two-acre, family vineyard and villa. The property (and his personal home) has been in existence since the 1600s. The second half of the 19th century is where his family first started to produce PDO-designated balsamic vinegars. It is on this site where he shows you how he crafts his heritage products; visitors see and taste the quality of trebbiano grapes he uses to produce his aged 12 and 25-year-old balsamic vinegars. Jovial, friendly and with a wealth of knowledge. he says that "Aceto Balsamico Tradizionale di Modena is unique from all other vinegars because conventional (or mass produced/industrial ones) find their origins in alcoholic liquid, whereas traditional balsamic is produced directly from grape juice boiled in an open vat over a fire. This liquid is then placed in wooden barrels to age and mature in flavor and concentration." A tasting of Biancardi's balsamic vinegar range (along with informative tasting notes that range from gastronomic to scientific) are offered to guests in his aging attic. The experience culminates in a fresh meal, with locally sourced ingredients, which includes Parmigiano Reggiano cheese (drizzled with his balsamic vinegar), homemade focaccia (made by his wife), vegetable frittata (cooked by him), and vanilla gelato drizzled with, what else, his 25-year-aged balsamic vinegar.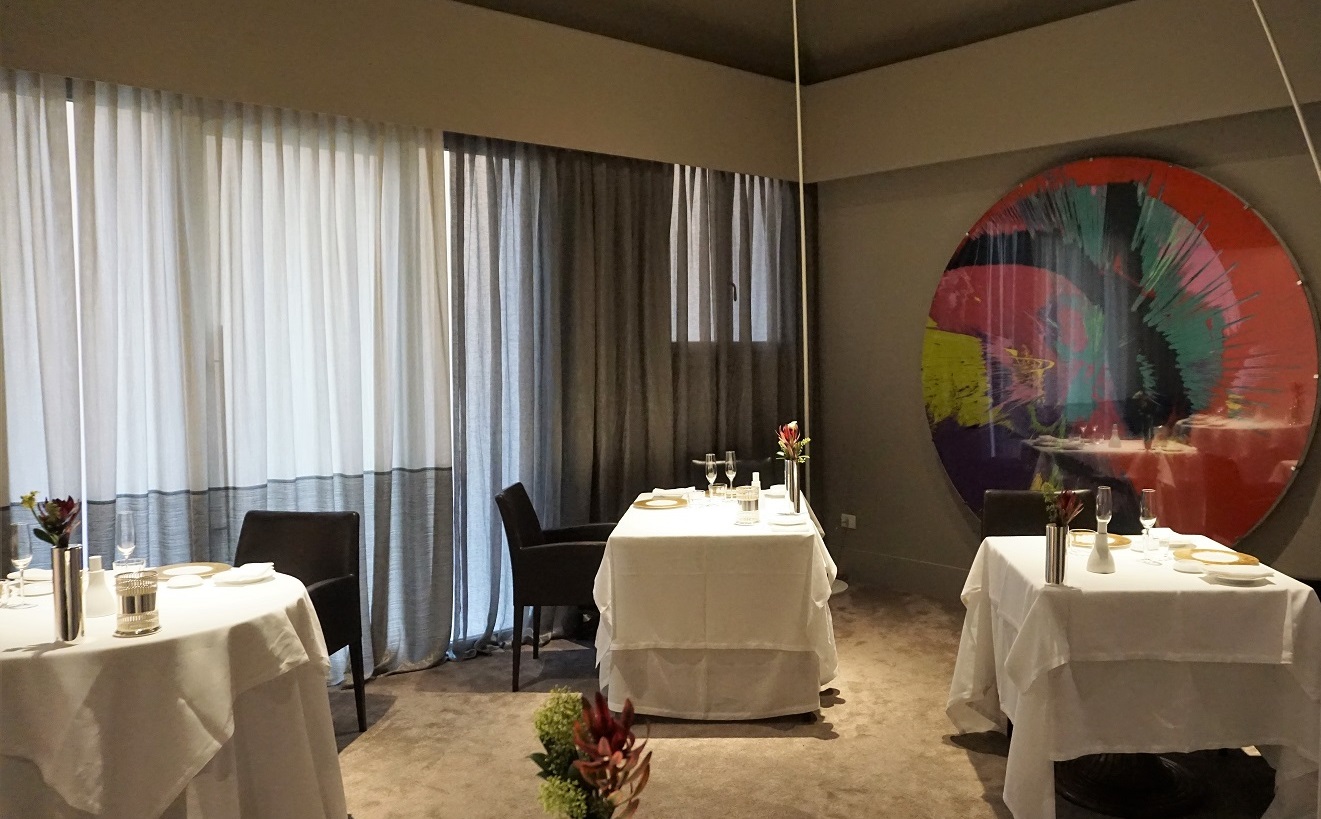 Osteria Francescana
Should you wish to revel in the ultimate "foodie" dining experience, Osteria Francescana has all your bases covered. As a Michelin three-starred restaurant, its accolades include "World's Best Restaurant" in the World's 50 Best Restaurants for 2016 and first position on the Italian food guide L'Espresso - Ristoranti d'Italia. Stomachs get growling: this is the immersive gastronomic journey for food lovers; and although getting a reservation will test your patience (bookings must be made three to four months in advance), it is worth the wait. Once at the table and pondering what to order, if you want to throw caution to the wind (and have about four hours to spare) then opt for the Everything Tasting Menu. In particular, if you're a fan of Netflix's Chef's Table, you'll soon recognize some of the dishes presented to you (e.g. Oops! I Dropped the Lemon Tart and Autumn in New York). The tasting adventure is an opportunity to explore the inner-workings of Chef Massimo Bottura's mind. And is it ever the roller coaster ride—many of his dishes are inspired by art, culture, music, his travels, upbringing, love of Modena and regionally-sourced ingredients. In fact, it just so happens that his motto is "slow food and fast cars," a fitting remark considering Modena is also referred to as Motor Valley. What he means here is that similar to the speed of a car, so too is his spritely spirit and energy for new ideas. Chef thinks fast and develops dishes immediately, but in the same light, understands that quality ingredients in the region take ages to develop—so his motto reflects the spirit of Modena and his dishes show the interplay of these two elements. Highlights to look out for include "Five ages of Parmigiano Reggiano in different textures and temperatures," which sees the famed cheese at different stages of maturation (from 36 to 50 months) as a foam, a cream and a frico crisp; "The crunchy part of Lasagne," which features sous-vide beef and suckling pig draped with bechamel and topped with a spinach and tomato flavored crisp; and "Better than Popcorn," which sees popcorn transformed as a foam, an ice cream, a meringue and caramelized popcorn.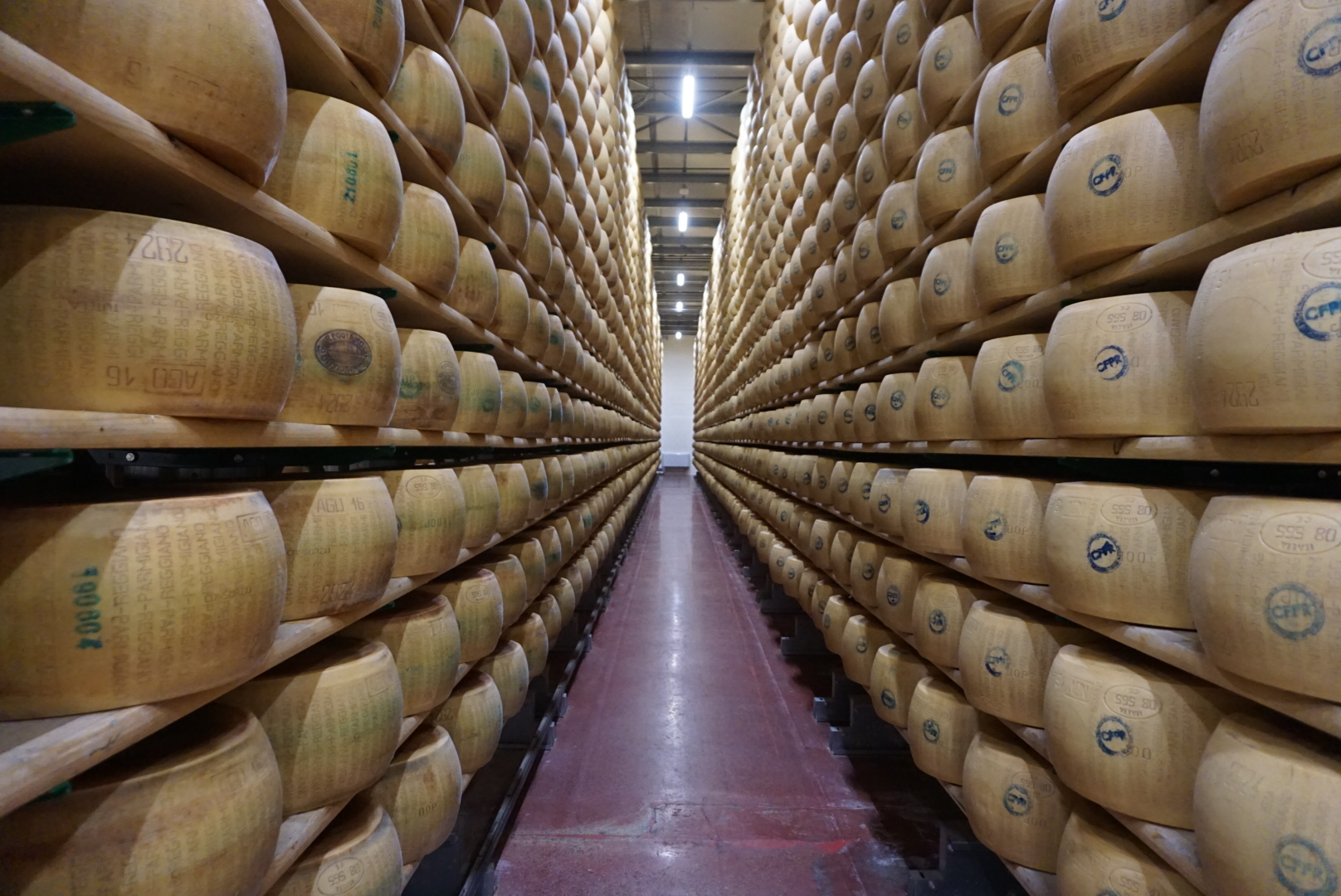 Hombre Parmigiano Reggiano Cheese
At Hombre Parmigiano Reggiano Cheese you will immediately be struck by the overlap of cars and food; it is perhaps the one spot in the world where you'll see cows and luxury vehicles living in harmony together. And no, a farm doesn't exactly conjure images of "luxury"; however, the car collection (of rare and vintage vehicles) not only lends credibility to the property, but so to does the "King of Cheeses" Hombre produces. It is so flavorful and high in quality that the famed Chef Massimo Bottura sources wheels directly from the farm for his restaurant. Celebrity chefs aside, while the original owner, Umberto Panini, has passed and his sons now run the business, the family operation as a whole has been producing wheels of Parmigiano Reggiano since the 1980s; in the 1990s, Hombre became certified organic. On 741 acres of land with 500 Italian Friesian cows (240 of which are used for milk production), you'll be walked through the process and the rigorous standards Hombre (along with other cheese producers) uphold in order to be PDO-certified by the Parmigiano Reggiano Consortium, a body of select members from the Chambers of Commerce that include Parma, Reggio Emilia, Modena and Mantua, that protect the cheese's regional authenticity and standards of quality. Some of the rules that must be adhered to include the following: feed for cows must be from the defined geographical area (Modena), dairy used must be from (born and bred) Modena cows; once cows have been milked the cheese must be made within two hours (to ensure freshness); no preservatives or additives are allowed in the production of the cheese; texture of the body of the cheese must be fine, grained and flaky; and fat content per dry matter must be at 32 percent. Your best game plan is to purchase a wedge (or two) and eat it drizzled with aged balsamic vinegar—the cheese has a mild pungency with a pebbly and creamy texture—it's Modena magic.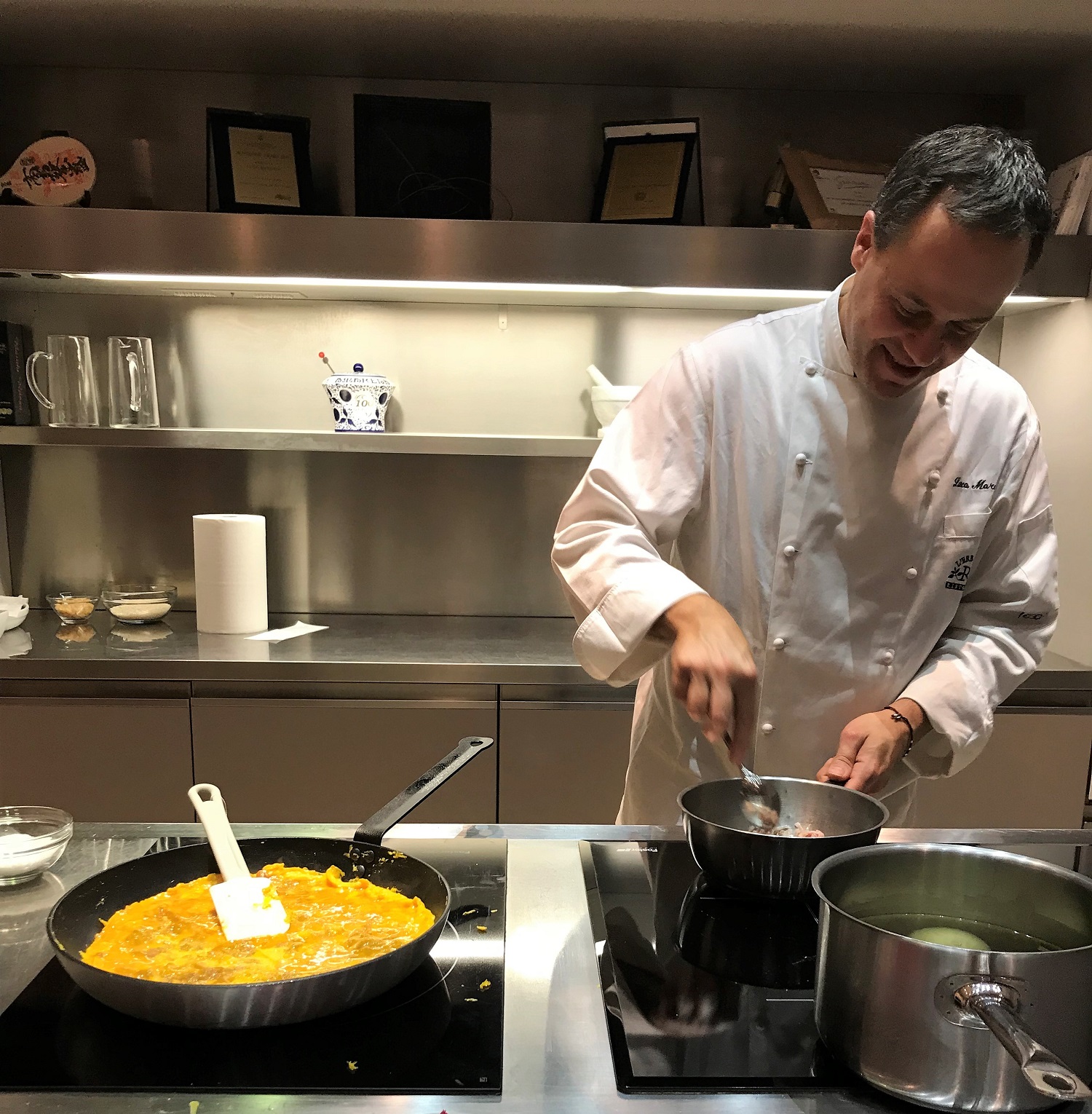 Chef's Table with Chef Marchini at L'Erba del Re
This is an intimate dining affair with a Michelin-starred chef—an experience you'd be hard-pressed to find anywhere else. At L'Erba del Re, Chef Luca Marchini will cook a multi-coursed meal that's completely up to you in terms of how many dishes you desire along with tailoring flavors to your taste preferences. The Chef's Table is hosted in his cooking school, Scuola Cucina Amaltea, adjacent to his restaurant, L'Erba del Re. Chef has owned and spearheaded the growth of his restaurant for 14 years. Although you can opt to try the lavish tasting menus at L'Erba, The Chef's Table is refreshing and without pretentiousness—rather it's an opportunity to chat with Chef Luca like a close companion—as if he were cooking a meal for you in his home. On one evening, he showcases classics with a contemporary twist. For him he cites that "it's an equilibrium I bring to the table with my cuisine style. I honor classics such as tortellini, but in an elevated manner." For him, if you can't nail the basics, you can't really cook at all. During The Chef's Table dinner, all ingredients are laid bare before your eyes; as a master of techniques, even the frittata (with caramelized onions, bacon, fresh farm eggs and seasoning) he makes as a starter course on this evening shines with brightness. In fact, his aim is to bring dishes with clean flavors to the table, where you can pick out every component, and yet, in the end, everything rallies together harmoniously on your palette. He follows up the first course with a creamy and milky risotto—instead of butter and white wine, he uses a combination of vegetable stock and full-fat milk. Again, it's a familiar classic, but with notable Chef Marchini twists. To finish, he actually adds cubes of Parmigiano Reggiano rind to the dish for textural contrast. The cheese never fully melts into the arborio rice dish, so you get a melange of milkiness (like the taste of hot froth from a cappuccino), and chewy-squishy cheese with a pleasant pungency. For mains, on this occasion, Chef puts Italia on a plate—slow-cooked pork meatballs with tomato sauce and blanched green spinach is topped with white almond foam. The first two components are classics with the curveball being the nutty sweetness from the froth. Chef Marchini is an open book and happy to share his philosophy without being preachy—if anything, his humbleness throughout the entire experience makes everything taste that much more phenomenal.