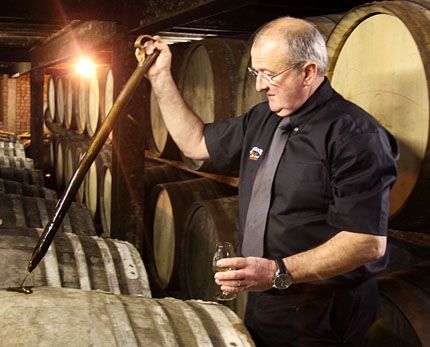 Fine Spirits:
Whisky is a very fun spirit to discover. There is a large array of flavors from which to choose: smoke or fruit, chocolate, caramel, wood, perhaps vanilla. Like oysters, wine or cheese, flavor profiles you taste and smell will give away the drink's origin.
When it comes to Scotch,
Scotland
is generally broken down into six regions: the Lowlands, Highlands, Speyside, Campbeltown, the Islands, and Islay (eye-luh). Islay is known for producing a very complex and smoky scotch, with the exception of those that are extremely well aged; those expressions have had the opportunity to mellow significantly over the years. Geographically a part of the Islands, and home to only 3,000 residents, this small land mass is home to eight distilleries.
(Read the guide to Scotland's Distillery Regions)
Winner of a whole host of awards, Islay's Bowmore has been named Distillery of the Year multiple times, and various expressions have also been recognized with Double Gold Awards at the prestigious San Francisco World Spirits Competition. Most recently the Bowmore 18 was awarded Best in Show Whisky. The 18 is "A brilliant, perfect, remarkably delicious expression by Bowmore; another in a series of winners that span the entire history of the San Francisco Spirits Competition," according to the competition's Executive Director Anthony Dias Blue.

Watch the video on Bowmore 18

Some of the most luxurious vintages Bowmore has produced include the White ($6,000) and Black ($4,500), part of a trilogy of whiskies, all distilled on November 5, 1964. Completing the set, the Gold Bowmore ($6,250) was recently released. Less than 900 bottles of each of the trilogy were produced, making all of them exceptionally rare.

Additionally, the year that they were distilled was also the year that Bowmore introduced steam-powered stills, which are able to produce a much smoother and consistent spirit. Eddie McAffer, Distillery Manager at Bowmore said, "At Bowmore, we put everything we have into each bottle, but this particular Gold Bowmore is something quite unique, embodying all that is special about whisky, and a year during which the distillery embarked on a new era."


Whisky making is a very complicated process and truly the best way to understand it is to tour a distillery. In fact you can take a virtual tour of the Bowmore Distillery on their site, although it hardly does the real experience justice. In a nutshell, everything begins in the malt barn, and ends in the still house, where the liquid is distilled. Once the "new-make" spirit is ready, it is placed into American or Spanish oaks casks previously used to age sherry or bourbon thus creating different expressions. Casks are placed in the famous no. 1 Vaults to mature the spirit. Located below sea level, this maturation room is as old as the distillery itself.

As a whole, Bowmore has won more awards than any other distillery. Established in 1779, the distillery is the oldest on Islay and some would argue that the individuals that work here produce the best Single Malt in the world. Why? Bowmore uses traditional methods of production: methods that have been handed down through generations. These people take great pride in what they do and are among the few that still take the time to floor malt their own barley - a painstaking process that requires a Maltman to toss the grain by hand with a traditional wooden malt shovel, every four hours. It is this kind of detail that sets the Bowmore Distillery apart.



Tasting Notes:


Bowmore 18 -A mellow mahogany colour, this delightful dram has caramel, fruit and smoke aromas to complement the chocolate hints on the palate.
Bowmore Black - Matured purely in Oloroso casks for an ebony color that was matched by aromas of exotic fruits, ginger, and cinnamon.
Bowmore White - Maturatured in Bourbon casks, for a hue of golden syrup, and scents of Gallia melon, mango, and papaya.
Bowmore Gold - Matured in Bourbon casks and one Oloroso sherry cask before being meticulously blended together. Flavors include exotic fruits similar to passion fruit and papaya, creamy vanilla, and gentle peat smoke.

By Courtney Driver


Read The Full Review on Visiting Scotland's Auchentoshan & Bowmore Distilleries or check out the Photo Essay

Read the Complete Guide to Scotland's Distillery Regions