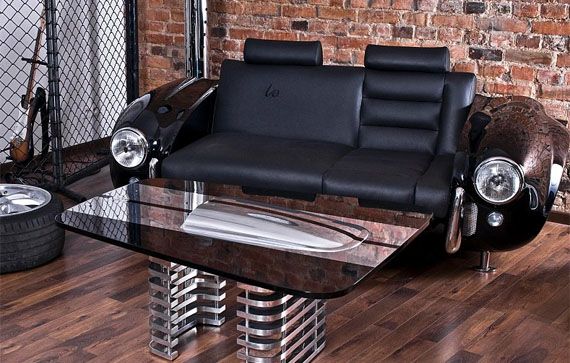 These tributary furnishings of Carroll Shelby's
classic racing car
, the AC Cobra 427, are some of the more eclectic pieces of custom-made furniture on the lot.
The Spirit of 427 is a collection of pieces including a sofa, an arm chair and a coffee table. Actually, this collection is elaborate enough that it could tune up an entire living space or a special area with custom-made furnishings and accessories. Add a few petroleum-scented candles and you are surrounded by the Spirit of 427!

Poland-based LA Design Studio are the creators of the Spirit of 427 collection. Each piece of this decorative ensemble is made from aluminum, leather and original car parts. The craftsmanship applied in creating these pieces is extraordinary. The sofa, with fenders, headlights, mesh grille, and matching stitched seats, takes an average of 450 man-hours to build. The coffee table replicates the the 427's hood, including the air intake. The office desk is built in the shape of the car's hood. There is also a standing lamp, drawn from the classic car's exhaust system. Custom pieces can also be designed by request.

The Spirit of 427 captures the essence of the AC Cobra 427, which was made from 1965 to 1967 with Ford Motors. The vehicle's success in racing did not put it in the winner's circle financially, however. Carroll Shelby halted production of the car in 1967. Britain's AC Cars kept building the autos, as the AC 289, through 1969.

Visit www.la-ds.com to learn more.