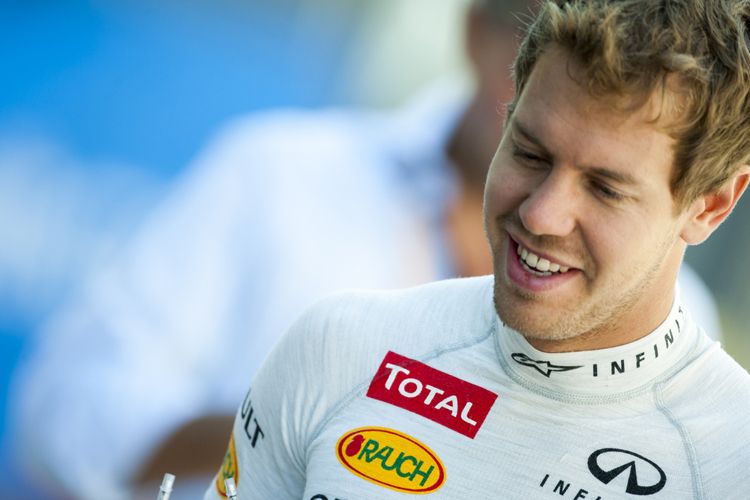 new and exciting ways
. This time, Infiniti is doing the promoting for them, offering an exclusive competition that allows one lucky winner to design
Sebastian Vettel's
helmet for the U.S. Grand Prix. The winning entry will be personally chosen by Vettel himself and will be worn for the Friday practice sessions and Saturday qualifying session at the Circuit of the Americas in Austin, Texas on November 15 and 16.
Photos Courtesy of Infiniti
Race fans can submit their designs directly to the
Infiniti competition website
, which has a user-friendly design application directly on the homepage. If you want to get
really
creative by hand, you can download the helmet template and draw directly on the paper. Like any worthwhile contest, the winner doesn't just get
one
prize, they also receive two VIP tickets to the Grand Prix and a hospitality package that includes airfare and hotel. Once there, you will be able to chat with Vettel personally and even get a replica helmet featuring your design.
At 26, Vettel is the youngest ever Triple World Champion, currently leading this year's
Formula 1 race
. Earlier this year he became Infiniti's Director of Performance, which means that he has been directly involved with the development of the new Q50 and announced the auto brand's Q30 concept car. Considering he always wears a different helmet design for every race, Vettel is taking the competition pretty seriously.
"The helmets I wear are very important to me, as each one has a special meaning or a connection with the race in question," explains the German-born champion. "Normally I work closely with my helmet designer to come up with a new design for every other race, and this is the first time I've given the fans the chance to do it for me. I can't wait to see what they come up with!"
You have until September 29 to get your design in, so make sure to take your time if you want Vettel to choose you!