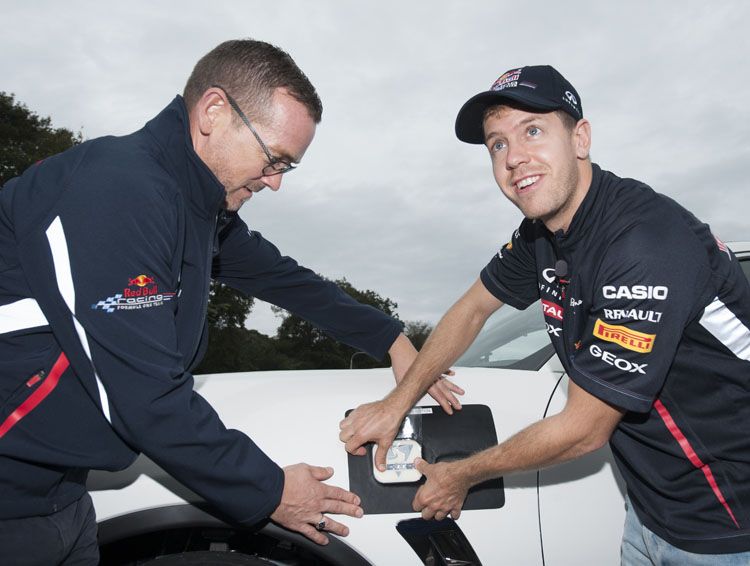 Photo Courtesy of Infiniti
Not many people can say they have driven a car designed by double
Formula One
World Champion Sebastian Vettel. In fact, only 199 people will be able to buy one at the end of this year.
That's because in September Infiniti will produce only 200 units of its latest addition to its popular FX series, the Sebastian Vettel Version, of which one will be given to the man himself.
Taking direct inspiration from Formula One, this model is an upgrade from the popular Infiniti FX 50 S and comes with lots of new shiny toys for you to play with. Sebastian Vettel, who drives one of these limited edition vehicles, hasn't simply placed his logo on the seats either, he has been directly involved in the design and concept. So much so that all modifications were run by him for approval including color and sports enhancements, so anyone driving it really will get a feel for Formula One racing.
This sports crossover sees the 5.0 litre V8 engine capable of 414bhp and the top is an impressive 186mph. Even if you can't legally hit that speed, you can give your friends a glimpse of the power under the bonnet by revving the engine stationery. It sounds pretty impressive.
You can see that all of the extras on this model are designed to provide maximum speed and performance. The car is lighter than its predecessors and the exterior is more aerodynamic. Drag has been reduced by 5%, the exhaust and suspension have been upgraded and carbon fiber encases the slick body. The exterior color is pearl white and contrasts rather nicely against the black bumper and grill. And the interior is just as attractive. The ergonomically shaped seats mold around your body and you won't risk stepping into the wrong car either - the detailed purple stitching and Vettel logo keep the interior unique, as do the black chrome and suede trimmings. The Vettel Edition still has all the functionality of the traditional FX model but certainly has a few more luxuries, including the buying experience. Infiniti are offering customers a 'luxury buying experience' which comes with an iPad and a chance to meet the world champion himself.
This model was released in September 2012.