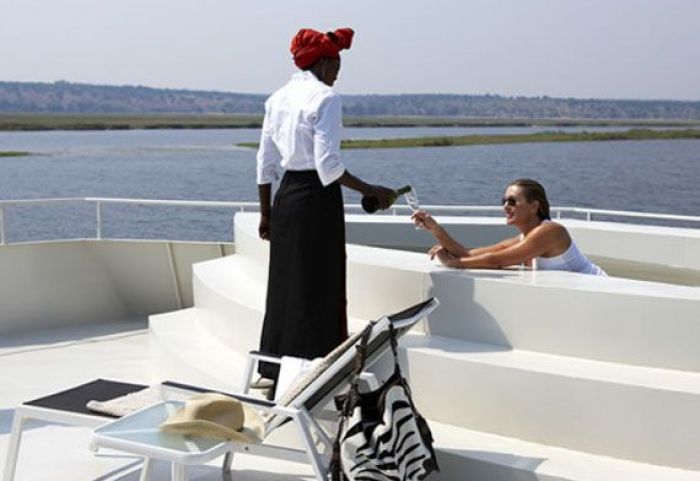 Photo Courtesy of Zambezi Queen
The Zambezi Queen is the first eco-friendly, floating boutique hotel in
South Africa
. The luxurious 150-foot riverboat travels along the Chobe River, in Botswana, through the Chobe National Park, on two- and three-night sightseeing cruises.
Chobe National Park has one of the densest populations of wildlife in Africa, as there are around 120,000 elephants, more than 400 species of birds, as well as lions, hippos, giraffes, and crocodiles.

There are 14 private suites on the Zambezi Queen. Each guestroom has a private balcony that provides expansive views of the lush surroundings and wildlife.
Fans, shutters and sliding glass doors keep travelers comfortable in the humid setting.



If the sights from aboard the riverboat are not close enough to the wildlife, there also are more extreme sightseeing tours on the tender boats, which accommodate up to 16 guests and include a private guide. The tender boats are supposed to provide full protection from the rain and the splashing waters. However, it would probably be advantageous to dress accordingly and hope for the best.


The environmentally friendly riverboat has solar panels on its deck that uses sunlight to make hot water. Additionally, there is an onboard wastewater treatment and a storage system. The boat uses a jet propulsion setup that reduces impact to the riverbed. Nightly, the ship switches to a low-emissions power system so that guests can better hear the nighttime sounds that emanate from the African bush.

Cruises on the Zambezi Queen are available year-round. While most cruise itineraries are two- and three-night adventures, four- and five-night packages also are offered on select departure dates.

For more information, visit www.zambeziqueen.com.