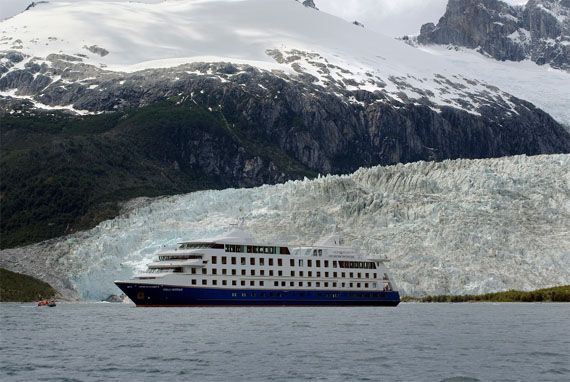 Photo Courtesy of Cruceros Australis
When you consider what to do with your precious vacation time this year, does a charter yacht cruise to the French Riviera for the Cannes Film Festival seem like a good way to splurge? Or are you more the type to book a week of wine education, complete with private tastings, winery visits and winemaker dinners?

Or, would you rather explore islands of the Galapagos with world-renowned scientists as your guides? Not only are all three things on the possibility list for 2011, but they all come from our latest crop of luxury cruise itineraries.

From barefoot catamaran jaunts to cultural odysseys, the cruise world is more diverse and exciting than ever before. Explore routes less traveled, expand your mind and challenge your sense of adventure — without ever touching terra firma.

For those who like to live out red carpet fantasies, the Monte Carlo and London-based YCO Yacht Company specializes in charter yacht itineraries that are every bit as glittery and privileged as life aboard one's own private yacht — the difference being, a YCO yacht is only "yours" for the week or the month, as opposed to year-round. The company, which is opening a New York City office this year,
has a portfolio of more than 60 charter yachts, ranging from classic to sailing to eco-friendly.

All yacht charters are fully crewed, with savvy staff who can create the itinerary of your Champagne-caviar dreams. When asked for a few samples, the YCO team suggested five days in the Riviera to attend the Cannes Film Festival, a sun-drenched and serene cruise of the Croatian and Montenegrin coastline — jeweled with UNESCO heritage sites and tiny islands — and a South Pacific fantasy exploration of lesser-known Fijian islands. Everything's customizable and a charter starts at $200,000 a week, which can be quite reasonable if you're splitting the cost with a group of friends.
Oceania Cruises' new ship Marina basked in industry attention when she arrived Stateside in Miami, before departing for two 18-day Panama Canal transits. Now heading to Europe for the summer season, she'll be back in the winter for a number of Caribbean/Latin American cruises, of which we think the "Sapphire Seas" itinerary is by far the most interesting because of its unique Latin Caribbean focus.
After a stop in George Town, Grand Cayman, the ship heads south to Cartagena, Colombia; then up to Colón, Panama and then to Limon, known as the "Caribbean coast" of Costa Rica. A stop at Roatan in the Honduras Bay Islands, Belize City and Cozumel rounds out this Caribbean-Latin 12-day cruise.
Latin America is high on the travel radar these days and it's not just the uber-luxe lines that are introducing new routes there. Celebrity Cruises, one of the most popular megaship lines, ran Panama Canal cruises in the beginning of the year and will return in September and October. Its West Coast departures, which generally entail a two-week itinerary, are like a mirror image of Oceania's: They depart from San Diego and head southeast to Puntarenas, Costa Rica before transiting the Panama Canal and heading to Colon and Cartagena.
The experience of crossing the Continental Divide is not one that the typical Celebrity passenger of yore might have dreamed of — a Mexico or Bermuda pleasure cruise used to be more typical — but this is just one example of how the megaship cruise business as a whole is evolving and encouraging a spirit of exploration.
Join this adventure cruise specialist on a wintertime "trip to the end of the world" — an oddly enticing proposition, especially when it's aboard the new first-class Stella Australis. From September through April, Cruceros embarks on a number of short cruises in the very southernmost part of South America, going to and fro between Punta Arenas, Chile and Ushuaia, Argentina.
Itineraries include passage through the Strait of Magellan and the Beagle Channel, visits to Glacier Alley and the penguins on Magdalena Island and a stop at Cape Horn National Park — aka "The End of the Earth." While the names recall grammar school history books about the great explorers, the journey isn't as grueling as you'd think: the itinerary departing from Punta Arenas is only four nights long, while the reverse, departing from Ushuaia, is a mere three nights. Of course, first there's the challenge of finding your way to almost the end of the world.
Venerable small-ship line Lindblad Expeditions continues to align itself with the intellectual traveler, via its editorial partner
National Geographic
. Its latest cultural program, Expedition Photography, guarantees that a Lindblad-National Geographic Certified Photo Instructor will be aboard every cruise.
Whether following the midnight sun through the fjords of Norway (Arctic Svalbard Expedition) or sampling Madeira and spying on whales in the Azores and other Atlantic isles (Odyssey Voyage), guests will always have an expert "travel companion" within hailing distance, to help capture those Nat Geo-quality moments one after the other.
When Windstar Cruises say they want you to take a trip back in time, they mean it! Their dazzling liner, the Wind Spirit, takes guests on a voyage to 1000 A.D. to glide through the waters once sailed by the Vikings.
As you explore the North and Baltic Seas, soak in the history of the preserved land through 9th century Viking burial ships, medieval castles and runes left along the roadsides, all emphasized by the natural beauty of the land.
Because the Baltic countries hold an abundance of rich history, there is a deep respect for art and culture, as seen in this itinerary's most popular highlights. Take a canal boat tour of Bruges, walk through the National Opera House in Oslo, visit the Hermitage Museum in St. Petersburg, and traverse a fisherman's wharf in Kristiansand. You may even get to experience the natural phenomena of the magnificent Northern Lights.