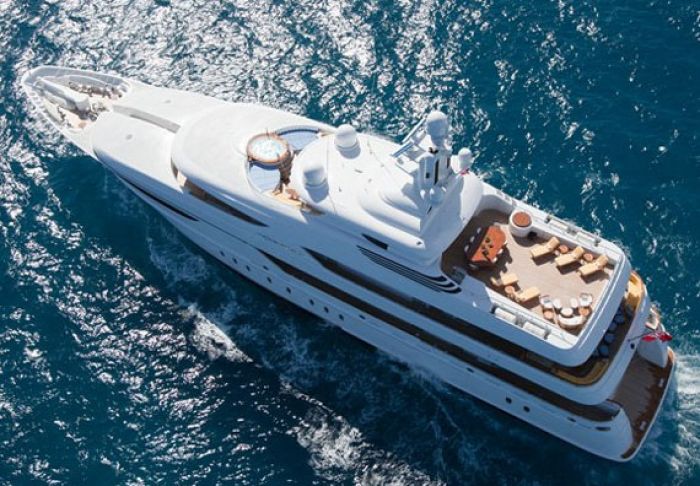 Photo Courtesy of YCO
If you want to anchor a spot as an A-list player at the upcoming Cannes Film Festival, the Oasis would be epic to cast in a supporting role to add substance to your production.
The Oasis is a 60-meter yacht that will be berthed next to the building that hosts the Cannes Film Festival, the massive Palais des Festivals.
Is there a better location to have on the site of what many entertainment-industry insiders say is the most acclaimed film festival of the year? With an outdoor theater and ample accommodations for a dozen overnight guests, it is a pitch of measurable merit with enormous upside for plenty of action and adventure, according to
luxury yacht-charterer
, the Yacht Company.
The Luerssen-built ship features six cabins and a sundeck with a barbeque area that is large enough to host a screening party or a cocktail soiree for up to 75 guests. Along with the six cabins for guests, it carries a 15-man crew, making it a deluxe vessel that is ideal for both business and pleasure. The expertise provided by the highly skilled crew includes jet ski and diving instructors, a masseuse and a world class chef.
The Oasis has several land- and sea-recreational items, too, for bountiful off-hour pursuits. Many of the toys come in pairs, as there are two tenders, two kayaks and two wave-runners. Additional items onboard include a sailing dinghy, paddleboards, diving and windsurfing equipment, and Segway scooters and bicycles. There also is a Steinway piano in the galley for harmonious collaborations of another scale.
The weekly rate to charter the Oasis during the 2011 Cannes Film Festival, which runs from May 11-22, is around $487,000.
For more information, visit the Yacht Company at
www.ycoyacht.com
.