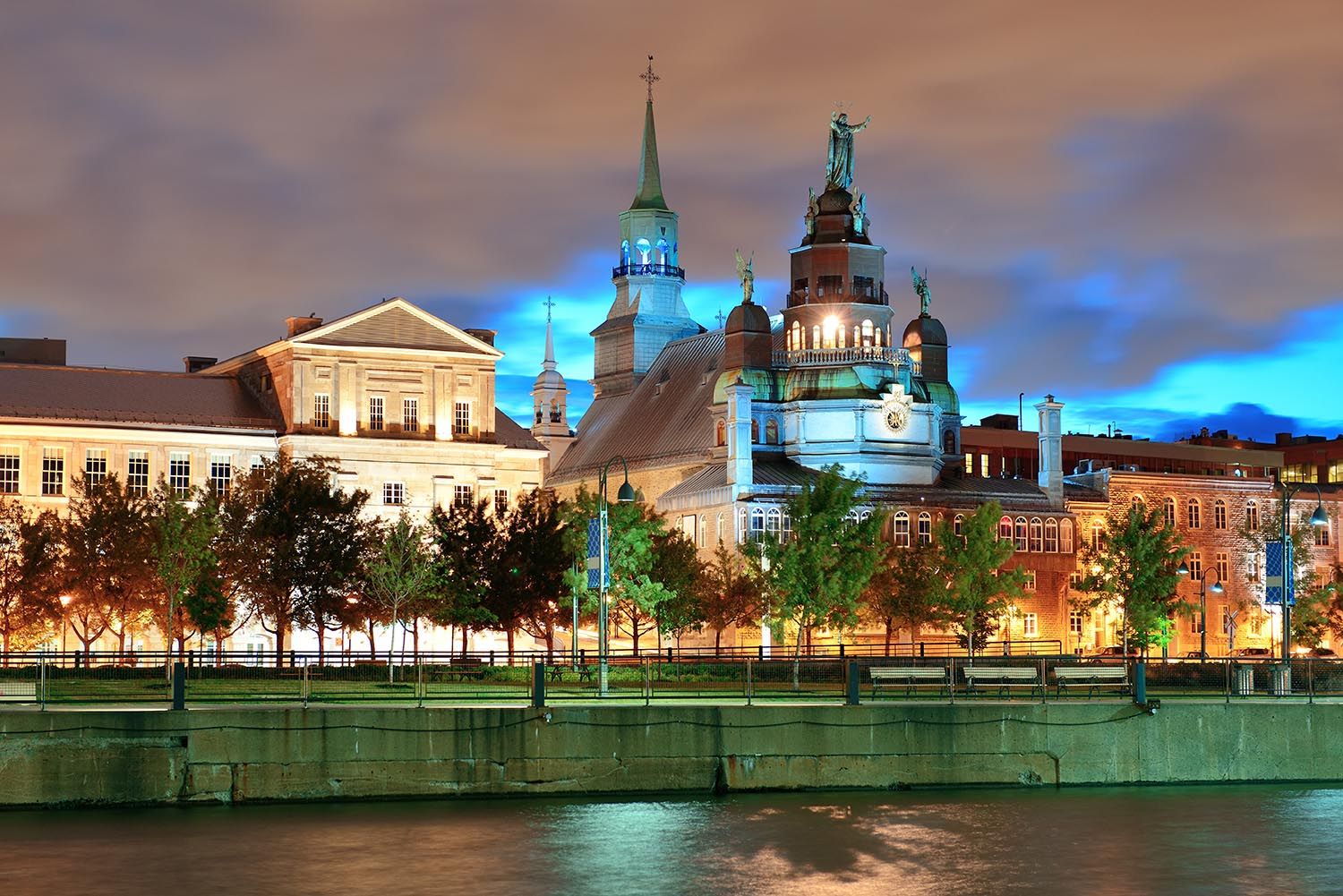 Photo Credit: Songquan Deng
Positioned in the middle of everything worth seeing, the Ritz-Carlton Montréal was a pretty perfect choice for a recent trip to Quebec's Metropolis. Using the hotel as a luxurious home base, I set out to explore the city over the course of three days, soaking up a sampling of French Canadian culture, chilly weather and delicious Québécois cuisine.
First time visitors will be pleasantly surprised by how French everything is. It feels like a little slice of Paris, and is in fact the second largest French-speaking city in the world. As you navigate the city you will notice that, unlike in Paris, residents will speak to you based on how you greet them. Say hello and you will generally receive an English reply. Bonjour will invite a flurry of French. On the flipside, the most common greeting among Montréalers is actually BonjourHi, highlighting just how bilingual residents are.
Photo Credit: Meunierd
Whether you choose food or local attractions as your priority is of course up to you. However, you will want to make it a point to visit Old Montréal for the charm and the Notre-Dame Basilica (yes, they have their own) at its heart. The area is fairly small and from here you can rent a horse-drawn carriage, enjoy the square and wander through quaint shops.
Maison Boulud (Photo Credit: Courtney Driver)
As we told you earlier this month, Montréal is a foodie destination. As the most French place in North America, are you really surprised? Restaurants abound here and there are a few must-tries in the city, including the 24-hour hole-in-the-wall La Banquise for poutine; the national dish is said to have its roots right here. Au Pied de Cochon, whose sister restaurant resides in Paris, is the spot for onion soup—you will need a reservation at least a few days in advance.
Maison Boulud (Photo Credit: Ritz-Carlton)
On the fine dining front, one of the most notable restaurants in the city actually resides right inside of the Ritz-Carlton. Housing Daniel Boulud's only restaurant in Canada outside of Toronto, Maison Boulud has the same refined and modern elegance present throughout the hotel. Inside the bar and lounge is a cozy, fire-lit space filled with lush textures and plush seating perfect for a nightcap. The restaurant also extends out onto the patio (or greenhouse space during the winter) for a bright and cheery daytime meal. Hardly a surprise, all of the dishes we sampled were spot-on (it is Boulud, after all), which included a lovely handmade caramelle pasta, sea bass and the signature DBGB burger.
Montreal Fine Arts Museum (Photo Credit: Benoit Daoust)
Montréal is also famous for its underground city, La Ville Souterraine, which is connected to malls (several!), a range of businesses and museums. It spreads over four and a half square miles. The largest "underground complex" in the world, it's worth a visit and works as a great way to traverse the city when it is cold. You will not, however, find an overabundance of luxury boutiques there. That said, just around the corner from the Ritz-Carlton lies quite a few, including Escada and Marie Saint Pierre right next door; Holt Renfrew is also just blocks away. Also just one block down you will find the Montréal Museum of Fine Arts and about a 20-minute walk the opposite direction you will find the Museum of Contemporary Art. Above ground, a standard car service or taxis are one way to get around town, but Montréal is most certainly a walking city and metro station Peel is also very close to the Ritz. For a night out on the town though, Uber's black car service is by far the easiest way to get around.
Photo Credit: Ritz-Carlton
While traipsing around town is a ton of fun, the Ritz-Carlton Montréal is also a treat to return to. Boasting a host of accolades including the CAA/AAA Five Diamond Award and Forbes Four Star nod, the Ritz-Carlton Montréal remains, as it has since 1912, "The Grand Dame of Sherbrooke Street." Originally conceived by a group of investors who desired to bring a hotel like none other to the French city, its walls have played host to a century's worth of royalty, celebrities and dignitaries; it is widely considered to be one of the most historically-rich luxury properties in the area. In 1916, the very first transcontinental phone call happened within its walls.
Palm Court (Photo Credit: Ritz-Carlton, Montréal)
Newly renovated, the property recently spent over $200 million dollars to bring the hotel blazing into the 21st century. Rooms and suites are outfitted with the some of the most high-tech detailing I have seen yet in hotel, seamlessly folded into the elegant and modern design elements. Lush, spacious accommodations have a royal feel with deep purples, silvers and fine appointments that simply feel nice.
Photo Credit: Courtney Driver
Some of the more impressive electronics include floor lighting that stays on when you turn off the lights (from any of the minimalist touch-sensitive "switches" of course) and will slowly fade away in case you need to make your way through the dark. The same lighting is connected to motion sensors and will come back to a soft glow on its own, should you need to get up before the sun rises. Body heat-sensing technology has also been installed that communicates with a small panel just outside of the door, alerting hotel staff whether or not someone may be in the room. This of course is ideal for guest privacy; however the sensor also helps to minimize the property's carbon footprint by further optimizing the room for energy consumption. I had never seen that before, but personally feel that every luxury hotel needs to implement this feature on the double. Many of the suites include marble fireplaces, outlets and USB ports are plentiful, and Wi-Fi is super fast.
Photo Credit: Courtney Driver
High-tech enhancements also continue into the bathroom, where guests will find a TOTO Neorest toilet, complete with touch-panel controls for the built-in bidet (water pressure, temperature, location of spray), as well as other automatic functions like seat heating and lid automatization. As with all Ritz-Carltons these days, Asprey products are at hand including basics like a nail file or toothbrush, comb—the kinds of things you would normally have to call down for. As an added touch, there is even a mounted dental floss dispenser (also a first in my book for a standard room offering). Naturally the space is adorned with marble everything, heated floors, towel warmers and an expansive tub spacious enough for two. There is nothing like that tub after a lengthy day of running around Montréal and we were delighted to return in the evening to find fresh rose petals and bath salts set out nearby by the thoughtful staff.
Montréal is a high-energy city with tons to do, even more to eat and a strong Parisian flair that makes it a unique place in North America. Every one of our three days was packed, and I recommend a longer stay to see it all. Returning each evening to a luxurious property like the Ritz-Carlton offered a chance to rejuvenate and start each day anew. After all, nothing beats a long, fragrant soak and ample sleep in a signature bed to make you feel fresh and ready for another busy day.
Maison Boulud (Photo Credit: Courtney Driver)
Maison Boulud (Photo Credit: Courtney Driver)
Pool (Photo Credit:o Ritz-Carlton, Montréal)
Suite (Photo Credit: Ritz-Carlton, Montréal)
Botanical Garden (Photo Credit: Denis Roger)