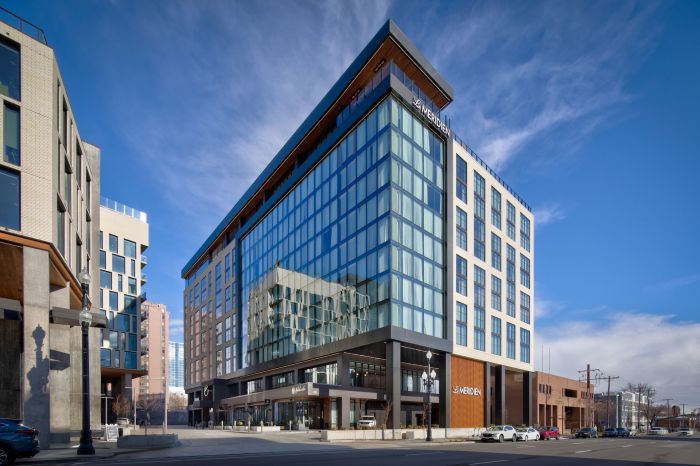 Marriott
"The seed is in the ground.
Now may we rest in hope
While darkness does its work."
These three lines are the poet Wendell Berry's, hopeful description of Winter.
But for many who travel in Winter, and who might prefer, like the seeds within the ground, to hibernate until Spring, Winter travel can be difficult as travelers often search for warm places and comfort food. Recently, we were reminded of this, when, during Utah's coldest and snowiest Winter, we experienced and explored Salt Lake City's new dual-branded hotel -- Element and Le Méridien. They were two in one building, fraternal twins-- both different, yet similar in mission and vision.
They also share an exceptional downtown location -- close to City Creek, the Vivant Sports area where the Utah Jazz play, near also to the Planetarium, the Farmer's Market, Temple Square, the Salt Palace Convention Center, to the University of Utah, close to all the culture, sports, and sparkle of Salt Lake. And yet, as we look from the windows of both hotels, we see the Wasatch Mountains covered in snow, reminding us of they too are part of our guest experience, providing both contrast and compliment -- nature and culture-- to this new dual hotel exploration.
As we drove to this new hotel, our first impression was of a beautiful new, yet subtly bifurcated, building that caught a glimmer of the setting sun. Once inside Element, our first hotel stop, we felt a comfortable sustainability as there were Living Walls in many areas, and a hotel dog, Scoop, to greet us. Dogs are not a deeply sustainable idea, but still he exuded a sense of comfort and home. He is a small Golden Retriever who lived behind the registration counter.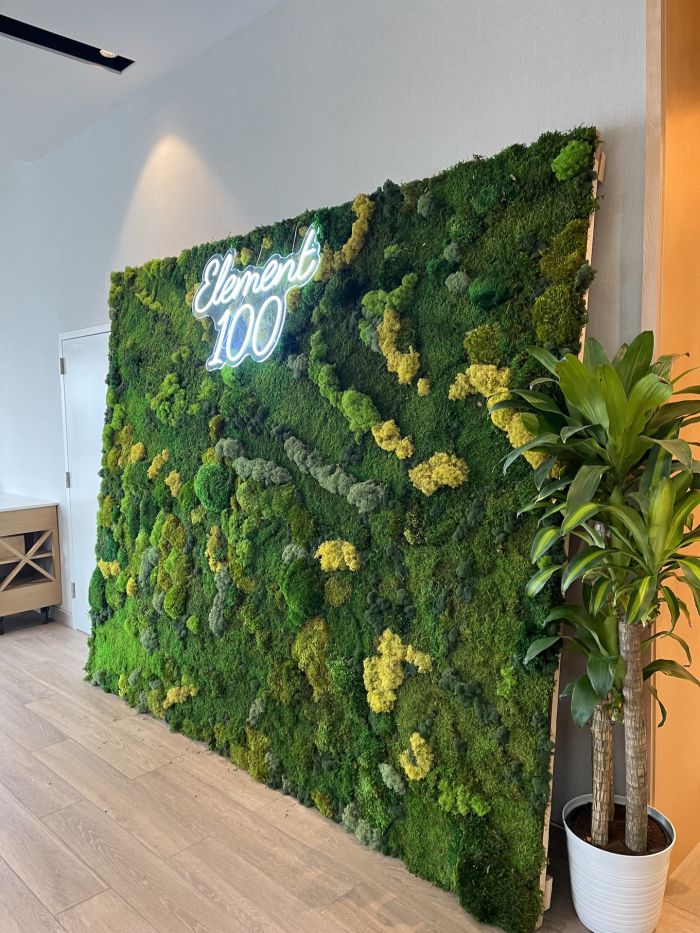 Living Wall, Elements - Susan Kime
Our concierge tells us that this Salt Lake City Element is the 100th global opening for the Element brand and the first one in Salt Lake. Element is a lifestyle brand that allows many guests to have longer-stay offerings, often to enjoy Basketball games, or Winter sports, as Element is only 30 miles away from several ski destinations: Alta Ski Area, Snowbird, Solitude Mountain Resort, and Brighton Ski and others. We also learned this dual hotel is in The West Quarter, part of a new mixed-use development, connecting two halves of downtown with a mid-block pedestrian road called Quarter Row.
Our stay at Element, with 126 rooms and suites, floor-to-ceiling windows, fully equipped kitchens, spa-like bathrooms with eco-conscious amenities with signature Heavenly beds, is complimented by an organic Daily Rise breakfast and a Relax evening reception. What's interesting, in addition to the organic fruits and produce, is the brand's collaboration with Lettuce Grow, a leader in hydroponic gardening. Here, guests have access to free, farm-fresh produce and herbs at the on-property Lettuce Grow Farmstand.
But Farmstand is not the only intuitive wellness component included in both hotels: the signature restaurant, Adelaide, is a shared restaurant, as it blends both the sustainability of Element with the Le Méridien French Bistro vibe, on the main floor. We access Adelaide from both hotels, different entrances. The Adelaide Menu is a great assortment of organic vegetables, fruits, as well as farm sourced meats and truffles used in unique ways.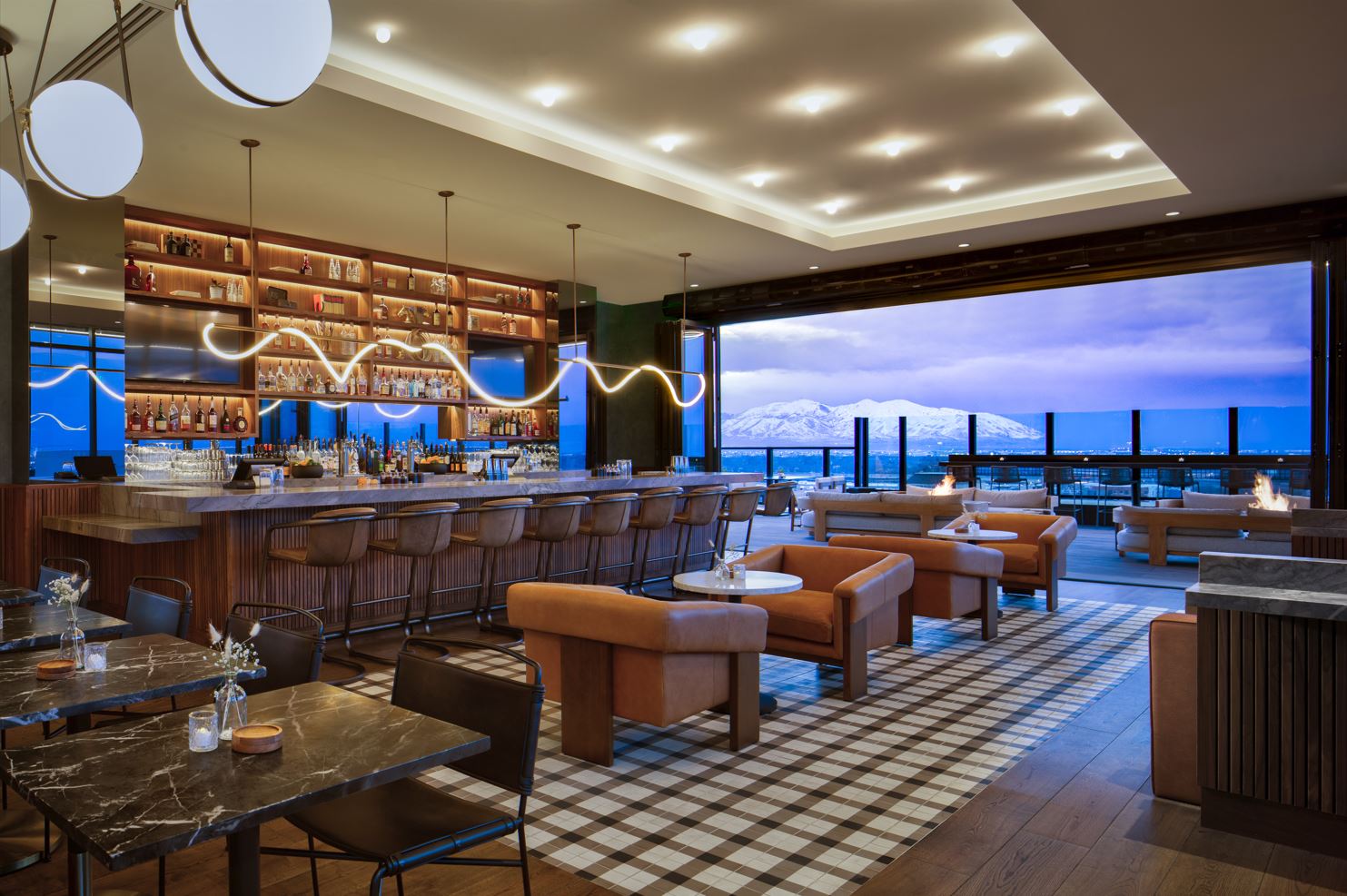 Marriot - Van Ryder rooftop bar
Other shared spaces are the Van Ryder rooftop bar, where cocktails, mocktails and shareable plates are served, and again, with an expansive view of the Wasatch mountains, covered in snow. There is also an 8355 sq. ft of shared meeting and event space, and rooftop fitness center with pool.
Finally, our hosts at Element show us a fascinating concept, made for families, businesses, and personal groups. Called The Studio Commons, the concept connects four private bedrooms with a communal space that includes a shared kitchen and living room. We have a private dinner in the Element Studio Commons, where we meet the Executive Chef at Element, Jacqueline Siao. We also experience the Lettuce Grow Farmstand again, as she and her Sous Chef pick fresh herbs for the exceptional dishes she and her team create. We also sample libations, either Mocktail or Cocktail, with fresh flowers and herbs placed on the side of the glasses.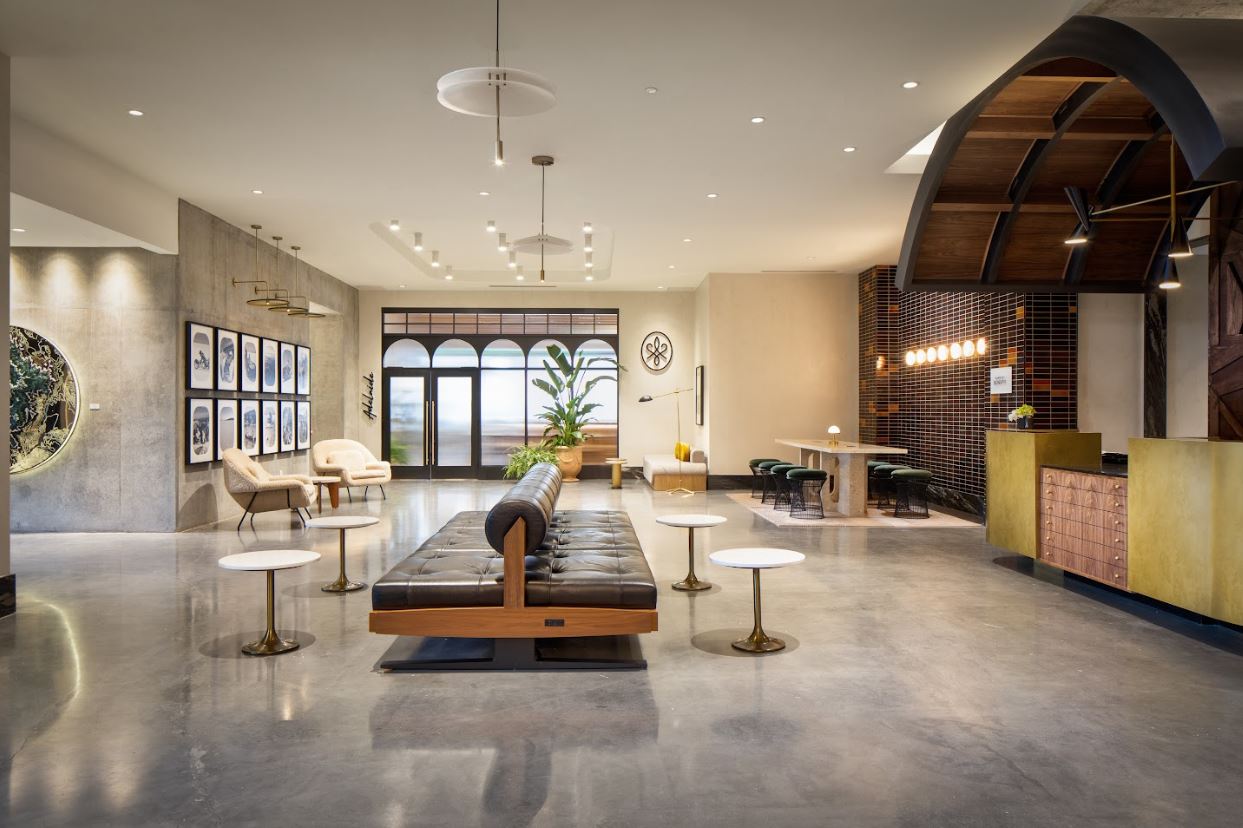 Lobby Le Meridien - Marriot
Our next stay, right across the walkway, is at Le Méridien, that feature 144 rooms and suites, floor-to-ceiling windows with city views. There is a sense of art and artisanry to this hotel. In all rooms there is artistry in the tilework, on the walls, in the textured bedrooms and carpets. And in the Le Méridien lobby area, there is dazzling original artwork, plus a unique lobby library.
What obtains, as we recollect, is both brands, Element and Le Méridien, allow emerging fulfillment of the contemporary guest needs and wants. The desire for winter hibernation -- the desire to go home and stay there in winter-- is fragmented, as the sustainable, organic food, living walls, great art, exceptional design flow, the branded Heavenly Beds, all allow the winter traveler to feel at home, comfortable, and cared for. In addition, the dog Scoop, the Studio Commons, and the library also mingle in memory, to create an environment that allows a remembered home warmth, all within a non-home urban landscape, creating a need for us to return, no matter the season.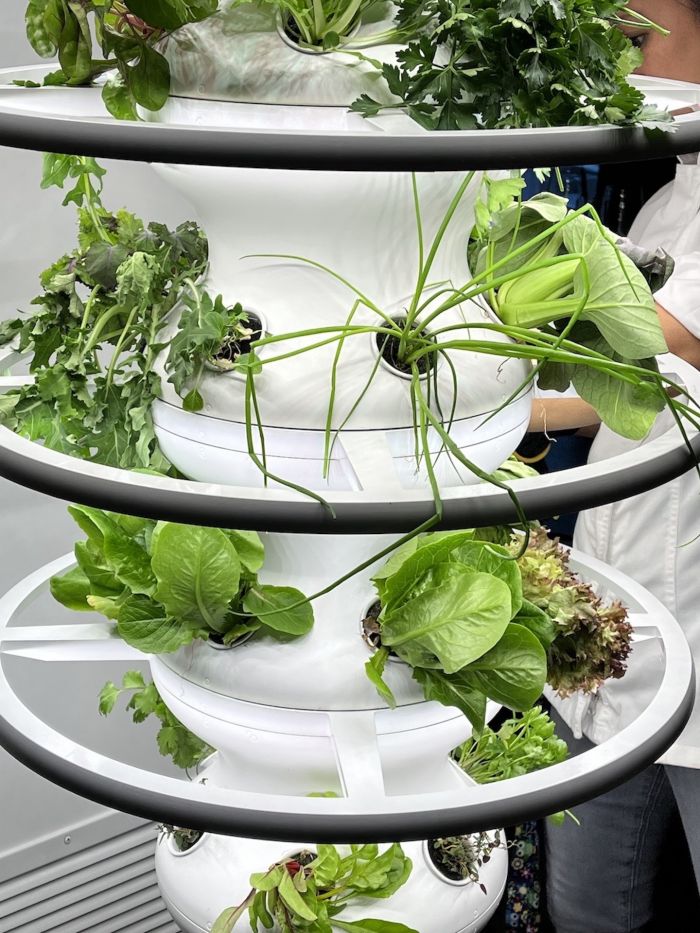 Lettuce Grow Farmstand - Susan Kime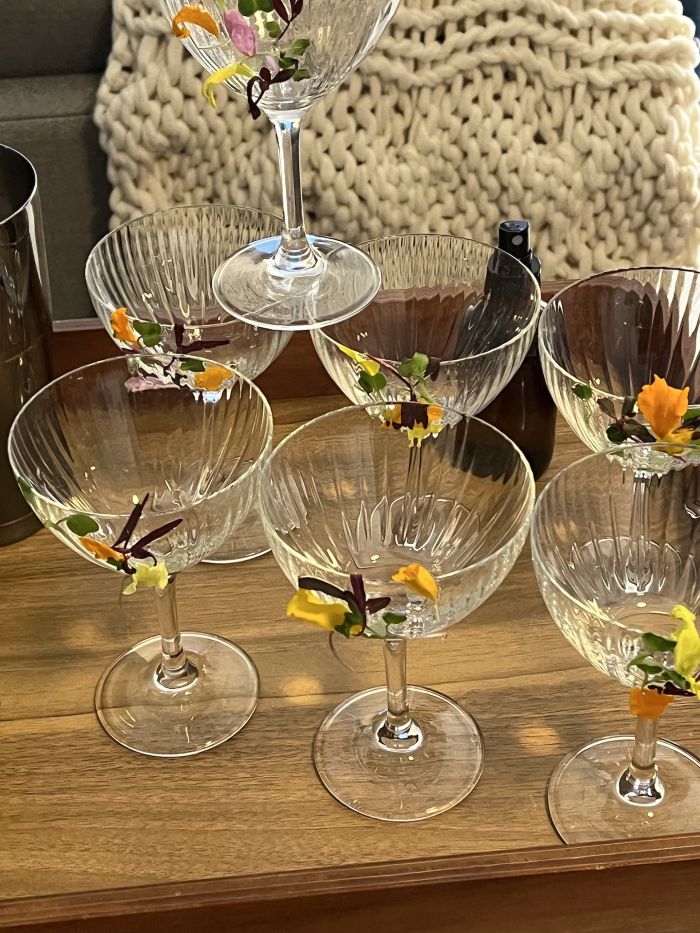 Cocktail Glasses, fresh flowers and herbs, Farmstand -Susan Kime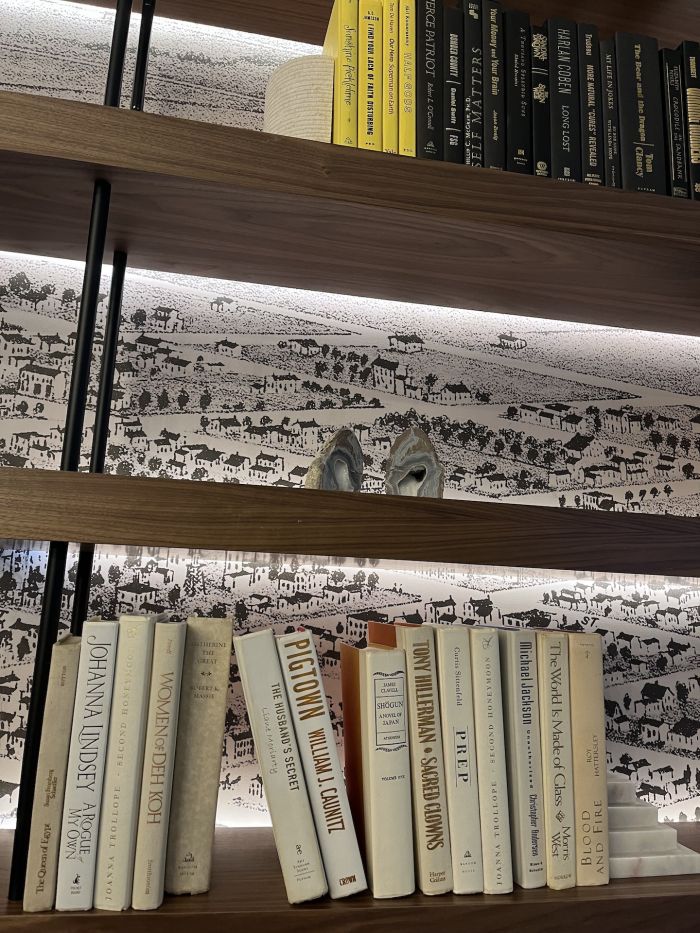 Lobby Library Le Meridien - Susan Kime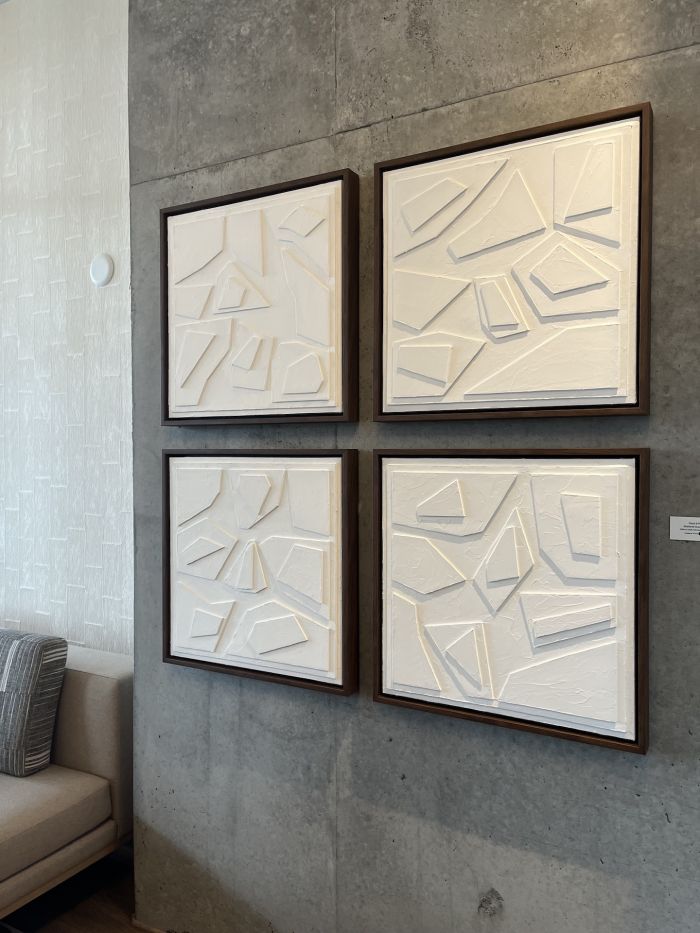 Wall Art -Susan Kime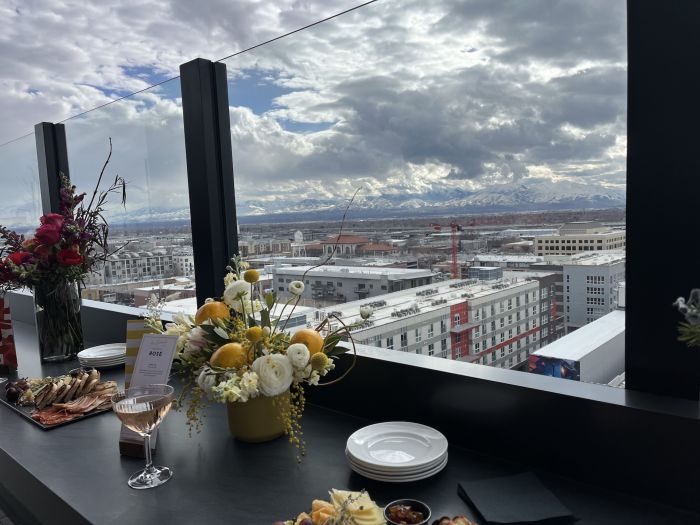 Van Ryder Rooftop Wasatch Mountains - Susan Kime