Longitude 131°and Uluru, Central Australia's Ultimate Desert-Luxe Rock Star Retreat
At first sight, one is instantly in awe. Anticipate a mix of astonishment and spiritual emotion followed by the futility of searching for a reference to compare. The natural beauty of the Matterhorn comes to mind followed by the power of Niagara Falls or perhaps the daunting size of the Grand Canyon. Ultimately you will come to terms that you've never seen anything like it and resolve to merely appreciate its one-of-a-kind majestic beauty. This is what it is like to see Uluru, a 500-million-year-old sandstone monolith in the middle of Australia. Located at Longitude 131°, this is also the namesake of one of Australia's finest luxury lodges where guests fully immerse in the experiences of Uluru and all that this sunburnt part of Central Australia has to offer.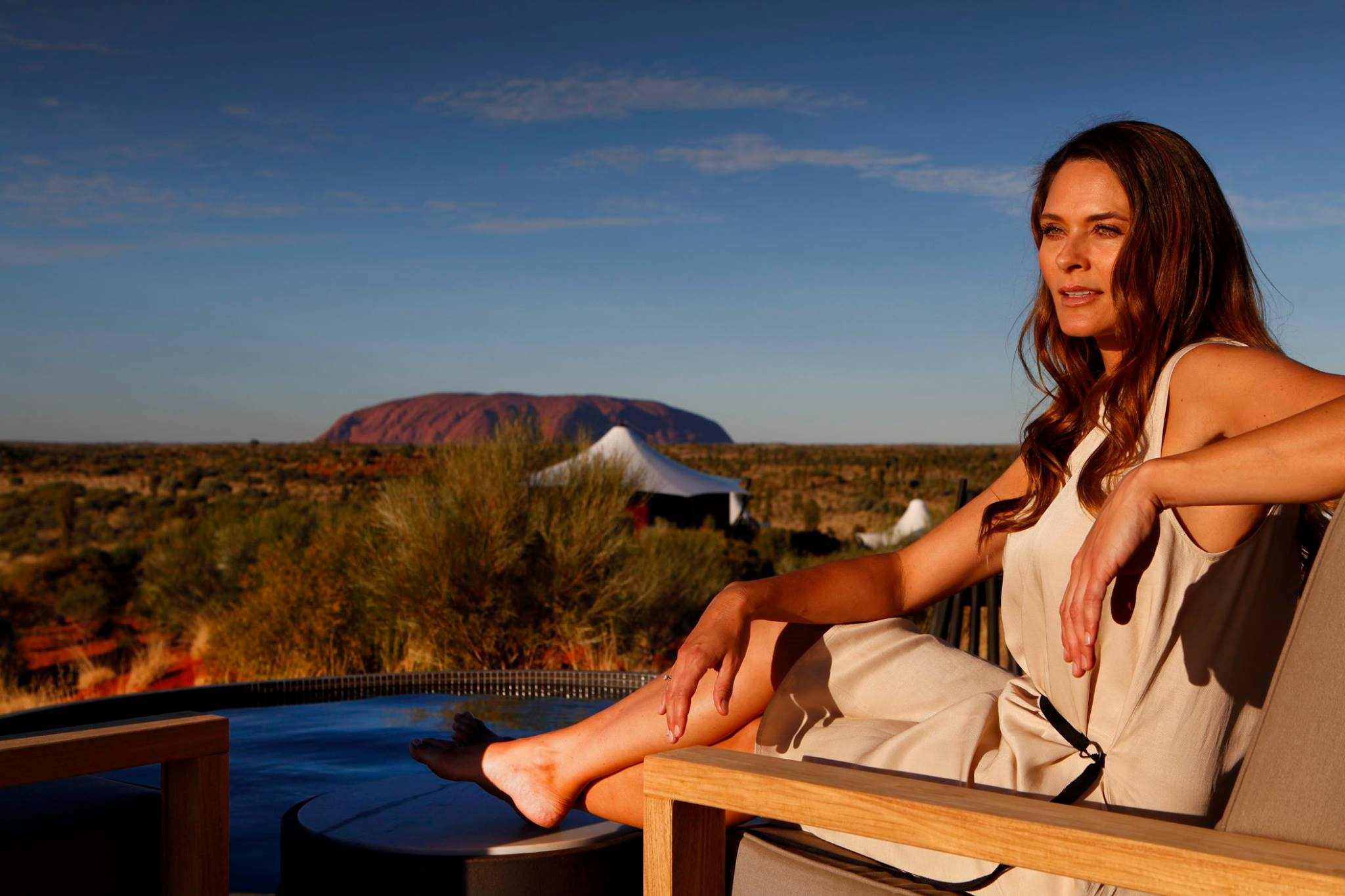 Longitude 131° is the perfect complement to Uluru and the surrounding red ochre desert habitat of spinifex grass, scrawny eucalyptus trees, dingoes, camels, and monitor lizards. The lodge is an exclusive oasis with only 16 opulent tent pavilions. However, the refined ambiance is only part of the stay. What Baillie Lodges, the owners of Longitude 131°, have been able to do is to craft a flawlessly authentic experience that allows guests to fully engage in the history, culture, and natural splendor of an outback adventure in Central Australia.
Longitude 131° is Australia's quintessential desert retreat with sumptuous safari tent-inspired accommodations spread out over rust-colored dunes with unobstructed views of the World Heritage-listed wilderness of Uluru-Kata Tjuta National Park. The resort is well known for its culinary finesse that goes beyond just good food and exceptional Australian wines to create unforgettable meals embued with indigenous flavors. To round out the stay, the staff at Longitude 131° pampers each guest with warm and intuitive service. Lastly, their comprehensive excursion program includes twice-daily tours by their expert in-house guides allowing guests to fully appreciated Uluru and the aboriginal culture that makes up this extraordinary part of the world.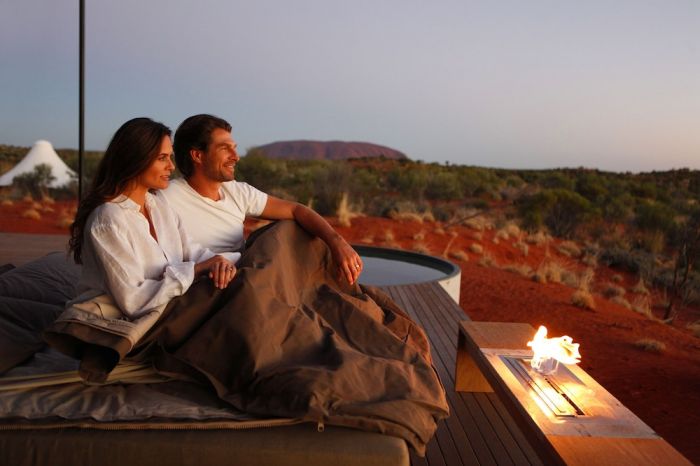 This is literally a carefree all-inclusive holiday including two daily tours and all your gourmet meals, a complimentary open bar, as well as the in-room mini-bar, included in the rate. Spa treatments, helicopter tours, and private excursions are available at an additional cost.
Central Australia is red dirt country where the Anangu aboriginal people wandered for thousands of years living off the land, hunting the kangaroo, lizards, and gathering bush tukka or edible indigenous plants. Historical traces from that time are found throughout, especially around their most sacred place, Uluru. Longitude 131°'s tours enlighten guests with a glimpse into the aboriginal way of life as seen in the primitive rock art from thousands of years ago. Uluru is a sacred site for the Aboriginal people who see evidence in this holiest of mountains from the fight between mythical creatures, snakes, and dingoes which they believe created the formation.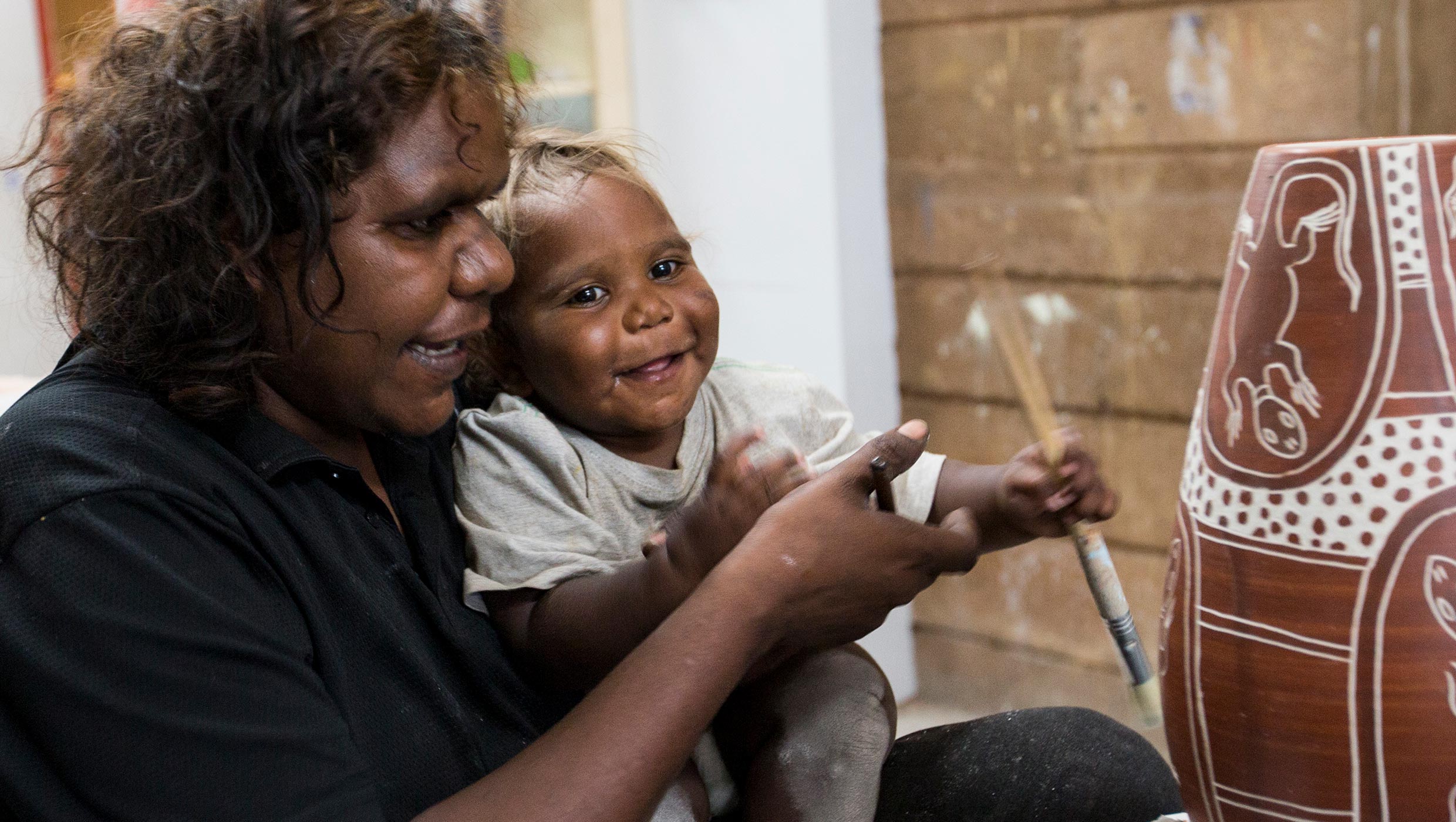 The Anangu people are still very much a part of this area and the Uluru experience. They still live by their tribal laws with a proud culture that is admired and respected by residents and visitors. While at Longitude 131°, the richness of the aboriginal culture is an integral part of the stay from artwork seen in places throughout the property and in the tent pavilions, or with the surreal sounds of the didgeridoo, an aboriginal instrument, that welcomes guests back from tour.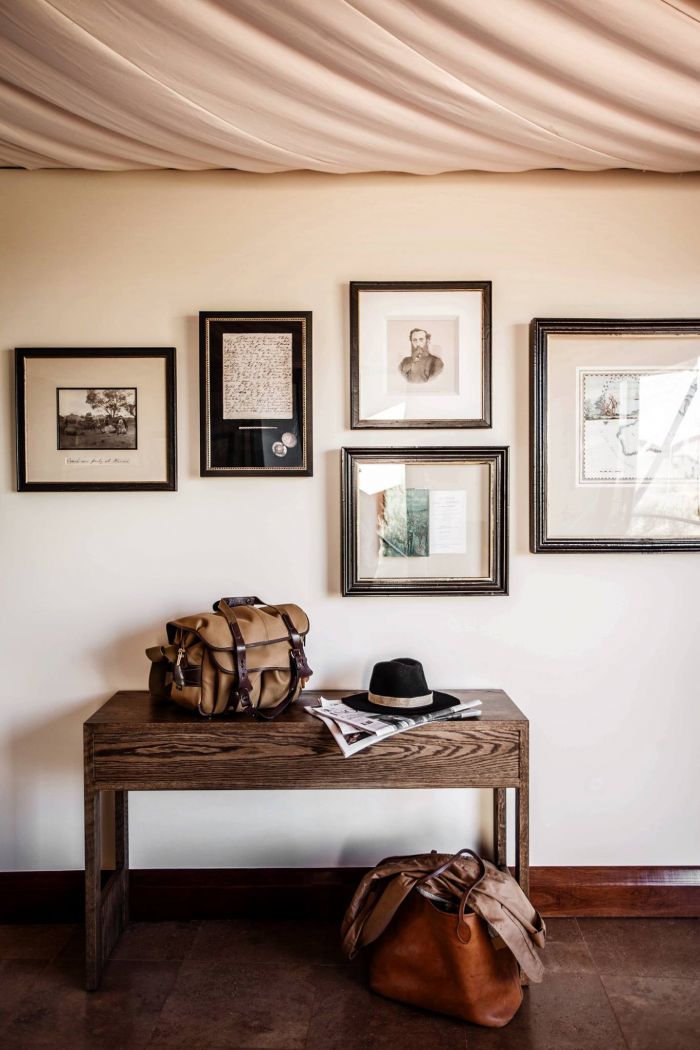 Just a few generations ago, these harsh lands were first seen by white explorers who forged their way from Adelaide and Melbourne through unforgiving routes to Australia's most northern point, Darwin. Along the way, they encountered Uluru and named it Ayer's Rock which has since reverted to the original name provided by the indigenous people. The white explorers first tried and failed by horse and then successfully reached Darwin using camel. Incidentally, those very same camels were abandoned yet adapted well and are now problematic feral animals seen roaming free throughout the desert.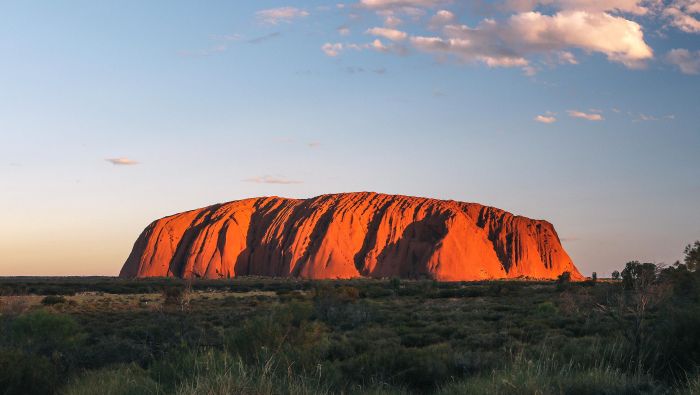 Uluru is a sandstone mountain that rises 1200 feet above the pancake-flat landscape of the surrounding 311,000 acres Uluru-Kata Tjuta National Park. It is estimated to between 500 and 600 million years old, as old as Australia itself, formed by the Earth's shifting tectonic plates. The "Rock" is mesmerizing at any time of day; as the sun rises the dark red color shifts to an orange hue while shadows grow and retreat animating the massive sandstone to life. There are several ways to explore the Uluru with guided tours taking guests to the most compelling spots including water holes and to the primitive rock art found in various caves. Many guests will combine exploration with exercise and jog, bike ride, or walk the six miles around Uluru.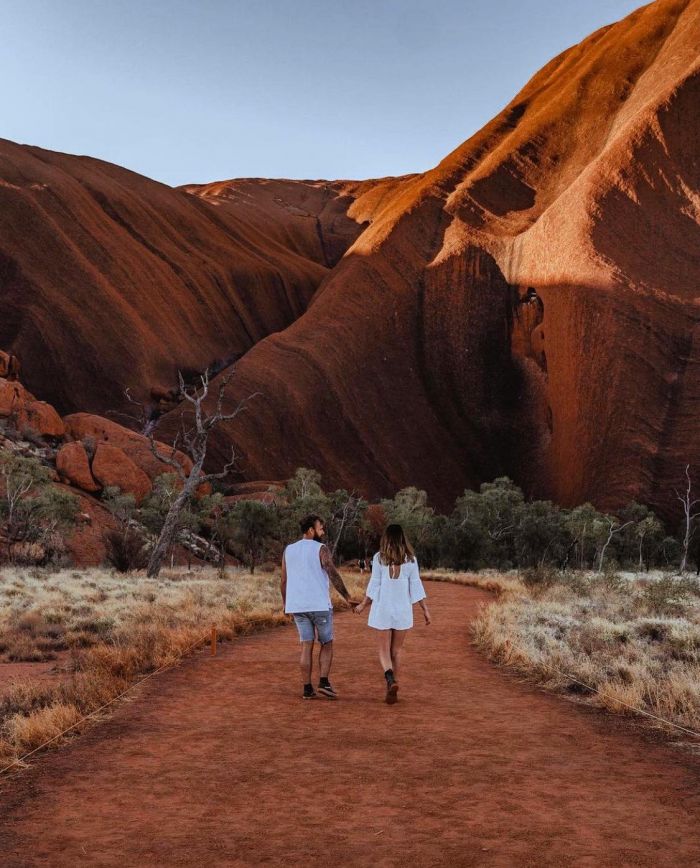 Longitude 131° is the closest manmade structure to Uluru with two miles of desert plains between. The lodge takes full advantage of the ever-changing views and shifting light on the mountain and scenery throughout the day. The Dune House is the retreat's convivial gathering place where the reception and restaurant are located as well as a library, several lounge areas, and the make-yourself-at-home cocktail bar. Inside the tent-like structure features a 30' cantilevered roof, tasteful furnishings, and a captivating offering of indigenous crafts and large paintings by Aboriginal artists. The captivating views are of course the focus through floor-to-ceiling windows as well as the outdoor deck area.
The self-serve bar area is the place where the lodge's well-heeled guests gather before dinner for cocktails and to swap their stories of adventure from the day. Guests enjoy a vast variety of top-shelf spirits; the finest Australian wines and French champagne are available all day as well. Elsewhere around the property is the spa with two treatment rooms offering unique desert-inspired therapies as well as a pool with lounge chairs and misters to cool off on hot days or after an outing.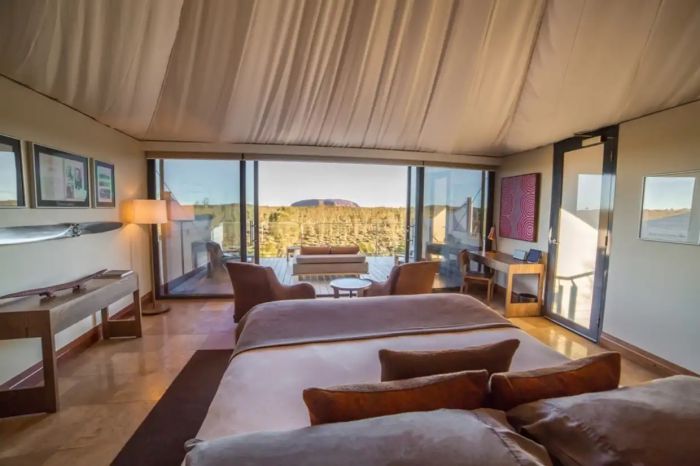 Accommodations are referred to as tents but beyond the name, you'll find little in common with the reference. The tent pavilions are well-appointed five-star abodes named after the 19th century outback pioneers and feature replicas of their historical maps, documents, navigation tools, other memorabilia from the period. Rooms feature an ensuite bathroom with a rain shower and are serviced twice daily with turndown service at night. Amenities include an espresso machine and gourmet loose-leaf teas as well the complimentary fully stocked mini-bar with wine, beer, and soft drinks, and snacks.

The décor follows the safari motif and classic British colonial design with towering canopies draped in white cloth, colorful and textured aboriginal art pieces as well as uber comfy bed and furnishings with floor-to-ceiling windows and, of course, the surreal vista of Uluru as the room's masterpiece. Each tent pavilion sits on a lofty perch with an elevated balcony for vistas over the desert landscapes as well as a fireplace and large day bed ideal for laying out and taking in the fascinating spectacle of the holy mountain during the day or the sky of twinkling stars at night.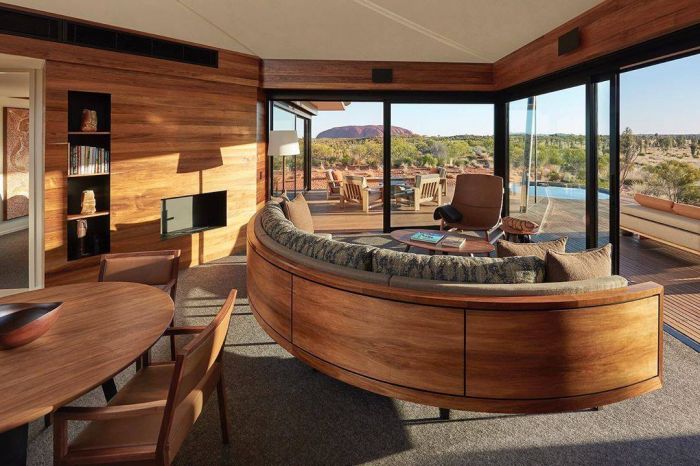 For another level of accommodation, the ultra-luxe and haute designed Dune Pavilion looks as if it just fell off the pages of Architectural Digest. Modeled after an Australian homestead, the pavilion offers accommodations for four, spacious bathrooms overlooking the desert with deep soaking baths, and an expansive living room. There is a well-equipped outdoor living space with comfy furnishings, a private plunge pool, spacious deck area, and decadent views of both Uluru and impressive domed rock formations of the nearby Kata Tjuta.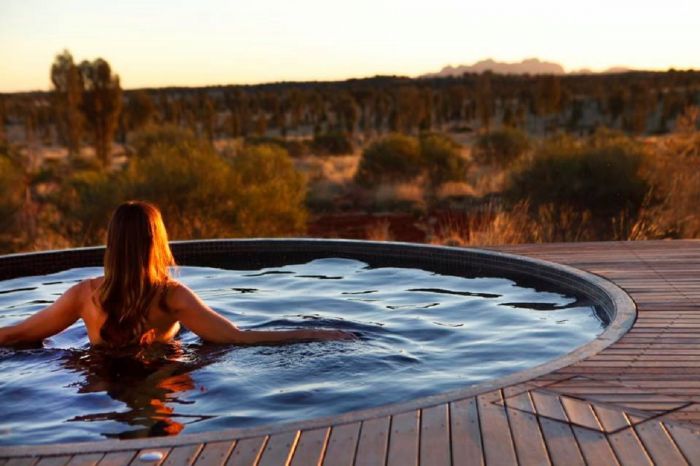 The dining experience at Longitude 131° is world-class as well. Expect a four-course gastronomic journey that changes daily as well as caters to the dietary requirements of each guest. Meals focus on Australian sourced ingredients infused with indigenous flavors prepared with modern techniques and presentation. The menu is well considered with produce sourced from ethical and sustainable suppliers. Options may include barramundi, smoked kangaroo filet, or king prawn seasoned with wild spices, bush plum, lemon myrtle, saltbush, or the native berry - muntries. The wine pairing is exceptional as well with fine wines from Australia's top wineries brought in to complement each dish.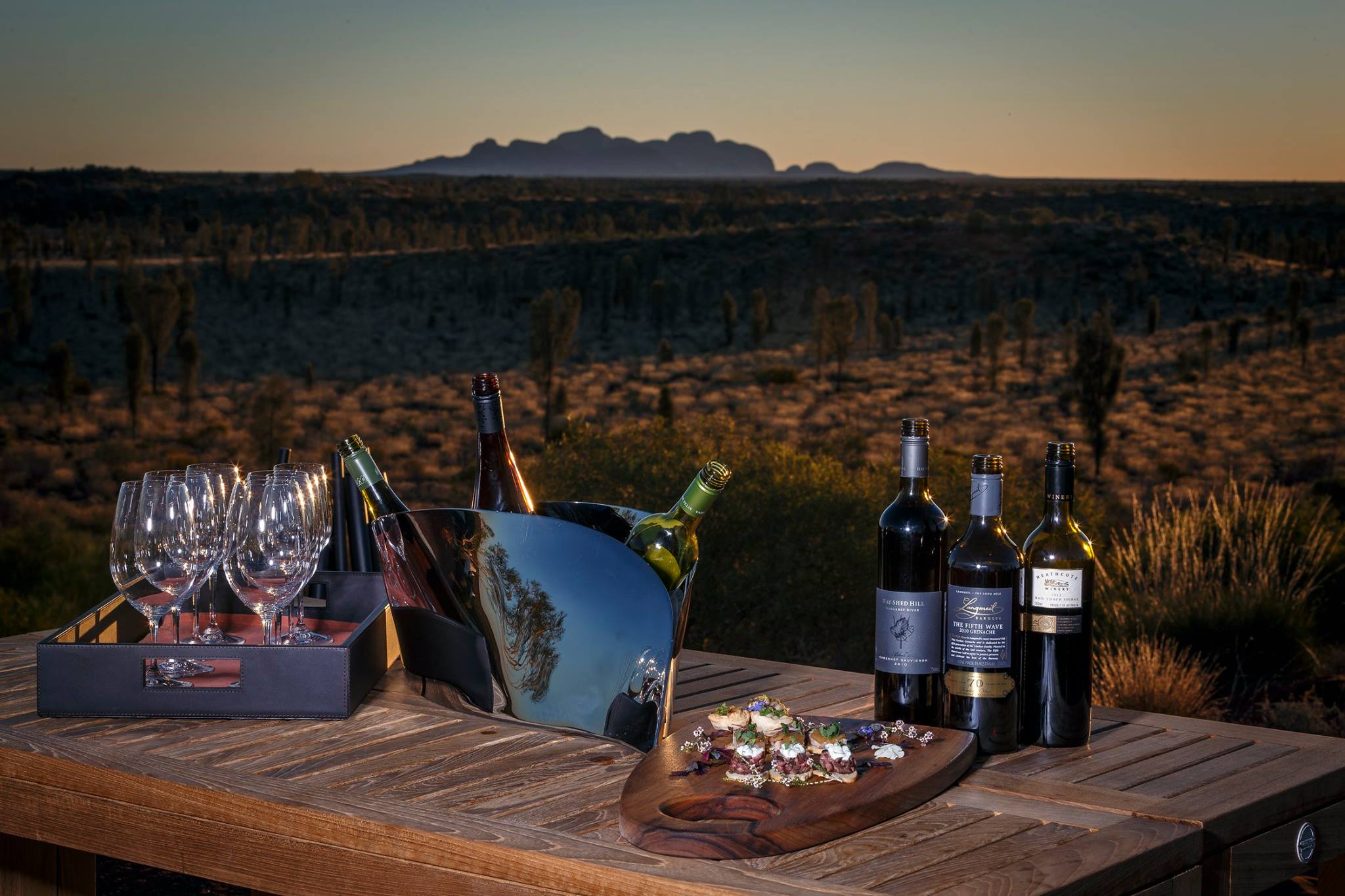 It appears that Longitude 131° is hellbent on creating lifelong memories vs. providing just another luxury vacation. At each touchpoint during your stay, something special happens; be it the tours, culinary journeys, or time spent in your tent pavilion. On one particular evening, the night cannot be forgotten. The evening begins with a small group of guests visiting a location to take in the sunset as it casts its shadows to transform the sacred rock from burnt orange to a crimson red. Champagne flows as glasses clink accompanied by delicious canapes in a moment to be cherish with your loved one, if not feeding your Instagram page with a clutch of enviable shots. Elsewhere others chat with new friends, or just watch the shadows grow in silence.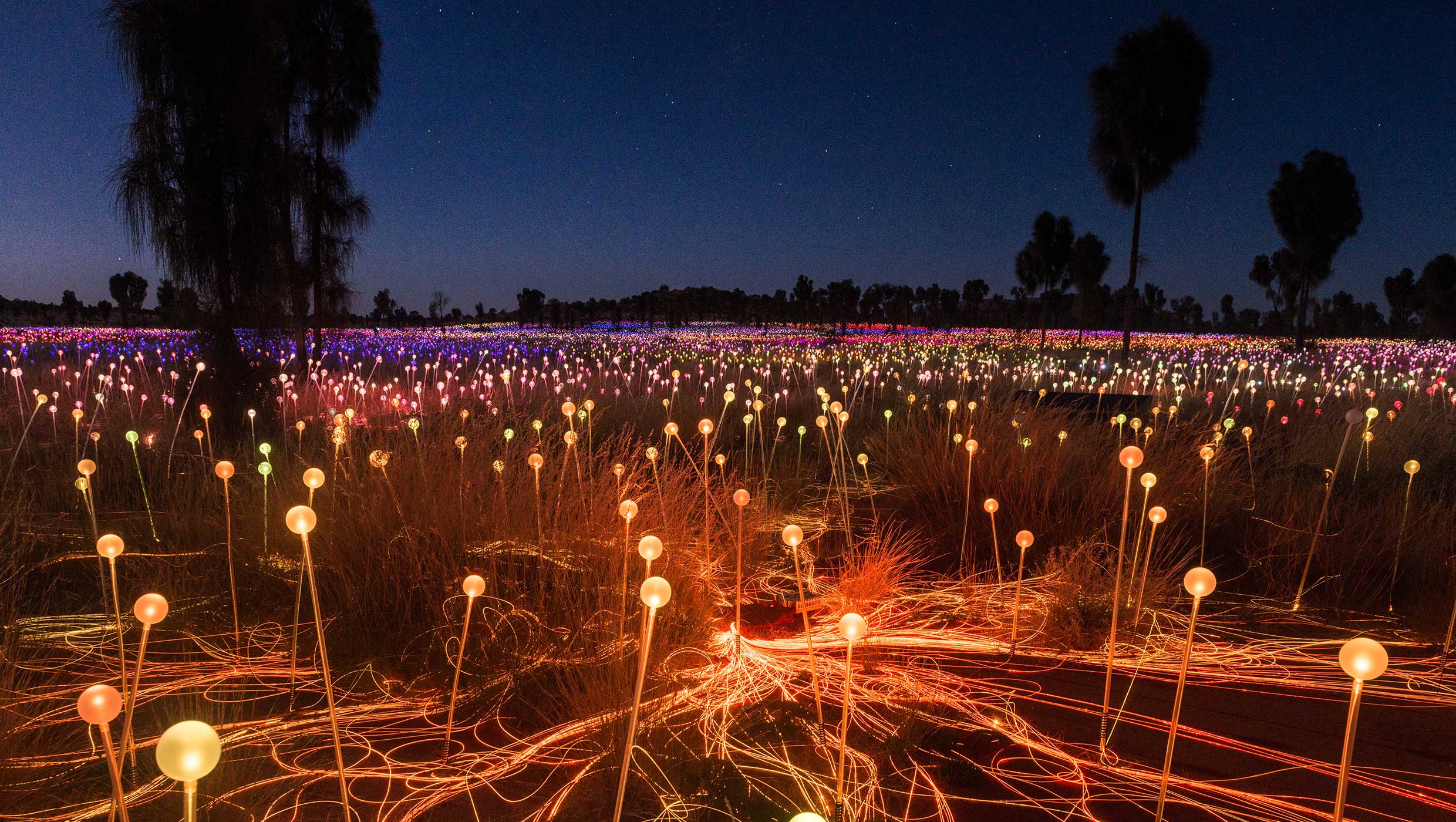 Guests are then whisked away for an exclusive visit to the Field of Light experience by the artist Bruce Munro. Here an otherworldly art installation of 50,000 lights and neon cables spread over the desert to create a ghostly moonscape. It could not be more beautiful as the solar-powered lights take on an eerie illumination of a glow-in-the-dark tulip field juxtaposed against the brilliant stars in the pitch-black skies above. This is a popular attraction, yet Longitude 131° has been able to secure a vernissage-like viewing for their guests before the hoards of other visitors are permitted to enter. Longitude 131° guests stroll through the spectacular maze, enchanted by the lights as they come to life and change colors before them.
After time in the interactive light show, guests are in for a culinary evening they will cherish for years to come. In a hidden location, Table 131° provides an evening of dining under the stars. This is another level of alfresco with guests are sat around an amphitheater. The evening begins with the decadent four-course meal expertly paired with wines. Later, a storyteller shares a folkloric tale of the genesis, then recites a poem before pointing out the constellation from the sea of stars above.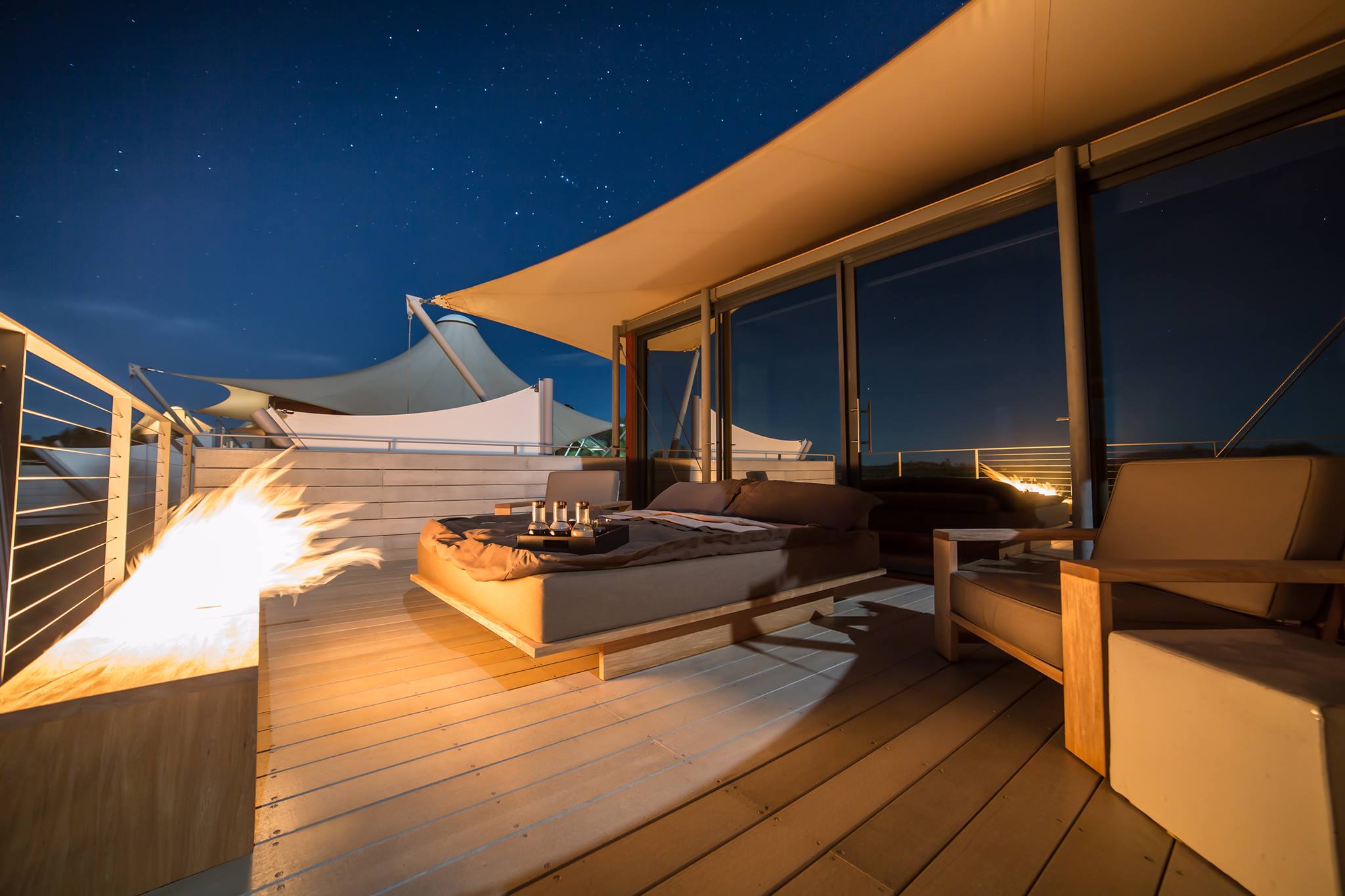 As if this wasn't enough, the night does not end there. Guests are brought back to their tents for a special treat. On the deck of their tent pavilion, a swag or heavy sleeping bag has been set up on the day bed and made complete by the warmth of a crackling fire and a thoughtful basket of popcorn. A snifter or two of the provided port or Cognac will surely dispatch any lingering chill of night. Here you and your loved one snuggle while looking at the millions of stars so clear you can almost reach out and touch them. This is dark sky territory and due to the absence of light and air pollution and the low humidity, you can clearly see the stars, planets, and the stardust of the Milky Way with the naked eye. It is at this point that you realize just how unforgettable your stay has been at Longitude 131°.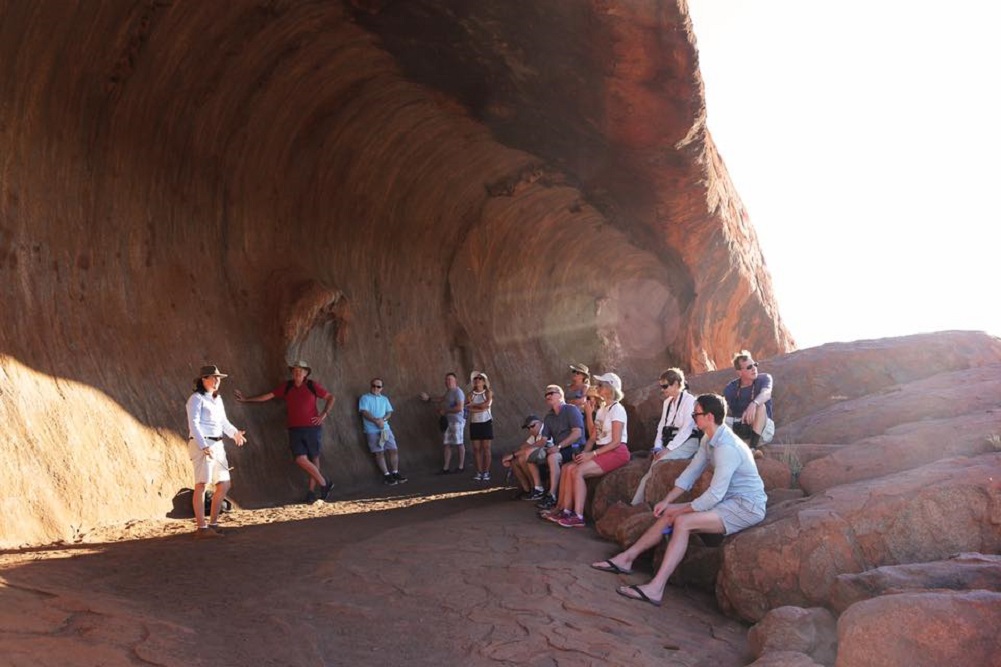 Beyond special nights such as this, the experiences and tours are widely varied and top-notch. There are numerous tours available in the area from camel trek rides to helicopter tours. Although Uluru is the star of the show, there are nearby formations as well worthy of a visit. In particular, Kuta Tjuta is a rock formation that is larger than Uluru with massive domes and unusual formations in its own right. This area is sacred as well however there are several areas where guests can take the guided hike through Walpa Gorge. Here guest trek through the rugged landscape and wind tunnel between two domes taking them on a mile and a half long trek to a water hole and lookout platform. The views and sheer size of these formations boggle the mind.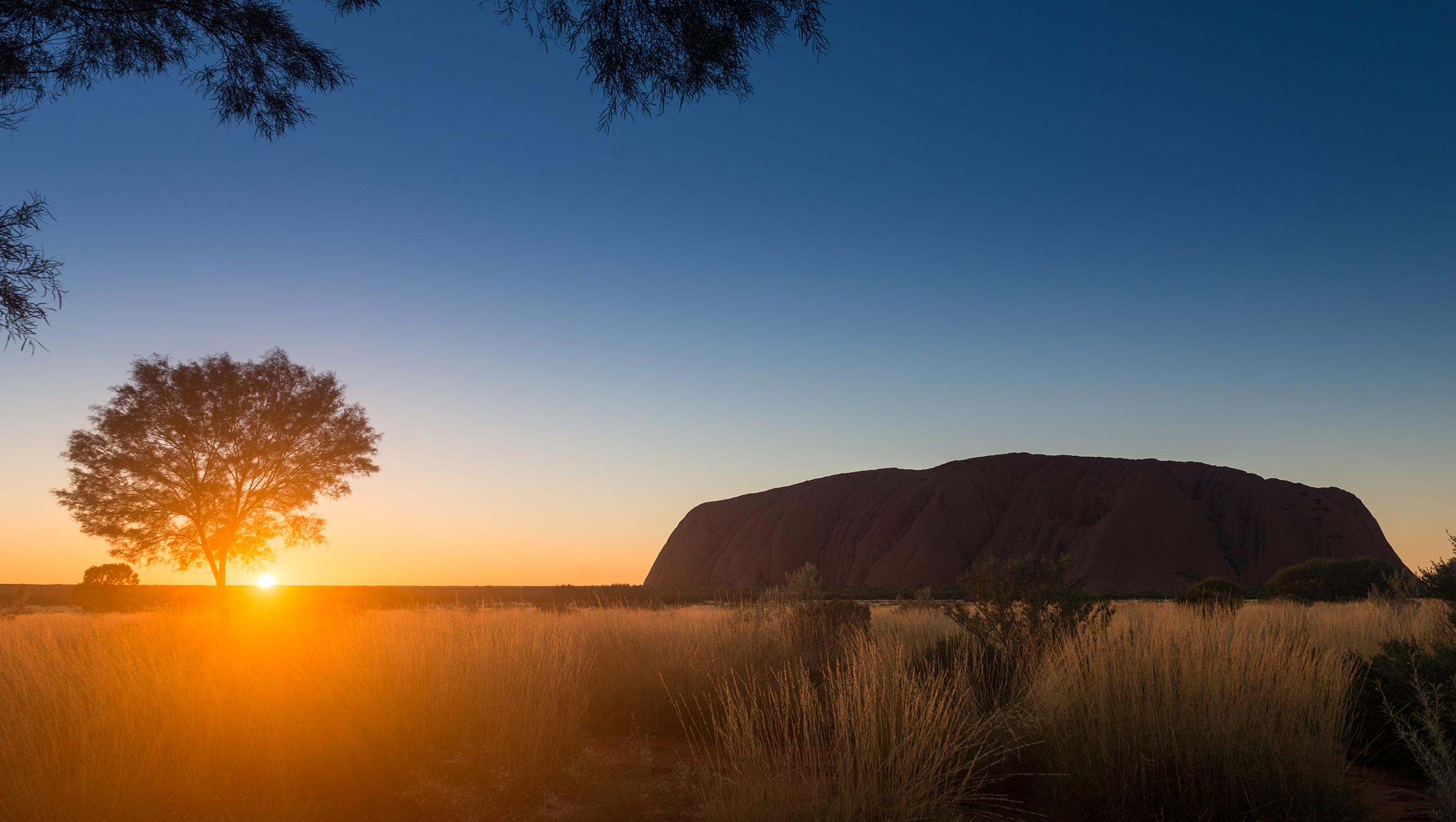 On rare occasions, we find a place that touches our soul. Uluru is such a place, one of Australia's most iconic landmarks, a sandstone monolith weathered by 500 million years of seasons, sunrises, and sunsets, surrounded by red dirt dunes and revered by the aboriginal from their first days. Only a rare resort can appreciate the gravitas of the place and can do it justice. Longitude 131° is the ultimate in outback luxury in a desert sanctuary set against the rugged beauty of the Australian outback. Guests will never forget this sophisticated vacation that enriches us beyond a mere vacation while pampering us with all the creature comforts one could desire.