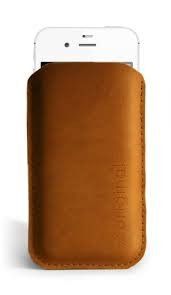 Mujjo
At first glance, it may seem that luggage tags, portable electronic device protectors, and smart phone stands don't warrant a spot on the latest must-have travel accessory list. But as travelers know, simpler is better and the devil is in the details. Is your smart phone protected from twisting and bumping? Is your neck pillow too bulky for stuffing in your carry-on? Can you quickly identify your luggage at baggage claim or are you one of the stragglers staring at the rotating sea of Samsonite black? Here are 3 new travel accessories that solve these problems:
Mujjo Leather Device Protection
Maybe you're not attempting to do deep sea dives with your phone but even if you're just chatting poolside, it's only a mater of time before you put it down on the lounger table to get a drink. Your phone is just waiting to get splashed. Don't panic, you don't need to ruin your panache with a clunky waterproof cover. For most of us, a fine crafted leather sheath that nicely matches our sandals or sun hat is more than ample.
Dutch designers Remy, Robin and Tom of Mujjo hand craft leather protection for mobile accessories. This is their bread and butter creative endeavor. They launched a couple years ago with hand stitched winter gloves designed for touchscreens and moved on to these minimalist sleeves featuring a unique combination of wool felt and high quality leather for your Apple or Android.
iprop Cushion
You don't have a laptop but you love...or need...to type. And you're scrunched in a window seat on a 5 hour flight. Eventually you'll get sleepy, you're head will roll to the side and you'll most likely be lolling toward your seat mate. The iProp cushion solves both of these problems...On one side of a plush cushion is a bracket for holding a smartphone or tablet. Place it on a tray table and you're good-to-go. When your eyelids get heavy, jam it on your seat edge or against the plane wall for a comfy headrest...good bye to neck cramps and furtive taps on the shoulder.
SwaggerTags
Baggage tags...you absolutely need one but don't want prying eyes quickly grabbing your personal info. SwaggerTags meet the balance of providing a unique identity without giving away everything else. The best part is you can customize your tag (which really looks like a funky locket) with any picture that matches your expression of the moment! As you can see, mine isn't a fuzzy kitty or a beloved daughter.
Dockem
Cushioned Tablet Stand
SwaggerTag
Swagger Luggage Tag