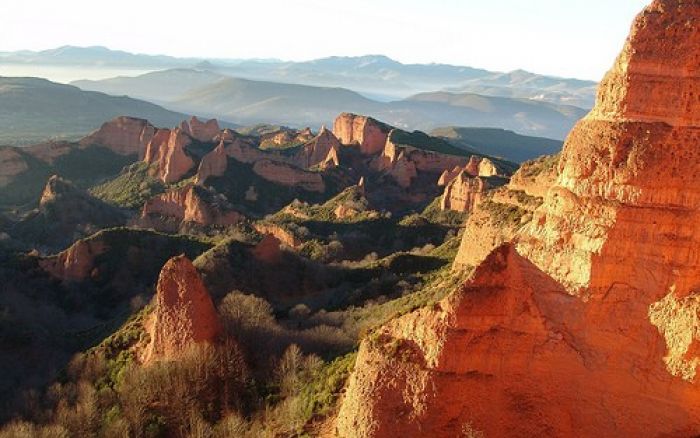 Image by Trodel
We go on holiday to eat, drink, relax, and most importantly to see. That is why I have compiled a list of the hotels with the best views in Spain, for those who want their holiday to be a feast for the eyes.
These are quite simply some of the most stunning views in Spain and for the length of your holiday; they will be yours to wake up to every day. So open your eyes to the Spanish sun, sea, forests, deserts, orchards and vineyards.
1.††††† Iriarte Jauregia, Bidania
This 300-year-old mansion is nestled in the perfect countryside location. The hotel is surrounded by thick forests, luscious fields and soaring hills. The almost alpine landscape stretches out across the sun drenched horizon. Meanwhile in the valley, cows graze and tractors rumble, reflecting the slow pace of life in the Spanish countryside.
This location can offer both a peaceful environment to sip a glass of wine, as well as dramatic rolling hills, populated by eagles soaring in the sky.
There are 19 comfortable and stylish rooms here, providing the perfect base for exploring or relaxing. The hotel has an excellent restaurant and a stylish bar.
2.††††† Fountainhead, Andalucia
Set within almond and olive groves, this peaceful retreat enjoys views stretching out to distant green mountains, under a bright blue sky.†
The remote hillside location is conveniently close to Malaga, although you would never realise civilisation was so close. This hotel is not just about the views stretching out to the distance, but also the views within the hotel itself. Fountainhead has its own Zen Garden featuring a series of fishponds, sculptural cacti and palm trees.
The hotel is comprised of four very secluded suites, each with their own terrace and plunge pool, making it the perfect place to unwind. The hotel is unusual in the sense that there are no TVs or even a swimming pool; instead it is a place of quiet and beauty.
There is also a fantastic restaurant serving creative, gourmet food as well as an excellent wine list.
3.††††† Hostel Sa Rascassa, Catalonia
When a hotel is voted as one of the best hotels in the world, not once but twice, in 2010 and 2011, the expectation is very high. There are two reasons for Hostel Sa Rascassa success; outstanding food and breath-taking views.
The food is so good that it is basically a restaurant with rooms and the views are so good that itís hard to imagine a building being there at all. Situated on a secluded, pine-covered hill, just 40m from an unspoilt clear water cove, itís hard not to see the appeal.
Even with your eyes shut, you know the view is going to be amazing, as all you can hear is the birds singing in the trees and the waves lapping gently on the shore.
The restaurant has an idyllic setting amongst trees lit up by fairy lights and during the height of summer there is a bar on the beach.
4.††††† Aire de Bardenas, Near Tudela
When you think of holidays in Spain, sunny beaches and bustling Gaudi-inspired cities come to mind. A modernist hotel in an almost lunar landscape might not. But trust me, the views are spectacular.
Everything about this hotel is unique, cinematic and surprising. Set on the edge of the Bardenas Reales National Park, you can see wind-sculpted hills and rolling desert on one side, and deeply rural wheat fields on the other.
The hotel resembles a series of white and reflective mirrored cubes, which gleam in the desert. And inside, the modernist style continues with minimal yet funky room designs.
If you want peace and quiet along with dramatic views, then Aire de Bardenas might be for you. There is also a stylish restaurant serving delicious Navarre food.
5.††††† El Secreto de Ollo, Near Pamplona
On approaching El Secreto de Ollo, you drop into a crater-like valley of golden wheat fields. The landscape here has hardly changed in 300 years, making it an idyllic spot with dramatic scenery. Very little happens in this quiet, northern pocket of Navarre, but the views are all the entertainment you could need.
The hotel is a beautiful old house, nestled above a church in the quiet village of Ollo. El Secreto de Ollo is comprised of seven lovely rooms, all beautifully decorated in the ownerís unique style.
Nearby is the historic Pamplona and the beautiful San SebastiŠn so there is plenty to explore.
If you are planning a luxurious holiday, all of this should be food for thought, particularly if you are searching for beauty and quiet. The selection aims to showcase all of what Spain has to offer your eyes and if this doesnít get you packing your bags, I donít know what will!
Do you know of any great luxury hotels in Spain?†
†
Bio: Gavin Harvey is a fitness instructor who loves to traverse the world and write about his tales of adventure, intrigue and general tomfoolery. He writes for Hotelopia.†