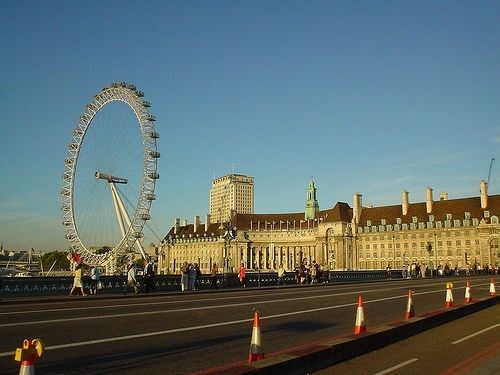 http://www.flickr.com/photos/s
London is the UK's capital city and is one of the most populated cities in all of Europe. It is overflowing with beautiful scenery, interesting attractions, delicious food and rich history. Lots of couples head to London every year to enjoy a relaxing, romantic and exciting retreat as there is so much to do.
When you're enjoying a wonderful retreat with your loved one in London there are many activities that you might want to experience, but why not consider adding a helicopter ride to the schedule? Helicopter rides lift off from two easily accessible locations, so adding one to your trip isn't going to be a hassle.
Unique and Romantic
Helicopter rides are unique and romantic. Couples' retreats are meant to be special, exciting and intimate, and a helicopter ride over the big city is definitely all three of those. You can enjoy an exclusive trip over London with your loved one, an experience that both of you will love and enjoy.
The great thing is that it won't take up too much time either, as the trips themselves last less than an hour, plenty of time to enjoy an afternoon in the air before finishing the day with a romantic meal by the River Thames.
Seeing the Sights
Perhaps one of the best things about the helicopter rides is that you get to see all of London's main sights from a completely different and unusual perspective. You probably won't be in London for very long on a couple's retreat, and there are so many sights that it's simply impossible to fit them all in.
With a helicopter ride you will get to see all of the main sights without having to fight your way through the crowds. You can then choose which sights you'd like to explore in more depth and spend your next few days at the places you really want to see.
Some of the sights you'll see from a helicopter ride include: The Houses of Parliament, Westminster Abbey, Hyde Park, Trafalgar Square, London Eye, Tower Bridge, Canary Wharf, and the Royal Albert Hall.
Affordable
Going on a helicopter ride might sound like an extravagant luxury way out of your budget but these fantastic trips are actually very affordable. Splashing out on a once in a lifetime experience like this is definitely worth it, and when it is so reasonably priced as well, there's no reason to refuse!
All the money that you would spend on ground transport getting from sight to sight can be spent on this wonderful and exciting trip – and you can see way more places than you would ever fit into a single day in London normally. The best thing is that you can choose to enjoy it exclusively with your loved one, resulting in a special memory that the both of you can share.
Great Memories
The helicopter ride over London will leave you with incredible memories that not many people have. You will always remember that weekend you spent in London with your partner when you went on a helicopter ride.
Memories that you share with others are incredibly special. Most people would choose experiencing something and creating memories over having a tangible item, like a box of chocolates any day.
Conclusion
If you decide to embark upon a romantic couple's retreat in London this year then why not book a helicopter ride to surprise your loved one with? They'll never expect such a unique and romantic gesture, and you'll both have an absolutely fantastic time, whilst creating some amazing memories.
http://www.flickr.com/photos/n