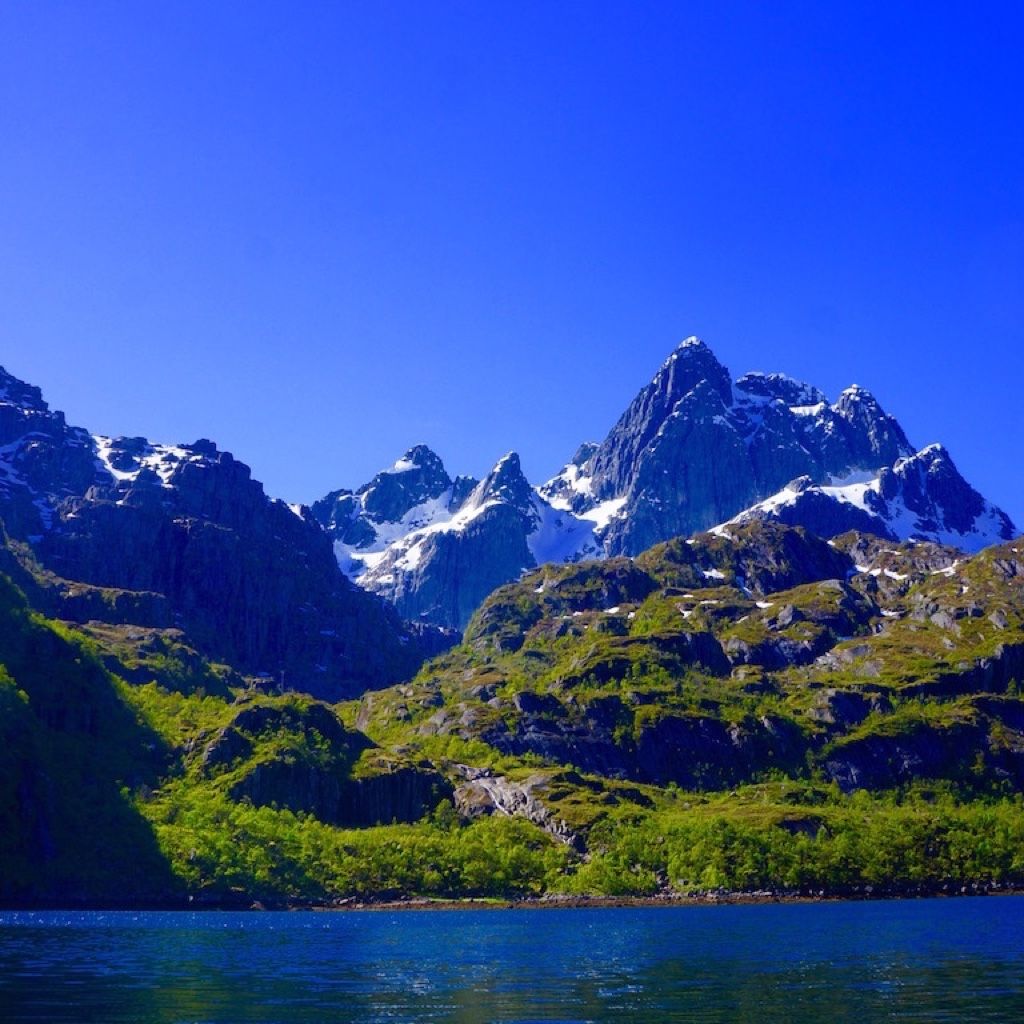 Photos Credit: Susan Kime
It was our third time in Norway, and on this trip, unlike the others, we tasted the meaning of culinary contrast. On this trip we spent time in Oslo, south, and in Tromsø and the Lofoten Islands, 217 miles north of the Arctic Circle.
Recently, an Oslo restaurant, Maeemo, was awarded its third Michelin star in February of 2016. The restaurant serves a tasting menu of over 10 items, 26 plates, all with unique visual and flavor combinations. The Chef, Esben Holmboe Bang, believes in combining Norwegian nature and culture in his creations. One, seen below, is a Norwegian Langoustine, glazed with pickled spruce juice, lying on a rock with cuttings of spruce, and spruce smoke aroma.
Another, dried beets, glazed in Birch sap, has a currant and chamomile infusion.
These dishes are works of art, almost too beautiful to eat. Almost. And, for everyone's information, the cost of one dining experience, runs between $650 and $700.00 USD per person. So enjoy!
On another evening, we ate at Stock, a new restaurant in the Bar Code district of the city. Similar to Maaemo, Stock's taste combinations were subtle and diffuse. Who would think of combining Norwegian thin flatbread, with paté, clover leaves, paprika, on a bed of raw Norwegian grain?
Or the dessert – a combination of a sugar glacé, rhubarb and cloudberries, with an egg shaped ice cream layer on top? The Executive Chef, Tore Namstad is the creator, and well-known in Scandinavia for his culinary designs, unique tastes and cookbooks.
These restaurants are south of the Arctic Circle, where, arguably, food sourcing and acquisition may be a little easier than in the North. Tromsø is the largest city north of the Arctic Circle, where Arctic Cod, Char, Halibut, and all forms of Stockfish (dried, unsalted fish, usually cod) are used in abundance.
In towns near and in the Lofoten islands, south of Tromsø, you often see cod hanging in rows, drying in the sun. It is a staple here, and can be prepared in so many different ways, that even to the educated taste, it can taste different each time. Also, in Northern Norway, there are dishes that are truly foreign to the American palate: Reindeer, Seal Fin, Cod Tongue, and Whale. Reindeer Carpaccio, seen below, is served as an appetizer at Arctandria, a renowned seafood restaurant in Tromso.
Finally, in Tromsø, is the most northerly Pub in the world, Ølhallen. Opened in 1928 in the cellar of resident Mack Bryggeri, is still dark, with wooden stools, and with many, many different beers on tap. It started out being a men's bar, and it was only in the 1970's that women were admitted. Good move.
In the Lofotens, cod has been a staple for thousands of years, and many restaurants in these islands serve Cod, Salmon, Halibut, Pollack, Arctic Char, as main courses. But one, in the town of Svolvær has an unusual historicity: opened in 1828, called Børsen, it was a restaurant whose interior and exterior were originally a waterfront warehouse. We noted the menu included Whale Rolls with Horseradish, seen below, among other unique preparations.
Also, in the Summer, the Norwegian Cloudberries are infused in many desserts. They taste like tart, orange raspberries. This dessert, an unusual Panna Cotta served at Wolf Lodge in Bardu, near Tromso, combines a coulis of cloudberries with a steamed persimmon on top.
Indeed, in all of the restaurants we felt a sense of friendliness and legacy infused throughout the Norway dining experience. In the food, there was artistry and simplicity, history and immediacy. You knew when eating the fish, freshly caught from the clear, frigid water of the Arctic or the North Sea, that you were tasting old and new Norway, learning again how often regional cuisine offers a taste of the destination's past, present, and future.