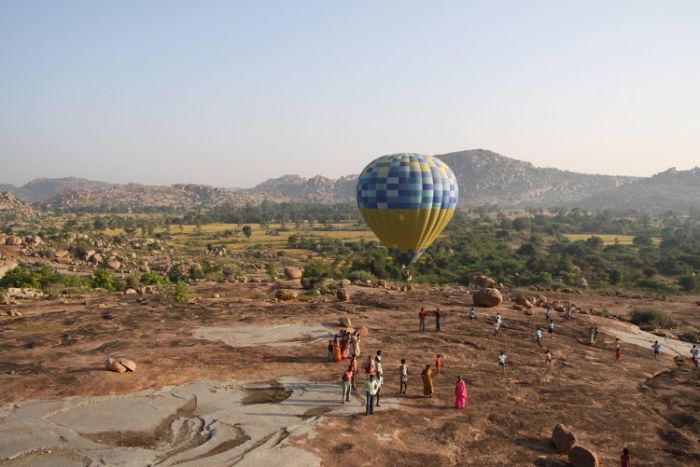 Skywaltzballoons
If you happen to be an adventure seeker, then India is nothing less than a paradise for you. There are umpteen of activities to perform, witness and experience. Get treated to the fullest as the country offers several aspects of adventure from trekking and paragliding in Ladakh to nature spotting, wildlife and adventure in Dandeli down south.
Before you choose your next destination in terms of satiating your adventure streak, be sure you are going for the right one. And if you are still confused on this subject, I would like to share a couple of places offering you an array of activities to enjoy whilst your adventure trip in this beautiful country.
Paragliding in Ladakh: Treat your eyes with breathtaking views of Ladakh from heavens above and push against the fiercely strong winds blowing towards you over the Indus Valley. Some more spots around Ladakh for thrilling paragliding experiences would be Tsemo Gompa, Stok Kangri and Leh Bazaar. Grab an exclusive feeling!
Pump up your adrenaline rush in Zanskar: Get set to battle gorges and barriers on the way while you face the turbulent rapids of River Zanskar. The best area forraftingwould be the Doda River in Ladakh. Going for ajeep safariis also a great option here. Long drive around Pensi La and avisit to attractive Drung Durung glacierare the next ones. You also can't afford to miss on the widely loved monasteries!
Experience Markha valley:WithMarkha valley trekas one of the most beautiful trekking tours, you can also have a one-of-a-kind experience in Ladakh at Rumbak, which is supposed to be anamazing campingarea. Formountaineering, choose Skiu and Kandala. Check out the famous Hemis Monastery on the way.
Challenge the strenuous veins withThe Stok Kangri climb! Trekkers from across the globe throngThe famous Chadar trek. Also enjoyHorse Polo, Biking Trip, Yak Safari, double humped Camel safari in Ladakh.
Caving in Meghalaya:An eco-park, the Thangkharang Park and spooky Mewsmayi Caves and limestone caves, such as Siju, Syndai and Mawsynram are your destinations in this category.
Worthwhile waterfalls in Meghalaya:The Nohkalikai Falls and the famous and exotic 7 Sister falls is a must-visit. Don't skip on the Langshiang Falls at Meghalaya as it is one of the largest waterfalls in India.
Desert safari in Rajasthan
An enthralling dune bashing experience in the great Indian Thar coupled with its remarkable cultural hues and efficient hospitality boasts of its uniqueness. It also talks about plethora of uniquely tented accommodation, jeep safaris and camel safaris, ancient forts and revisiting the majestic era. Camel safari is an unparalleled way to explore the rural side of Rajasthan. Take an adventurous ride on the back of the ship of desert, around Bikaner, Khimsar, Osian and Jaisalmer to experience the pulsating and welcoming Thar. The safari can vary from a half day safari to 10 day desert expeditions.
Hot air ballooning in Rajasthan
Grab a bird's eye view of the Royal Rajasthan!
Fly through the sky over forts, temples, castles and sand dunes, in colorful balloons getting that much awaited 'only-you' moment with your special one.
Scuba diving in Andaman
A rare chance to explore the aquatic life with just a dive into the waters of the Bay of Bengal! It would be really very special as it is untouched by commercialism.
Snorkeling with elephants
Get mesmerized by the elephant's grace and relative weightlessness underwater! Swimming with the elephants of the Andaman Islands underwater will undoubtedly be an experience of a lifetime.
Put your feet up with House Boat Stay in the backwaters of Kerala
A flawless blend of beauty and tranquility! It must be a choice to anyone looking for peaceful destination.
Experience the bio-diversity and natural magnificence of the Gir wildlife sanctuary.
An abode to Asiatic lion, the Gir national park offers an opportunity to see this endangered king of the jungle and bird watching clubbed with tribal and cultural tour and a wildlife safari.
Rafting in Rishikesh
White turbulent water welcomes you for thrills and chills! Fondly known as the capital of India for white water rafting, Rishikesh has too much to offer in the name of adventure. Along with, you can also get the taste of other adventure activities, such as cliff jumping, kayaking, yoga, trekking, rock climbing nature walks and mountain biking as well.
Corbett National Park
Pamper the wildlife lover in you! Jim Corbett National Park is a heaven for adventure aficionados & wildlife enthusiasts. It takes pride in having a high count of Tigers.
Skiing in Auli
The clean and pristine Auli, has twenty kilometers of mountainous slopes with skiing slope of about 3 kms. Woody patches on the slope are placed in such a way that they balance the power of wind and make it a sheer adventure.
So, it would be correct to state that with the major ones mentioned above, the list of Adventure activities to do in India goes on……..
Leh Ladakh Bike Tours
Markha Valley Trek
Corbett Kingdom
Corbett National Park Jeep Safari
Visitatp
Paragliding in Ladakh
Indianhimalayas
Rafting in Rishikesh