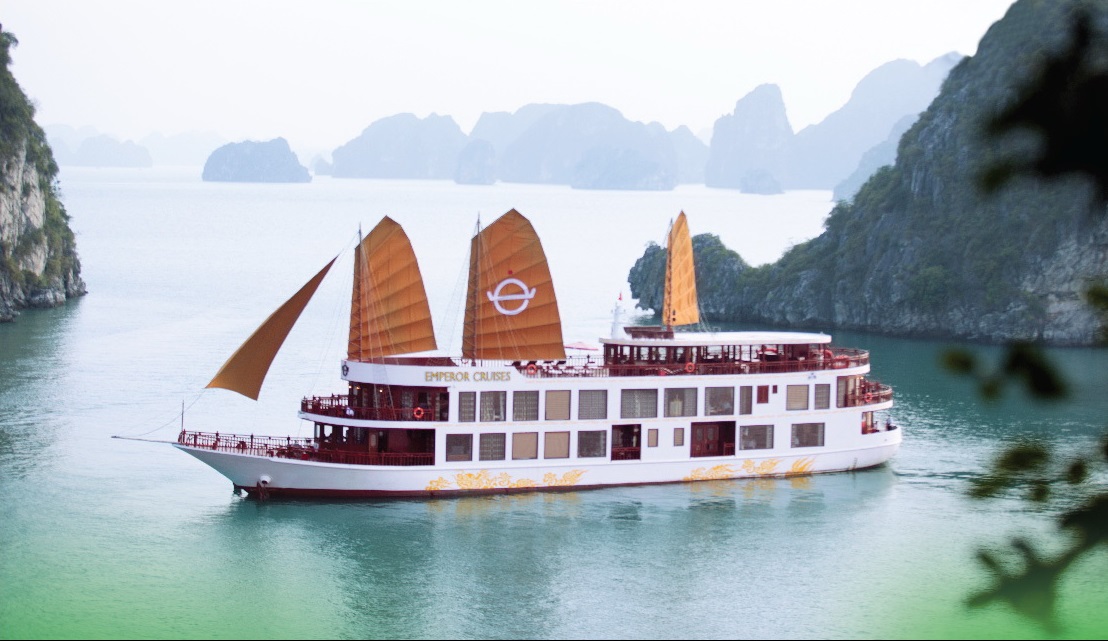 Photos Credit: Emperor Cruises Halong
From the moment you enter the stately wooden doors of Emperor Cruises Halong, you instantly realize this is not your normal touristy Vietnamese cruise. You are cruising artfully among creations from one of the most famous artists in the country, Pham Luc. He was an official military artist and his work bridges two centuries while depicting war and peace throughout Vietnamese history.
Walking into the crisp minimalistic design, you are met by the lacquer works of an old, Hanoian street, the national Vietnamese lotus flower in still life, and an oil on canvas artwork about Tet—the traditional Vietnamese Lunar New Year. The paintings welcome you onto the sophisticated cruise, and combined with the beat of the welcome drums and sound of the gong, high-end travelers are treated to a truly royal experience.
Throughout the boat are a great variety of art styles such as lacquers, oil on canvas, rice sacks, paper, and old fashioned architecture dating back to the 1930s. The rustic wooden elements create an elegant atmosphere in ancient Indochine style. You can discover the richness of Vietnamese art, culture and history through these creations because it flows in the chicest way possible.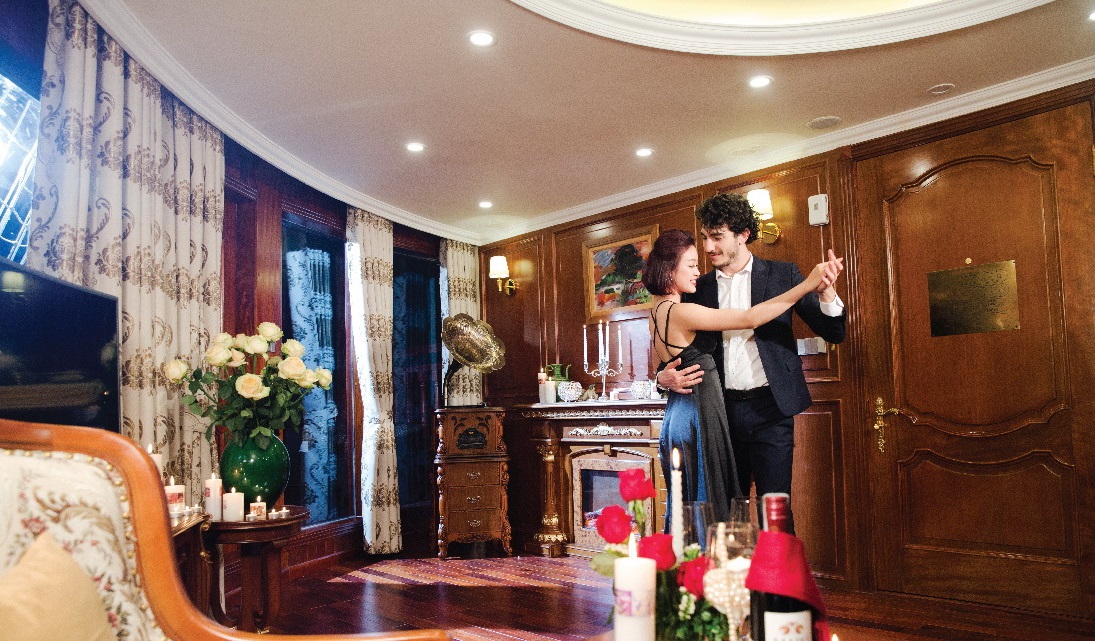 The entire art collection aboard has been handpicked by the passionate art lover, Pham Ha, who is the architect of this unique floating museum at sea, Emperor Art Cruise is the primary focus, with local artists asked to make their mark on the cruise fleet with a distinguished style that will captivate you with its authenticity. Not limited to visual art, Emperor Cruises often invites others famous artists such as violinists, pianists and musicians from across Vietnam. They come to get some inspiration and put on live performances for guests in the Hanoi Bar 1945. With 8 suites fitted with a private balcony overlooking the Bai Tu Long Bay, it breaks the mold of the usual 'all-inclusive' Vietnamese vibe with its cool yet comfortable atmosphere.
Back to the Can Chanh Palace, a stylish restaurant in the heart of the Emperor Cruises with a painting of the Emperor Bao Dai by Pham Luc, recreates the royal atmosphere of the former Can Chan Palace, where Emperor Bao Dai was used to conduct royal parties, receive VIP guests and ambassadors and host official ceremonies.
Make sure to have your camera ready as you can capture picture perfect memories to take back home. Attend the Vovinam Class (Vietnamese martial arts), learn about the art of drinking tea and coffee as well as enjoying cooking class demonstration and fine wine tasting. The Hanoi Bar 1945 plays 'L'Indochine' – the first classical movie filmed in the former capital Hue and Halong Bay in early 1990, with Catherine Deneuve. The Heritage Spa offers a rich selection of therapeutic relaxation, and it is all included and unlimited, just book with your butler.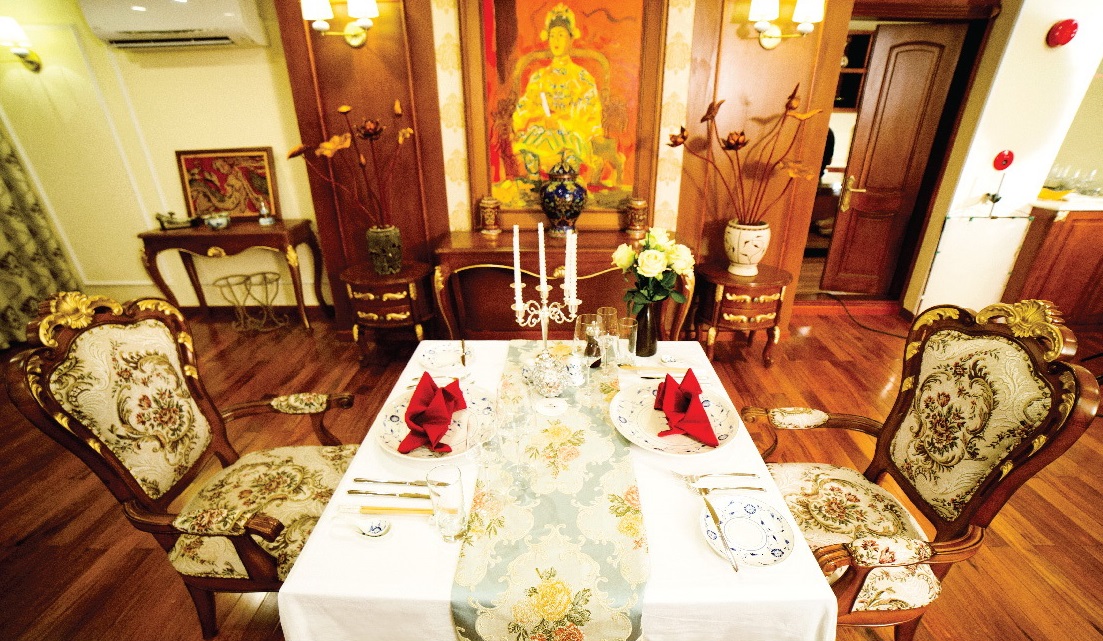 The experience of visiting Ha Long Bay is unforgettable, and we are sure it will remain in your fondest memories for many years to come. You will enjoy meeting Vietnamese people and tasting their delicious food, you will have fresh air all day and night, especially if you wake up early in the morning and watch the sun rise on the deck as it welcomes in a new day. Be sure not to miss visiting Ha Long Bay during your lifetime. Browse some images and videos of this stunning and marvelous place, and imagine being here yourself, experiencing the beauty of Vietnam and its kind people.
Post cruise, there are plenty of other attractions in the region. Besides exploring Ha Long Bay itself, you can visit the Royal Park in Halong City, a Water Music Show, an aquarium performance by dolphins, sea lions, crocodiles, and much more.
This unique cruise is only a couple of hours Noi Bai Airport, Hanoi, or 60 minutes from Cat Bi Airport, Hai Phong City. Strategically located at the base of Hon Gai in Bai Tu Long Bay, the opportunities for relaxation, adventure, art, and indulgence are seemingly endless.