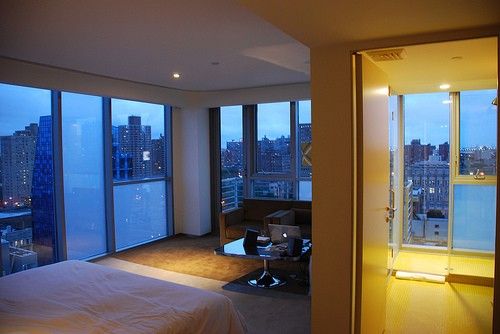 http://www.flickr.com/photos/f
I love staying in hotels, who doesnít? Maybe itís the luxury of having someone else do all the cleaning and tidying for once, or maybe itís simply the well thought-out decor.
Of course, the bedroom is important, but itís the roomís bathroom that really catches my eye. Even the most beautiful boudoir wonít make up for a grimy and indistinctive bathroom, whereas if the room is a little on the plain side Iím more than happy to relax in a luxurious tub full of bubbles instead!
Hereís my list of the most luxurious hotel bathrooms in the world Ė including some the average traveller can actually afford!
†
1.†††††† Crazy Bear Beaconsfield, Beaconsfield, England (Double rooms from £190)
One of my personal favourites! There are two Crazy Bear hotels in the UK, but Beaconsfield is the most luxurious. Each room has its own unique style but they all share one thing in common Ė over the top glamour!
Almost all of the rooms come complete a standalone copper tub thatís filled from the ceiling, either at the foot of the bed or strategically placed so that you can lie back and admire the deluxe decor in style!
†
2.†††††† New Majestic, Historic Chinatown, Singapore (Double rooms from approx. £124 + tax)
Do you love watching TV whilst you soak? Perfect for couples, the Attic Suites at the New Majestic feature a pair of freestanding tubs, side by side in front of a widescreen TV and surrounded by decorative murals.
†For those with a bigger budget you could even check into the Aquarium suite where the bath takes pride of place in a huge glass-walled cube by the bed!
†
3.†††††† Chiawa Camp, Lower Zambezi, Zambia (Double rooms from approx. £840)
Youíll find yourself at one with nature in this amazing hotel resort that comprises eight tented chalets with thatched roofs and wooden decks, complete with outdoor bathrooms! Even the curtains wonít hide you from view completely, but then in this remote location itís unlikely youíll see more than the odd passing monkey or elephant.
Just an alert, electric showers and other modern commodities are not to be found in that natural wonderland, but for those who want to escape from the city and find a bit of peace and quiet itís the perfect wilderness haven!
†
4.†††††† Rayavadee, Krabi, Thailand (Double rooms from approx. £405 + tax)
Treat yourself to a stay in one of the four beachfront villas or the smaller but equally luxurious pavilion rooms, and youíre sure to have the most deluxe and enjoyable bathing experience of your life!
Sit back in the extra deep, super-sized bath tub thatís more than big enough for two, surrounded by a plethora of candles for a romantic soak with your partner. Take a peek in the cupboards and youíll also find a stash of sea-salt scrub thatís unique to this hotel, plus a jasmine after-sun lotion thatís perfect for soothing the skin after a day on the beach below!
†
5.†††††† Hotel on Rivington, New York City, USA (Double rooms from approx. £130)
Fancy staring up at the galaxy, electric showers raining down on your skin as you do? Or relaxing in a luxury bath tub as you stare at the stars?
One of the tallest buildings on the Lower East Side in New York, this skyscraper hotel boasts luxury bathrooms with floor-to-ceiling glass walls Ė not for the faint hearted! For a sense of privacy, make sure you get a room high up in the building, where your everyday passerby canít see in!
Which hotel would you rather stay at?
†
Estelle Page is an interior designer who loves picking up hints and tips on her travels to make over her gorgeous British home in true, hotel-luxe style!
http://www.flickr.com/photos/s
Crazy Bear Hotel
http://www.flickr.com/photos/p
Chiawa Camp Hotel