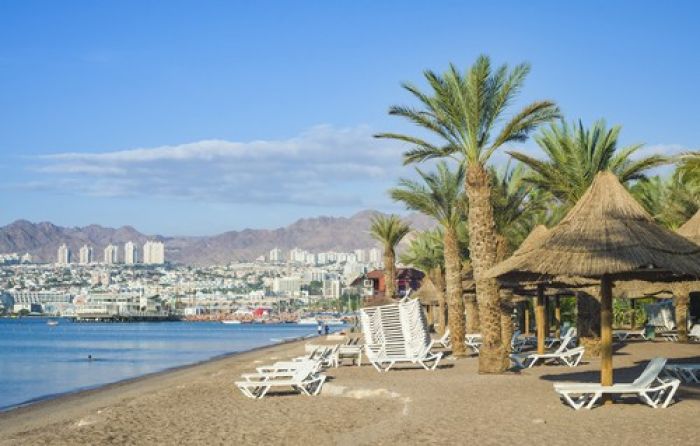 shutterstock
Until you actually spend an extended period of time in Israel it is difficult to comprehend the strength of the beach culture in the Holy Land. And although Israel is blessed with the world renowned Dead Sea in the east, the Red Sea at its southern most point in the city of Eilat, and the fresh water Lake Kinneret in the north, Israel's most luxurious beach destinations are congregated around Tel Aviv and follow the cost approximately 30 minutes drive to the north. Of course, it is the famous Mediterranean Sea on which these beaches are found.
The crystal clear and warm waters of the Mediterranean are complemented by vast expanses of fine, white sand – perfect for whiling away the hours with a good book, good music, family and friends, or just your own inner thoughts. Many café and restaurant owners have taken advantage of this prime location to set up establishments to serve the throngs of beachgoers.
Tel Aviv is known around the world as a cosmopolitan city that never sleeps. Its diverse crowd of locals and international visitors makes it a melting pot of different cultures where everything seems to be in sync with everything else. Much of Tel Aviv culture revolves around the beach.
For those with the means, luxury apartments Tel Aviv are a huge attraction. A luxury apartment in Tel Aviv allows you to appreciate all the frenetic energy this amazing city has to offer. You can then return home to the tranquility of your own haven and appreciate the sea view from a distance.
For those who like things a little more laid back and with perhaps a little more style than Tel Aviv, located 15 minutes drive north is the beachside suburb of Herzliya Pituach. Home to embassies, ambassadors, people from all over the world, and some of the best beaches in Israel, Herzliya Pituach is hard to beat for cache or lifestyle.
With international class shopping, a host of fine restaurants, and anything else one who expects the best in life would require, Herzliya Pituach is lacking for nothing.
A further drive north along the coast takes you to the residential enclaves of Arsuf, Beit Yanai, and Michmoret. These locales boast massive beachfront properties perched on cliffs. The stunning vistas do not come cheap though. A further drive north will take you to the city of Caesarea, home of oligarchs, Prime Minister Netanyahu, and Israel's only golf club.
Luxury destinations by the sea in Israel exist but are not in abundance. Supply is tight and that is reflected in the price.