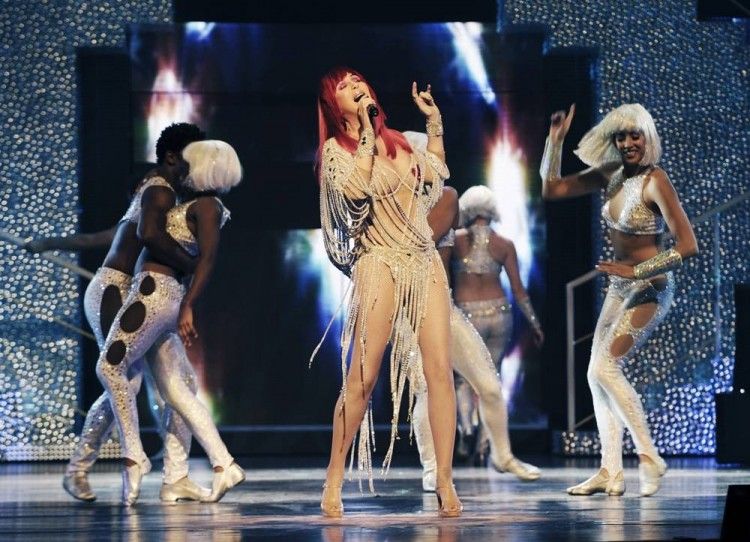 Denise Truscello/WireImage
With the likes of Cher, Britney Spears and Bruno Mars gracing stages around Las Vegas, the next few years already promises to be a great time to visit Sin City. Are you planning to make it to any one of these shows? Talk about it in the comments below.
Two of Las Vegas' most iconic headliners are returning to town, with Cher and Garth Brooks announcing new show dates in Las Vegas.
The former, whose new album Closer to the Truth, is out Tuesday, revealed on NBC's Today this morning that she'll be hitting the road for the first time in eight years with her 2014 "Dressed to Kill" tour. The 40-city North American tour will kick off March 22 in Phoenix and stops in Las Vegas at MGM Grand Garden Arena on May 25.
A ticket pre-sale for American Express cardholders will run from Sept. 30 through Oct. 3. Ticket prices and general on-sale dates and information are to be announced on Cher's website. All online ticket purchases will come with a free copy of Closer to the Truth. Read More
Bruno Mars fans, book your Las Vegas plane tickets now. The pop singer is set to christen a new club, The Chelsea, on Dec. 29 and 31. Then he'll return for a handful of dates: Feb. 15 and 16, May 23 and 24 and Aug. 22 and 23.
"Get ready, Vegas," Mars said in a press release. "Me and the Hooligans are bringin' live music to The Cosmopolitan's Chelsea on New Year's Eve. It'll be our first time, but not our last." Read More
Britney Spears may be taking fans for a ride when she kicks off her residency in Las Vegas at the end of the year.
The pop star announced on ABC's "Good Morning America" last week that she'll do a two-year stint at Sin City's Planet Hollywood Resort and Casino, starting Dec. 27.
Bikini photo tweeted by Britney Spears on September 8, 2013 as she prepares to release her new single, Britney Spears via Twitter
Spears is proud of her new figure, tweeting this bikini picture on September 8, 2013.
But sources tell us it's possible that Spears, 31, may be phoning in the "Britney: Piece of Me" shows, in which she plans on performing 21 of her greatest hits over about 90 minutes.
"Britney does not sing. She is being paid a lot of money to lip-sync," says the source. "Her fans are none the wiser, but it is disingenuous of her to take their cash and not deliver a proper performance." Read More