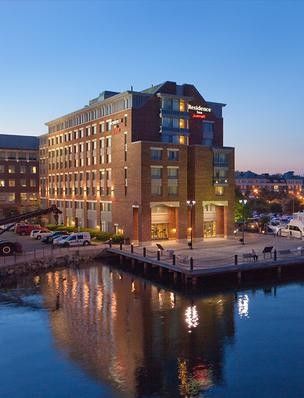 Marriott
After a tumultuous year, hotels in Boston are now reporting strong occupancy and that they have seen more travelers than over the course of the past year. While this means rates are rising as well, it's a good sign for the city since it means a significant amount of money to put toward beautification projects and events like the ones discussed in the third link.
Greater Boston's hotels reported strong operating results for September amid a strong uptick in international and business travelers, according to a new report by PKF Consulting.
Among the 93 hotel operators included in the "PKF Trends in the Hotel Industry" analysis for the Boston area had an average 83.4 percent occupancy rate (up 1.9 percent year-over-year) and a $212 average daily rate (up 7 percent) in September. Those two metrics combined to increase average revenue per available room (RevPAR) to $177, a 9 percent increase. Read More
"Modern and sophisticated amenities are extremely important for developers when differentiating their product in the marketplace," said Ted Tye, managing partner at National Development.
A number of Boston luxury rental buildings can boast of amenities such as a health club or fitness center, an on-site concierge and lobby-level bicycle storage. But even communal party spaces, billiard rooms and screening rooms are becoming more and more common. Read More
Sparklefest
When: December 1 through December 31, 2013
Where: Various locations near Harvard Square
Five weeks of fun holiday related activities help both locals and visitors get into the spirit of the season. The Harvard Square Business Association hosts ice skating, holiday fairs, impressive light displays, visits from Santa and much more.
Handel's Messiah
When: November 29 through December 1, 2013
Where: Symphony Hall | 301 Massachusetts Avenue Boston, MA 02115
It was 160 years ago that Handel's Messiah was first performed in Boston. It is a holiday tradition for many, and listening to the beautiful music, performed by the Handel & Haydn Society, is a wonderful way to usher in the holiday season. Read More