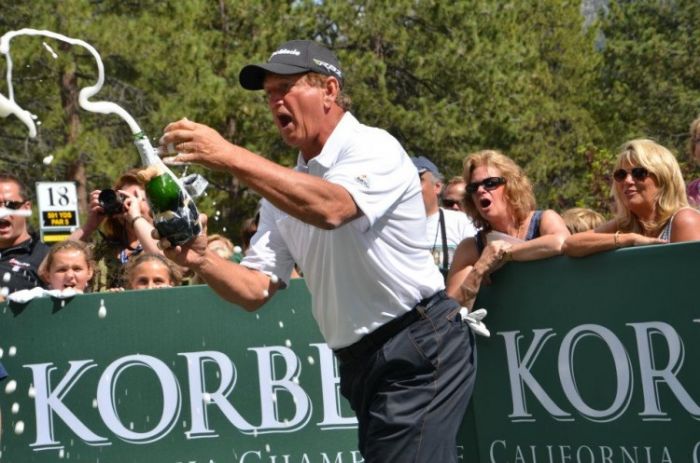 Photo Credit: © Sharon Gay
American Century Celebrity Golf Tournament at Edgewood Country Club Photo Credit: © Sharon Gay
Celebrity Spray-Off Competition @ American Century Championship Golf Tournament
By Sharon Gay
The Annual Celebrity Spray Off Competition sponsored by Korbel Champagne will place on Thursday near the 17th hole at Edgewood Country Club from 9am - 4pm. The hilarious contest gives the sports stars to show off their locker-room celebratory skills and provides fans an opportunity to watch celebrities up close and perhaps get an autograph or two.
This year's winner will receive a $5,000 check from the Korbel Toast Life Foundation for the charity of his choice. The competition is based on cork distance from launch and style and champagne spray add to the fun.
Tony Roma, Michael Phelps, AJ Hawk, Mark Mulder, Robbie Gould, Alfonso Riberiro, Bode Miller, Aaron Rodgers, Jerry Rice, Jerome Bettis, and Rascal Flats' lead guitarist Joe Don Rooney are among the celebrities competing.
Jerome Bettis, "The Bus", former NFL All-Pro Running Back won the 2012 Korbel Spray Off - just ahead of Shane Battier, Alex Smith, Aaron Rodgers, and Jerry Rice.
"Champagne and celebrations go hand-in-hand and for that reason Korbel is proud to participate in this golf tournament as a sponsor in the competitions," said Gary Heck, Korbel owner and president.
How to pop a bottle of Korbel Champagne.
FYI: Properly opening a bottle of KORBEL California Champagne is simple. Just avoid shaking the bottle.
Start by removing the outer foil and the wire cage that locks the cork in place, keeping your thumb over the cork as much as possible.If you have a towel handy, wrap it around the neck to cover the cork.
Point the bottle away from people or breakable objects. Hold the cork in one hand and gently twist the base of the bottle with the other. The pressure inside the bottle will push the cork out with a "sigh." Extracting the cork with a loud pop may be dramatic, but it wastes champagne - not recommended.
Complete list of 2013 participants:
Marcus Allen NFL Hall of Fame RB
Ray Allen NBA Guard: Miami Heat
Charles Barkley NBA Hall of Fame
Shane Battier NBA Forward: Miami Heat
Brian Baumgartner Actor: The Office
Jerome Bettis Former NFL All-Pro RB: Pittsburgh Steelers
Lucas Black Actor: Fast and the Furious
Martin Brodeur NHL All-Star Goalie, New Jersey Devils
Tim Brown Former All-Pro Wide Receiver
Joe BuckSports Anchor
Joe Carter Former MLB All-Star OF
Chris Chandler Former All-Pro NFL Quarterback
Vince Coleman Former MLB All-Star OF
Stephen Curry NBA PG: Golden State
Vinny Del Negro Former NBA Head Coach
Jay Demarcus Rascal Flatts: Bass
Trent Dilfer Super Bowl Winning QB
Jermaine Dye Former MLB All-Star OF
Herm Edwards Former NFL Head Coach
Bill Engvall Comedian: Blue Collar Comedy Tour
John Elway NFL Hall of Fame QB
Mike Eruzione Captain, 1980 US Hockey Captain
Marshall Faulk NFL Hall of Fame RB: Class of 2011
Grant Fuhr NHL Hall of Fame Goalie
John Fox NFL Head Coach: Denver Broncos
Éric Gagné Former MLB All-Star & Cy Young Winner
Troy Glaus Former MLB All-Star 3B
Goose Gossage Baseball Hall of Famer
Robbie Gould NFL All-Pro K: Chicago Bears
Trent Green Former NFL QB
Denny Hamlin NASCAR Driver
Penny Hardaway NBA All-Star G: Phoenix Suns
Rodney Harrison Former NFL All-Pro Safety
AJ Hawk NFL LB: Green Bay Packers
Trevor Hoffman Former MLB All-Star P
Sebastian Janikowski NFL Pro Bowl K: Oakland Raiders
Dan Jansen Olympic Gold Medal Speed Skater
Chipper Jones Former MLB All-Star 3B
David Justice Former MLB All-Star
Steve Kerr Former NBA G & NBA Broadcast Analyst
Larry the Cable Guy Comedian: Blue Collar Comedy Tour
Kenny Lofton Former MLB All-Star OF
Derek Lowe Former MLB All-Star PJohn Lynch Former NFL Pro-Bowl S
Greg Maddux Former MLB All-Star Pitcher
Fred McGriff Former MLB All-Star
Jim McMahon Former NFL All-Pro QB
Kevin MillarFormer MLB 1B and OF
Bode Miller Olympic Gold Medalist: Vancouver Super Combined
Mike Modano NHL All-Star Forward: Dallas Stars
Jamie Moyer MLB All-Star P
Mark Mulder Former MLB All-Star P
Kevin Nealon Actor/Comedian: Weeds, SNL
John O'Hurley Actor
Carson Palmer NFL All-Pro QB: Oakland Raiders
Michael Phelps 18 time Olympic Gold Medalist
Dan Quinn Former NHL Center
Ahmad Rashad NFL Pro-Bowl WR: Minnesota Vikings
Rick Rhoden Professional Golfer, Former MLB All-Star Pitcher
Alfonso Ribeiro Actor: Fresh Prince of Bel Air
Jerry Rice Former NFL All-Pro WR
Aaron Rodgers Superbowl MVP, NFL QB: Green Bay Packers
Jeremy Roenick Former NHL All-Star
Ray Romano Comedian/Actor: Everybody Loves Raymond
Joe Don Rooney Rascal Flatts: Lead Guitarist
Mark Rypien Former All-Pro NFL QB
Bret Saberhagen Former MLB Pitcher/World Series MVP
Joe Sakic Former NHL All-Star Center, Colorado Avalanche
Detlef Schrempf Former NBA All-Star Sterling Sharpe
Former NFL All-Pro WR
Kelly Slater Former NFL All-Pro Surfer
Alex Smith NFL QB: San Francisco 49ers
Emmit Smith NFL Hall of Fame RB
Mike Smith NFL Head Coach: Atlanta Falcons
Ozzie Smith Former MLB All-Star SS
John Smoltz Former MLB All-Star Pitcher
Steve Spurrier Univ. of South Carolina Football Coach
Ryan Succop NFL K: Kansas City Chiefs
Joe Theismann Former NFL All-Pro QB
Billy Joe Tolliver Former NFL QB
Brian Urlacher Former NFL All-Pro LB
Jack Wagner Actor: Melrose Place
Tim Wakefield Former MLB All-Star P
Michael Waltrip NASCAR Driver
David Wells Former All-Star Pitcher
Gary Williams Host: Morning Drive
Sharon Gay is a travel, sports, and entertainment writer and photojournalist who divides her time between beautiful Lake Tahoe and the Northern California Wine Country.