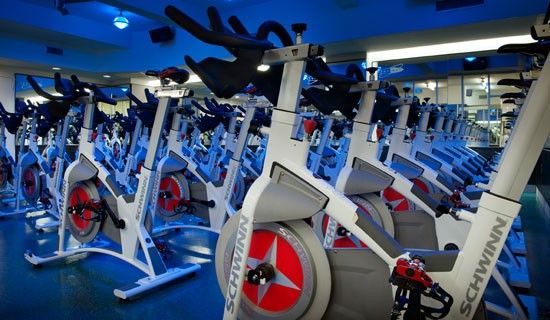 Equinox
It's hip to be square - Huey Lewis told us that more than 20 years ago and now the Chestnut Hill Square is reiterating the same love. The newly opened square across from the Chestnut Hill Mall now features an Equinox club, Drybar blowout bar, Seasons 52 restaurant, Sail Loft retail store, Brio Tuscan Grille, Anthropologie, Athleta, Francesca's, True Runner, Century Bank, Starbucks, Panera Bread and Paper Source. In the coming months, Sweet Cupcake, Red Mango, sweetgreen, Wegman's and Soul Cycle will be opening here.
My friend, Margaret, and I recently spent the day there experiencing all the square had to offer. We started our day with a tour of the massive Equinox club. There are two other locations in downtown Boston and this is the first outside the city. Parents head upstairs to the second floor of this spacious gym to the kid's club area where children from three months to 10 years old can do arts and crafts or work on an iPad will their parents work out. The upscale fitness center has all of the modern amenities you could ask for, including a Squeeze juice bar for smoothies, locker rooms with Kiehl's products, wifi lounge, on-site retail shop, cardio and life fitness equipment complete with iPhone charging stations, free weights, strength conditioning center, group fitness classes for cycling, barre, yoga and Pilates. On the lower level, there is a three-lane 25' long lap pool where they host water aerobics and adjacent spa area for massages.
From there, we went to Drybar for a custom blowout. This popular salon specializes in blow drying hair only and does not offer cuts or coloring. Upon arrival, we were asked if we would like a glass of wine, champagne or water, which was a nice touch. I was introduced to my friendly personal stylist, Kathy, who showed me to the back area where she washed my hair and applied a hair shot designed for dry and damaged winter hair. While she worked the magical treatment into my roots, she provided a 10-minute heavenly scalp massage. When she was finished, she showed me to the styling area and presented me with a menu of blowouts with fun cocktail-inspired names like Straight Up (straight with a little body), Manhattan (sleek and smooth), The Cosmo (lots of loose curls), The Mai Tai (messy, beachy hair), Southern Comfort (big hair with lots of volume), Hot Toddy (short and sweet) and Up-Tini (an updo). I chose the signature Straight Up so she applied 100 Proof treatment oil to control frizz and dryness as well as Cream Soda smoothing cream. I left looking and feeling fantastic with my new straightened tresses.
For lunch, we headed over to Seasons 52 where every item on the menu is less than 425 calories. We got started with the crispy blackened steak and blue cheese flatbread topped with cremini mushrooms, spinach and caramelized onions. From there, our friendly server suggested the on juicy maple glazed roasted chicken served over Yukon mashed potatoes and roasted vegetables and we were glad she did. We also sampled the deliciously fresh caramelized grilled sea scallops served with a side of roasted asparagus and sun-dried tomato-mushroom pearl pasta.
Next on the list was shopping at Sail Loft. The store originated on Nantucket and this is the first location off-island. Here, you can find everything from nautical inspired sweaters and blouses to T-shirts and necklaces. We love our American flag needlepoint key chain, wraparound bracelet and soft cotton T-shirt.
From here, we finished our afternoon at Brio Tuscan Grill where we snacked on dessert samplings (dolchinos) of strawberry cheesecake, tiramisu, chocolate raspberry, chocolate peanut butter as well as butterscotch pecan bread pudding and crème brulee (who was counting calories?) For dinner, we chose Brio's full roasted New Zealand lamb chops, cooked to perfection topped with a red wine veal sauce and side of mashed potatoes and grilled asparagus.
Drybar
Seasons 52
Sail Loft
Brio Tuscan Grille