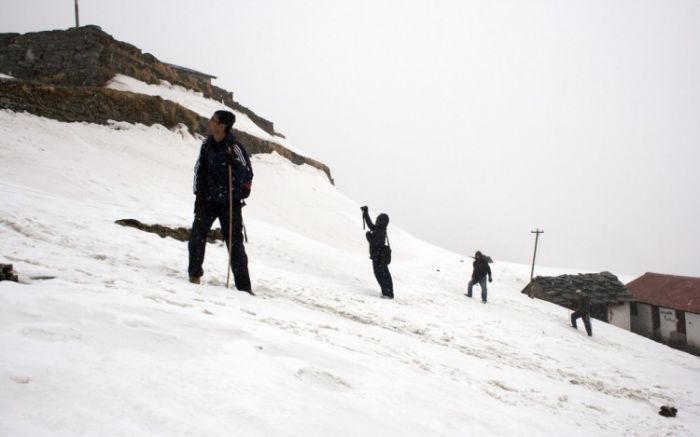 Partha Chowdhury
I am making way for myself
Let me walk to you!
Chopta Chandrashila trek is one of the many popular treks in Uttarakhand. Enjoyed by solitary trekkers as well as families, it is rated as easy to moderate kind of trekking. Familiarity with snow and mild physical training could be a big help for the family as well as individual trekkers.

Winters unfold in such an exquisite manner that is loved by everyone, especially by those who loves nature in all its faces. Let us see what is there that is of concern in this trip when planned in the coming vacation as a part of trekking in India.

The Trek to the 'Moon Rock'

The journey to Chandrashila will begin either from Haridwar or Dehradun. Road journey to Okhimath is of much importance as it's the first place where you would think of stepping your first foot for adventurous treks. If briefed, it will take you to the first attraction of the route, i.e. Deoria Tal. A perfect site for camping, you will have to leave it because the time is limited and you have to finish the remaining trek, yes or no? The spot can be a perfect choice for camping and if you are having ample time, you can plan some days here. 

After Deoria Lake, you can move forward to reach Chopta and Tungnath Temples for a spiritual trip to worship Lord Shiva. Stepping forward to catch a glance of Chandrashila that literally means Moon Rock where one can relate to the spectacular beauty of a great rock lit by moon. Whichever you way, your experience of trekking in Chopta Chandrashila will be more than you can thing of forgetting in the wake of other expedition you will take in future.

Find the perfect stopovers of Chopta Chandrashila Trek briefly explained below:

Devriya Taal
The high altitude lake gives you more than one reasontoenjoy the place with family. Enjoy the panorama of Bandarpunch, Nilkantha, Yellow Tooth, Chaukhamba, Kalanag and many more. You can find many more campspeggedin the land around the lake. Extend a hand of friendship and encourageyour kids to dothe same. Flora and fauna could also become a penchant whilerollingdown the valleys.
Chopta
The meadows of Chopta are one of the many attractions onthe trek. Flowers and greenery will rejuvenate your soul starting from eyes. Shepherd population living in the area has these pastures open for their needs.

Tungnath Temple
Dedicated to Lord Shiva, the Tungnath temple also has shrinesof Lord Ganesha and Goddess Parvati. Highest of all the Shiva temples inthe world, it is not just crossed but always paid a tribute.

Chandrasila
Last, but not the least, summit of Chandrashila waits after whole physical activity. At an altitude of 4000 m, the final destination is as beautiful as it has beentold, over and over again. After Chopta, it is just 6 Km away. A smallworshipping place at the summit, the flora and fauna at this altitude bring amazingfeelings of being above the world and such feeling is what being welcomed herewhen one can also see the majestic Himalayan peaks from here.
Chopta Tungnath
Devria Tal