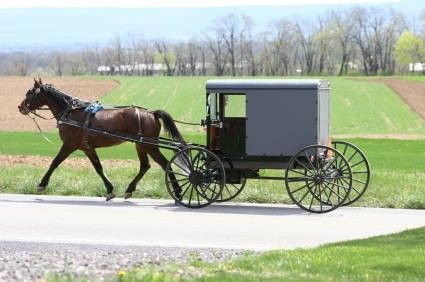 Have you seen the movie For Richer or Poorer starring Tim Allen and Kirstie Alley? An upscale couple has to run from the law and ends up hiding in Amish country where their true lives have to be disguised and they get a taste of simple, country living. What an adventure! The Amish are known for their simple life, their food, farming and their carpentry skill.This summer, consider having your own Amish getaway and get a view of another culture, another way of living. Green pastures as far as the eye can see, horse and buggies driving down the road and the sounds of new accents are just some of the things you will experience. One of the biggest benefits to an Amish vacation though, happens to be the dining options.
Amish food has long been considered a treat, with their simple, yet delicious home cooking. When you visit Amish country you will have a plethora of restaurants to choose from, each with their own Amish charm. At the Amish Village Door order a family style dinner to pass around the table; chicken, ham, roast beef or turkey served with potatoes, gravy and vegetables in bowls to share with the family, just as a real Amish family would have. And do not forget to finish off the meal with a marvelous home made seasonal fruit pie!
Dine at Der Dutchman Dutch Valley for some authentic Amish kitchen cooking. Along with delicious home cooking, each of the restaurants has a bakery located inside. Pastries, breads, cookies, cakes and pies are baked fresh daily and are definitely not to be missed.
Then of course there are the Yoders. Yes, the majority of Amish families are named Yoder, but this Mrs. Yoder is someone you will want to meet... Mrs. Yoder's Kitchen. They offer a rich breakfast buffet, which includes their prized homemade sweet rolls and mouth watering roast beef as an option for dinner.
This summer when planning your getaway, don't forget to consider a visit to Amish Country. Get a first hand experience of a different, simple way of life and eat at some of the best restaurants around.