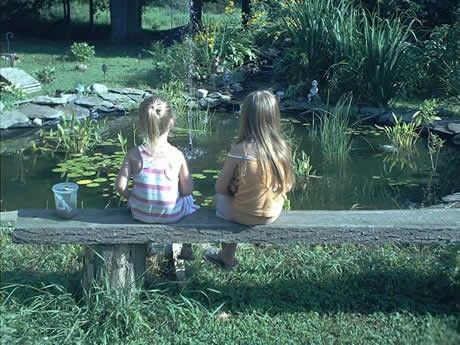 buttoncreekside.com
Need a B & B where you can take the family and enjoy some unique experiences? Button's Creekside B & B is a pretty unique place to spend some time with the family. Nestled in a farmlike setting this is a one of a kind bed and breakfast. This 20 room farmhouse has four cozy guest rooms, each decorated with their own antique style. After a good nights sleep you might even want to join in on feeding some of the many farm animals located on the property. What a fun experience for the kids!
Wake up to those "down home" smells coming from the kitchen as the staff prepares your country style breakfast hot from the oven. Everything that comes out of the kitchen is homemade and prepared with care. You can even have a glass of vineyard fresh grape juice made fresh just for you. If you want to take some of those homemade recipies home with you, there is a hands on bread baking class in the morning.
During the day you might get the opportunity to take a tractor ride, feed the sheep, or just stroll down to the creek or the fish pone located on the property and enjoy a lazy day surrounded by nature. After lunch if your interested you can join in and visit the Healing Spirits Herb Farm and Education Center, where you can learn how to make your own herbal teas, and sample some of their blends. If your a hunter and want to go after that big "buck" during hunting season, then you need to make sure that you make your reservations well in advance as the rooms fill up very quick.
You might also be interested in:
Day Trips from New York City: Getaway Ideas for the Local Traveler
buttoncreekside.com