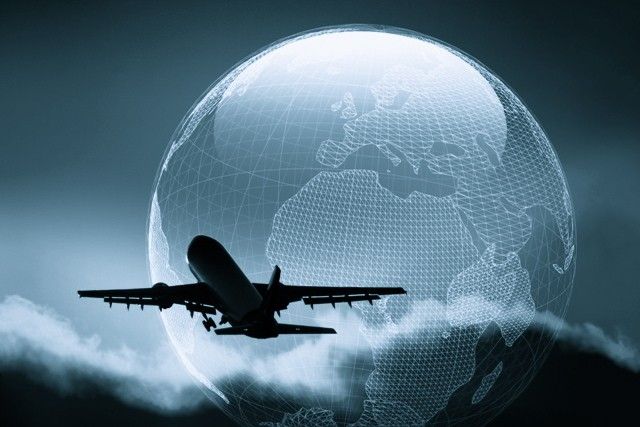 WORLD CLASS EXECUTIVE JET CHARTER SERVICES
Stratos Jet Charters executive charter service offers significant advantages to Fortune 500 companies, corporate executives and business owners of all types. Providing the dependability and flexibility demanded by today's business environment, Stratos Jets strives to give you and your business party a completely stress-free traveling experience by anticipating and responding to your in-flight requirements from takeoff to landing.
When your business party is traveling, take advantage of amenities like our completely personalized in-flight catering options, on-board meeting accommodations or high speed Wi-Fi internet. Or allow our concierge service (available 24/7/365) to take care of hotel accommodations, rental cars or luxury ground transportation, private security services, and much more for your business party.
Does your business take you around the globe as well as North America? Stratos Jet Charters has access to a network of over 15,000 aircraft worldwide, so we can always find the perfect jet at the best available pricing for any destination, domestic or international.
We have every jet aircraft option your business might need, whether that's a light corporate jet such as the Citation CJ4 or Learjet 35 for a short hop; a mid-sized or super-mid jet such as the popular Citation X or Challenger 300 for those longer trips and coast-to-coast travel; a heavy jet like the Gulfstream V for transcontinental flights; or airliners such as the Boeing Business Jet for the largest corporate traveling parties, literally conference rooms in the sky.
SUPERIOR GROUP JET CHARTER SERVICE
In the same way our corporate jet charter services can fly you and your business party anywhere in the world in comfort and luxury, our large group charter services can do the same for other larger traveling parties. It doesn't matter if you have several hundred passengers or a small group, our expert air charter agents will ensure that all your travel needs are met, and then exceeded.
We offer highly personalized travel solutions for sport teams; live entertainment professionals and musical tours; sovereigns and diplomatic/government envoys; charities and relief organizations; families of all sizes, VIPs and high-net-worth individuals; and any other groups requiring specialized group charter services.
Our group jet charter clients have access to the full range of our concierge services of course, which includes meeting other exacting travel needs such as personal security teams and bodyguards, armored cars and vehicle escorts, cargo transportation security and much more – to ensure the safety, security and privacy of you and your traveling party at all times. We are also available for other specialized needs such as critical maintenance crew travel or emergency political, natural disaster and medical group evacuations 24 hours a day/7 days a week, and always ready with as little as four hours' notice, even more immediately whenever possible.
Your executive and group charter travel, as with every flight that we charter, also has the backing of our proprietary Stratos Jet Charters Approved Vendor Program. This Program is a prestigious, invite-only organization comprised of the finest aircraft and operators in the air charter industry. Our industry-leading network of safe and highly-maintained aircraft and operators – who must also meet high standards for their corporate financial condition – must adhere to both Federal Aviation Administration regulations and the extensive safety requirements set forth by our agency for inclusion in the Program. This is just one of the benefits exclusive to Stratos Jet Charters alone that our valued clients enjoy every day.
EXPERT AIR FREIGHT & AIR CARGO CHARTER
We understand that transporting critical goods and other cargo can be complex, and you need air charter experts who can provide a seamless experience and experienced logistical support throughout your air cargo delivery process. Stratos Jets ensures that your shipments arrive on time and in just the manner your itinerary demands.
If your needs are time-critical air freight and parcel delivery, high value cargo shipping, hazardous materials transport, delivery to remote destinations, heavy and oversized goods transportation, or any other air cargo charter needs – Stratos Jets can meet your specific requirements.
NEW TOOLS TO BETTER SERVE YOUR NEEDS
From our very beginning, Stratos Jets has worked tirelessly to provide our clients with the best available aircraft, at the best available price. In support of this mission, we have developed brand new tools to help us provide you with the most relevant aircraft for your origination, destination and general positioning needs. You can now share with us your most commonly traveled routes, and we'll provide you with up-to-the-minute aircraft availability and positioning information – to help you save more hard-earned money within your travel budget when you fly with Stratos Jets. Take just a moment and update your preferred routing information with us, and we'll send you personalized, discounted one-ways that match your preferred travel itineraries.
Let Stratos Jet Charters arrange your next Executive, Group or Air Cargo Jet Charter for all destinations, domestic and international by calling one of our air charter experts today at 866 390-7195. Available 24 hours a day/ 7 days a week, we can have the perfect jet aircraft for your itinerary and at the best possible pricing ready for your traveling party or precious cargo with as little as four hours' notice.