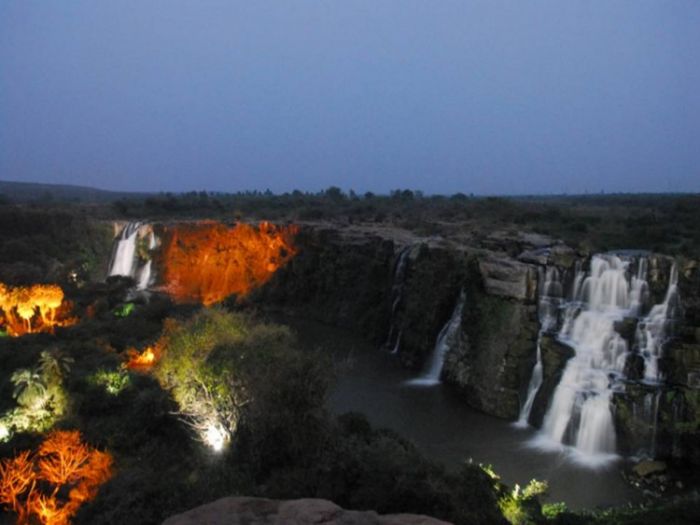 Hyderabad, the capital city of Andhra Pradesh is an amazing tourist destination in India, also known as the 'City Of Pearls'. Truly experiencing the exotic enchantment of this glorious city is like spending some time in heaven. Words are not sufficient to describe the magical charm of the land. This royal city was founded by Mohammed Quli Qutub Shah in 1589. The city of love welcomes all the travelers with hospitality and one gets adorned by its bestowed beauty. The aspiring charm of the various attractions of this romantic city brings smile to your face. Its signature journeys brings you into a royal world. Let us discuss some tourist attractions of Hyderabad that makes the city a special one.

Ethipothala Waterfalls: If you are looking forward to visit some different locations in Hyderabad, then retreat yourself in the midst of the scenic beauty of Ethipothala Waterfalls. This majestic waterfall lies in close proximity to the Nagarjunasagar Dam, approximately at a distance of 160 kms from the city. It is one of the dashing picnic spots where people love to spend their vacation. The mesmerizing sounds of water flowing, with the cool breeze blowing; kissing your cheeks giving you utmost pleasure. Adventure lovers can have a splendid time, trekking and enjoying other adventurous activities. Many wildlife sanctuaries also lies in close proximity to the waterfalls. This is an ideal place to spend an amazing time.

Ramoji Film City: A trip to Ramoji Film City is full of excitement and pleasure. Situated at a distance of about 30 kilometers from Hyderabad, this is one of the most famous landmarks to visit. Known for its glamorous studios, this film city has found its way to Guinness Book of World Records. One feels enchanted in this modern city surrounded by lush green valleys consisting of gardens, hills and lakes.

ISKCON Temple: Situated at Nampally in Hyderabad, ISKCON Temple is the most famous temples devoted to Lord Krishna. Thousands of devotees come to enshrine themselves and the temple is overcrowded during the Krishna Janamashtami festival, every year. Sri Jagannatha Baladeva- Subhadra, Sri Guara- Nitai and Sri Radha Madana Mohan are the other main deities if the temple. People come to visit this holy temple to calm their minds or to find out a true perspective of life.

Your tour to Hyderabad will remain incomplete unless a visit to these adorned landmarks blessed with ultimate joy and pleasure. Welcome to the city of love, Hyderabad.
Ramoji Film City Hyderabad
ISKCON Temple in Hyderabad