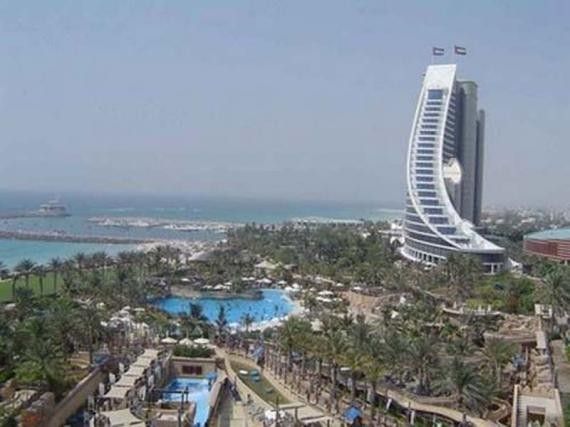 worldtourismplace.com
Dubai is considered as a city of resorts in the United Arab Emirates that offers exciting opportunities for tourists for their self entertainment. This city has an excellent beach that serves as a great amusement place. Tourists and visitors can have fun via beach activities like sailing and sunbath. The state government of Dubai and private sector has invested huge amount to develop innovative beach areas such as man-made Palm Island that has a typical look of Palm tree. Thing that makes this city a perfect destination for beach lovers is its water front resorts that allow instant access to beach and inland attractions.
Famous Beach Resorts in Dubai
There are number of luxurious hotels and beach resorts that provide unmatched services and comfort to tourists and holiday makers. Staying such beach resorts in Dubai will enable you to make your Dubai trip as luxurious as you want. You can enjoy luxury beyond your imagination.
Following are the few famous Beach resorts in Dubai.
Dubai Marine Resort Spa
Sheraton Jumeirah Beach Resort and Towers
Atlantis the Palm, Dubai
Burj Al Arab, Dubai

Dubai Marine Resort Spa
The Dubai Marine Resort is situated on the northern end of Dubai's Coastline. Private beach is just on 5 minutes walk from resort. Moreover, this resort also allows easy access to Dubai's Maritime City. You can reach their just in 5 min to enjoy boat marinas. Unique facilities of this resort include fully equipped spa that offer massage therapies and body treatments, two outdoor swimming pools, huge conference rooms for seminars and banquets, fitness gym and an outstanding restaurant located in resort that provide good quality delicious lunch and dinner. This restaurant includes Mexican-style Loca Restaurant and Thai Bistro that specialize to serve Asian fusion meals. Every guest room has private balconies, work desk and sitting area.
Sheraton Jumeirah Beach Resort and Towers
This is also one of the famous Beach resorts in Dubai situated at southern end of Dubai's Jumeirah Beach. It is just two miles away from Wild Wadi Waterpark. Guest rooms are well equipped with latest facilities like high speed internet, cable television and sitting area. Other services offered by Sheraton Jumeirah Beach Resort, include fitness centre, Armonia spa that offer massage therapy, shoe shining service and valet parking. Moreover, this resort also has a modern restaurant, Palm Garden that serves breakfast, lunch and dinner. A desk is also allocated for car rental services for guest's convenience.
Atlantis the Palm, Dubai
Atlantis the Palm, Dubai is situated on the pouter edge of Dubai's Palm Island. The major feature of this resort that excites visitors is a marine water-park that let everyone enjoying sailing and beach activities. You can also watch and observe Dolphins very closely. This is one of the most spacious beach resorts in Dubai that consist of 1,539 guest rooms that have king size beds, private terraces and satellite televisions. This resort treats its guests in exceptionally good manner. It also has a shopping center that has exclusive boutique stores, where all guests can experience real shopping pleasure. Other amenities include tennis courts and two outdoor swimming pools.
Burj Al Arab, Dubai
Burj Al Arab, Dubai is also grouped among few famous beach resorts in Dubai. It is one of the tallest beach front hotels that is more than1, 000 feet tall. It is located in the center of Dubai's Persian Gulf Coast. This resort also provides private beach area for all guests who stay here. A huge lounge area Sahn Eddar let everyone to enjoy live music and wide variety of wines. Other important features include Assawan Spa that provide excellent massage therapy and body treatments. An outdoor swimming pool, fitness center and a huge fine dining area with name Al Iwan that specifically serves Arabian cuisine. Every Guest room has separate kitchen, living room, , king size bed, dining area and whirlpool bath tubs.
Conclusion
These famous beach resorts in Dubai are best short stay accommodation in Dubai for those who are willing to enjoy a luxury and excitement of beach resorts in Dubai. These beach resorts in Dubai provide joy and fun for everyone who stays there.