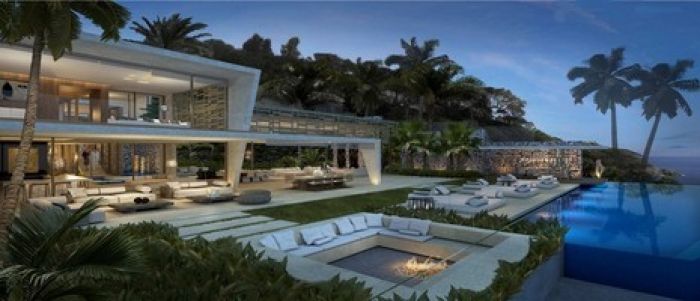 Former British tennis ace and entrepreneur David Lloyd has launched a luxury villa project in Phuket, Thailand.
Cape Sawan is a private development of just 25 ultra-luxurious villas, with six stunning house styles to choose from.
Lloyd, together with his younger brother John, were the most successful British tennis players throughout the 1970s and 1980s, with Lloyd captaining the British Davis Cup team, and becoming a leading figure in the Lawn Tennis Association before turning his attention to business.
In 1980, Lloyd founded David Lloyd Leisure, which remains the number one tennis and leisure club operator with 90 clubs in the UK, Europe and Australia and around 500,000 members.
In 2000, Lloyd developed the highly acclaimed Sugar Hill resort in Barbados where buyers included Sir Cliff Richard, film director Michael Winner and Moody Blues singer John Lodge.
Cape Sawan, situated on the coast of Phuket set amongst a stunning rugged landscape created by dynamic rock formations that challenge and excite the senses, is destined to become one of Phuket's most exclusive residential brands.
The project will offer an enticing range of premium luxury homes with each plot containing its own individual characteristics. Each villa has been individually created to sympathetically fit within each plot's specific location.
The Cape Sawan Estate will have a host of luxury leisure activities. Exclusive to the resort, Cape Sawan hosts the only floating beach on the island of Phuket. Anchored just offshore, residents will be able to cool off and swim in the sea water swimming pool or enjoy a glass of Champagne in the Jacuzzi.
Each villa will also come complete with a part share of the development's exclusive 50ft motor yacht, a beautiful vessel with a 3-berth cabin exclusively for use by the residents of Cape Sawan.
Residents will also have access to a unique private members club, which boasts a range of facilities such as a fully equipped gym, a five star restaurant, a luxurious pool and as you might expect, three superb tennis courts.
Lloyd intends to have his own home on the estate. He said: "I have found an oasis that I would like to share with friends from around the globe. I consider Cape Sawan to be one of my most exciting ventures yet. It combines ultimate lifestyles with a dynamic investment.
"It will be my home in the future. Come with me on an exciting and prosperous journey to this fantastic place called Cape Sawan."
Prices will range from around 3.5million US$ to 6.9million US$.