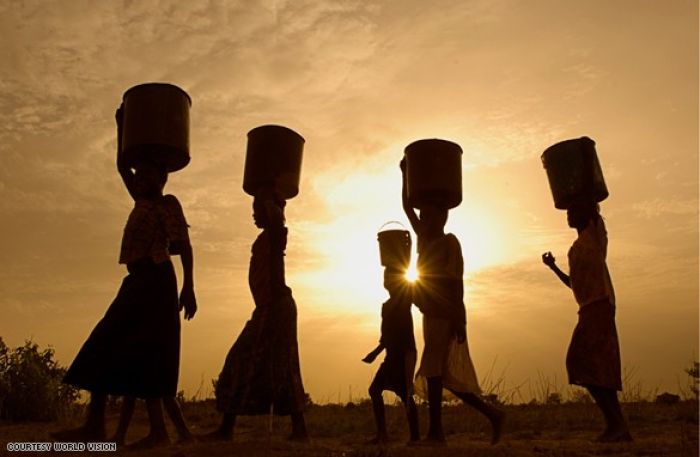 casey mcgrath
here to start, Where to start. Our first day of arriving in Takoradi, Ghana, I had three hours of dock time because in brazil I was 15 minutes late to a meeting so they took three hours of me having to stay on the boat. So this guy adam connor (a different adam than the previous one) said "hey case, wanna go to Accra?" so I said, "sure, lets do it!" and we got off the boat when my time was up. At first we walked the mile from the boat to the city of Takoradi, and we heard music. At first I thought it was the drum and dance workshop that I had missed, so we walked towards it and inside the open building. Turns out, it was a church. We walked into the Ghanaian church service and they welcomed us with open arms. We came and sat in the front row, and these women and men were all dressed up in the most amazing outfits. The women looked like they were ready to go to a disco and had the biggest easter Sunday type hats on. Massive. They were singing and dancing and we stood up and danced with the Ghanaian people. They were SO welcoming. After about 20 minutes of the service we snuck out and went towards the main city of takoradi. We ran into a mango stand and decided why not get food? So we each got mangos. We ended up covered in mango because we didn't have forks so we ate it like we were monkeys. We got to the bank and took out money to spend while we were in accra. We took a taxi to the bus station which they call a "tro tro", bought tickets, and got on a bus filled with about sixteen people for a 4.5 hour drive into accra.

I don't think Ive ever seen any country so poor. There was trash everywhere. Literally everywhere. People were begging for money, trying to sell you things and peeing in the middle of streets. The beaches were gorgeous, though. We met a man named charles on the bus ride to accra and he said he would take us through the markets, help us get a taxi and send us on our way to visit adams friend Elizabeth that is studying abroad in accra. He did just that. I have never felt so unsafe and anxious in a place before as in the inner city market place. It all reeked of urine and trash and fecal matter. There were people who would all bombard you, and you had to be so careful about them not ripping you off. Throughout this past month I have typically traveled with adam (gerber) Andrew and ben, and it was different for me to travel with adam (connor) because he is about the same size I am.. when I travel with the other boys I always feel safe because I know that they will take care of me. So this man charles takes us through the market to see the inner city and it was unbelieveable how poor the people were. He put us in a taxi, bargained to a very low price (3 cedi which is equivalent to 2 US dollars) to get us to where Andrews friend was staying. When we got to her end of the city in accra, I felt so safe. She was in a little compound with other students from NYU and there was a security guard, gates, etc. we went out to dinner with her friends from NYU and had an awesome time. We then walked and got a hotel room with two double beds and passed out from being so tired from all of the traveling. COCKROACHES WERE ON THE FLOORS. (im really becoming a world traveler..)We woke up at 10 the next morning to Elizabeth coming to the room and getting us so she could show us around accra.

We first went into the market and were bombarded once again by tons of people, all trying to sell you things. It got so annoying. It got to the point where I yelled out "CAN I JUST HAVE A MINUTE?!?! PLEASE?!?" and then they backed off and let us go through each shop because they could tell I was getting annoyed and wouldn't buy anything if I was mad. They kept saying "she is so hard to read" because I was the hardest bargainer. I got a pair of pants for 15 cedi and other people got them for 45. AWESOME!!! So we went through the entire market place. It was SO cool. They were selling everything. All kinds of carvings and so many drums! They wouldn't let us bring back the drums onto the boat, though. Something about the drum having parasites in it or something. I think its ridiculous though, they kept making up different excuses. I think it was realy because they didn't want us being distracted in our classes. So we kept going and I ran into this Ghanaian man named will. He took us to his drum shop and taught us how to play the drums and we got to play with a group of Ghanaian men. It was so much fun. We then took a taxi to a beach called la tawalla beach and had the best smoked chicken ever. It was delicious. They eat a lot of chicken and rice and have it down to a science. Another food I loved was tuna in spices and you eat it with your hands, dunking dough into the bowl.
We left la tawalla beach because I got a phone call from Andrew. It was his 21st birthday, so my best guy friends were coming to accra. It made me feel so much more safe. We met up with Andrew at a restaurant where we got dinner and heard about his travels. he went to a school where his old principal brought non profit organizations to help out with the children. A lot of them had never seen a white person before so hearing his stories were so awesome. We then walked to a hotel, where we met up with Adam (gerber), ben, and a guy named nick. They had hired a personal taxi for two days.. some man named like gubugabi or something ridiculous. He nicknamed me "toto" so I was now "toto" for the remainder of the Ghana trip. We went to a hotel and rented one room for all eight of us. The picures are hysterical. We are all like sardines in this room and I had seven personal bodyguards. We walked out to go to a club for Andrews birthday and we ran into a group of people from the ship!! There were about 15 of us now hanging out. The top of the building was a bar and the bottom was a night club, needless to say I spent so much time dancing to Ghanaian music. We all got back to the hotel and crashed from always being on the go.

The next morning, the driver took us to the main center where the Ghanaians have their celebrations. We got to see Ghanaian children practicing a dance that they are going to be performing in a few months for the city of accra. We then walked on the beach behind the center and walked back to the marketplace. I ran around asking everyone for will, and he took the boys and did a drum and dance workshop for them too and we all just got to jam out on the drums. I got to hold so many of the little children. They are so cute here!