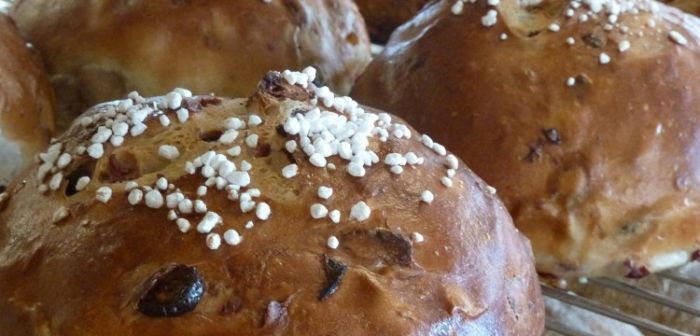 Hearth Artisan Bread
There is bread and then there is Hearth Artisan Bread.
You may not even realize you are one of the lucky ones, who has already tried this Plymouth, Mass.-based bake shop's artisan breads. After all, their hand-crafted specialties are found at some of the top restaurants in and around Boston, including Abe & Louie's on Boylston Street, Harvest in Harvard Square, Legal Harborside in the Seaport District and Paul Wahlberg's Alma Nove of Hingham, to name a few.
While the brand has a heavy wholesale base, they also have a retail bakery in Plymouth where you can go in and buy a fresh dense loaf of cranberry orange candied ginger, raisin pumpernickel rye, classic sourdough, crusty French country or four cheese. Owners Nicole and Peter Nyberg bake their signature handmade breads in one of the biggest (if not the largest) wood-fired domed Gueulard masonry hearth ovens in the state (quite the engineering feat!)
Peter had been a professional baker for more than 20 years before deciding to open the Plymouth store in 2010. The L'Academie d'Cuisine graduate received a French culinary degree and has worked all along the East Coast from Marvelous Market in Bethesda, Maryland where he created breads for Jean Louis Palladin's restaurant at the Watergate Hotel in Washington, DC to Buckhead Bread Company, part of the Buckhead Life Restaurant Group (Buckhead Diner, Chops, Atlanta Fish Market) in Atlanta.
"I think what makes us so unique is the flavor properties in our bread," he said. "Our breads are really seasoned well. We are not looking to skimp on ingredients. It is a lot of work but we love what we do."
Be sure to keep an eye out for a restaurant concept they are hoping to open in a little over a year in Plymouth. Hearth Artisan Bread is located at 123-2 Camelot Drive in Plymouth, Mass. For more information, call (774) 773-9388 or visit them online at http://www.hearthartisanbread.com. Trust us, you'll be glad you did.
Hearth Artisan Bread
Hearth Artisan Bread
Hearth Artisan Bread
Hearth Artisan Bread