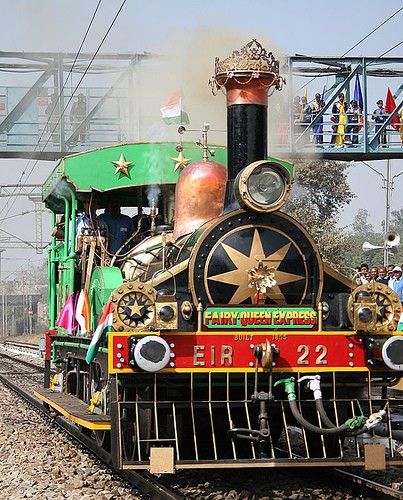 Indian Luxury Trains (ILT), India's first luxury train portal, is all set to add the Fairy Queen train, India's oldest running steam locomotive, to its portfolio. The Fairy Queen train was jolted down last year following the vandalizing & stealing of the brass parts of this locomotive. However, it made a comeback on wheels in February 2012 and ILT takes pride in adding it to its fleet of 6 luxury trains.
The brass parts of this 156 year old locomotive, which are extremely rare, were vandalized and stolen last year. At the time of this incident, this locomotive was parked in a railway shed. The brass parts of this locomotive were reconstructed at Perambur loco workshop in Chennai.
Operational between December to March, the Fairy Queen train offers 1 nights and 2 days tour package covering Delhi, Alwar and Rewari. Constructed in Leeds, England in 1855, the Fairy Queen embarked on its maiden voyage on 15th August, 1855 between Howrah and Raniganj. The train was given the number 22 by its former owner, The East Indian Railways. Later, it was relegated to line construction duty in Bihar until it was retired in 1909.
88 years later, on July 18, 1997, the steam locomotive was restored to life marking its return to the commercial service. The train embarked on its first mainline journey from New Delhi to Alwar to the Sariska Tiger Reserve with a total passenger capacity of 38 people.
About the Company:
Indian Luxury Trains (ILT) is India's first and only luxury train travel portal. A trusted resource for luxury train travel and add on tours for exclusive Indian holidays based in New Delhi, ILT offer bookings for Royal Rajasthan on Wheels, Palace on Wheels, the Golden Chariot, Deccan Odyssey, the Indian Maharaja, Maharaja's Express along with news, reviews, brochure and newsletters.
When it comes to train travel in India, we at the Indian Luxury Train, use the synergy of community, process and technology to turn the informational anarchy available at plethora of websites over internet into systematized access of information to ease the travel planning and organizing process, delivering incomparable value to our clients.
Indian Luxury Trains (ILT) is a division of Indian Holiday Private Limited®, a National Tourism Award winning company recognized by Ministry of Tourism, Government of India. You can rely on us as a trusted resource with 21 years of domain experience. We are also associated with travel bodies IATO, PATA, ASTA and IMTA.
Contact Us:
Indian Holiday Pvt. Ltd.
Rakesh Agrawal
70, L.G.F, World Trade Centre,
Barakhamba Lane New Delhi-110001
Tel: +91-11-2568 6868
Fax: +91-11-2568 7110
Mobile: +91-9717179408
Booking inquiry: query@indianluxurytrains.com
General inquiry: info@indianluxurytrains.com
Website: www.indianluxurytrains.com