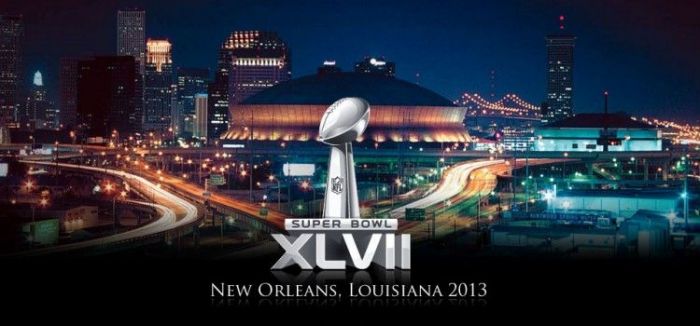 Super Bowl XLVII - San Francisco 49ers vs.
Baltimore Ravens
Superdome in New Orleans, LA
February 3, 2013
Private Jet to the Super Bowl
Super Bowl XLVII is almost here and the excitement is building, hosted this year at the Superdome in New Orleans. Those flying Private Jet Charter to the Super Bowl and everyone else lucky enough to attend will certainly enjoy all the backstories and intrigue leading to this season's game, with nothing comparing to the simple fact that brothers Jim and John Harbaugh will be facing each other on opposing sidelines on this biggest stage of them all.
Jim's San Francisco 49ers come into the game fresh on the heels of a come-from-behind 28-24 win over the Atlanta Falcons, while John's Ravens have defied the odds to beat the Colts, Broncos and Patriots in succession, and as heavy underdogs. Their 28-13 dismantling of Tom Brady's New England Patriots served notice to the 49ers that despite their underdog status in the Super Bowl, both their defense and offense are something to be respected. San Francisco comes to the big game attempting to keep their undefeated streak in the Super Bowl intact, with a record that currently stands at 5-0. No other team with more than one appearance is undefeated in the championship, though it should be noted that the Ravens won their only appearance in the 1999 season. Simply put, the game promises to thrill fans who fly private jet charter to the Super Bowl this year!
Michael Rosenberg of Sports Illustrated perhaps puts it best. "Do you realize how amazing this is? These guys shared a room together as kids,competed against each other in everything, and now they are coaching against each other in the Super Bowl." When you look at the all-Harbaugh Super Bowl in this way, the Harbowl as some are calling it (just one of many creative titles that writers have come up with), it really is quite amazing. And of course there is still plenty of time to hear all the details of this historic matchup in full! The game also features Hall of Fame-bound Ray Lewis, the vocal leader of the Raven's defense, playing the last game of his career, among other interesting twists, turns and side stories that make the Super Bowl the unique event in sports that it is.
Super Bowl Private Jet Charter
Be there in New Orleans and see history being made for yourself by flying private jet charter to the Super Bowl! Travel at the height of luxury and comfort when you fly via private jet to New Orleans with Stratos Jet Charters. Let our full-service concierge take care of all your other travel needs as well, such as arranging luxury ground transportation for you and your party, hotel and restaurant reservations, in-flight catering, and so much more.
We have access to a network of over 7,000 charter jet aircraft worldwide to always meet your precise travel needs, offering everything from the largest heavy jets for Group Jet Charters to the Super Bowl down to light and mid-sized options that can still get you to the big game economically and in style this year. We always find the perfect jet for your flight itinerary, with the most optimal positioning and always at the best possible pricing. It's part of our Stratos Jet Charters commitment to you.
When chartering a private jet to Lakefront Airport (NEW), the closest airport to the Superdome Stadium, Stratos Jets works hard to ensure that your travel with us is comfortable, convenient and safe. We travel to all destinations, both domestic and international, and look forward to serving your private jet charter needs while showing you the Stratos Jets Difference.
Call us today at 888 593-9066 and speak to an expert air charter agent available to you 24/7, who can have your plane ready to go with as little as four hours' notice!