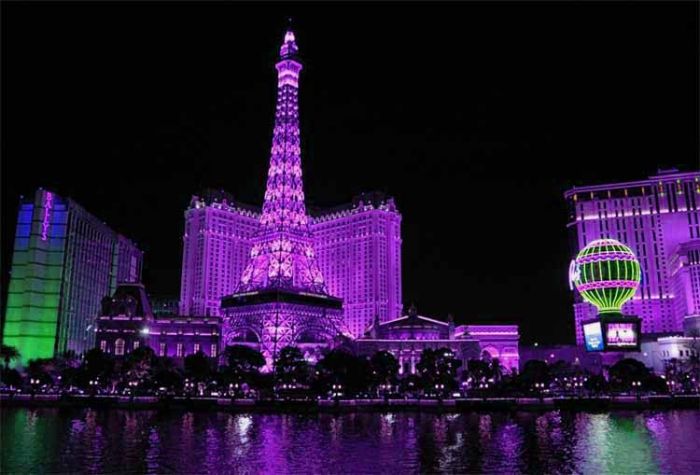 Las Vegas has many names. The original Spanish name "Las Vegas" literally translates to mean "The Meadows." As well, Las Vegas shares the nickname "the city that never sleeps" with equally famous cousins Barcelona, Paris, New York and other international meccas. "Sin City," however, is perhaps Vegas' most well known moniker to date. This brief historywill take you back before Las Vegas was more than just a simple collection of spring-fed pools and verdant meadows.
Pre-1920's Las Vegas
Prior to the 1920's, Las Vegas was better known as an excellent place to refresh supplies before traveling on to California along the Los Angeles trade route. The town also became a scene of occasional military strife, when Mexico and the newly emerging United States of America had frequent differences of opinion over the territory's rightful ownership. Mormon missionaries also added their own aura of mystery and mishap to Las Vegas, owing to founder Brigham Young's passionate vision that the area should be cultivated and settled by his followers. Despite all this, in 1905, Las Vegas became an officially inaugurated city.
Post 1920's Early Las Vegas
As the strain of the new city's earlier decision in 1910 to outlaw gaming became more noticeable, Las Vegas also experienced a rather dramatic growth spurt. Transient workers pouring into the area created an increasing demand for portable resources and ever-changing entertainment, for which the local mafia and business owners were only too happy to oblige. As soon as the city legalized gambling again in 1931, Las Vegas hotels and casinos began to spring up and other modernizations soon followed. With the addition of the first street light and paved street that same year, it seemed Las Vegas was finally starting to find its young feet.
Modern Las Vegas
After surviving two World Wars, a rise in organized crime and a period of uncomfortable atomic testing at the Nevada Test Site, Las Vegas attracted the attention of famed financier Howard Hughes. Hughes is credited to a great extent with transforming a grubby local crime-ridden casino town into the beginnings of a truly cosmopolitan mecca. Even in the midst of desegregation skirmishes and the devastating MGM Grand fire of 1980 (85 people perished in the blaze) the city continued to thrive and grow. Suburban communities began to spring up as more workers in the casino and entertainment industries moved into the area.
Sin City
Las Vegas earned each of its many nicknames honestly. The one that has stuck the longest, "Sin City," originated due to the city's long-standing tolerance for "adult" entertainment (from light burlesque to prostitution) and other pastimes that are often frowned upon in more conservative communities. Even the city's official Facebook page bears the handle "Sin City Las Vegas" – so while others may disapprove, for those who love Las Vegas, it is just another reason to visit – or stay.
From its oh-so-humble beginnings, today Las Vegas is a full-fledged international vacation destination, complete with some of the world's most luxurious, over-the-top resort accommodations.
About the Author: Scott Early is in charge of social media and publicity for one of the most famous Las Vegas hotel-resort-casinos. He loves sharing his knowledge of Las Vegas history with first-time guests.