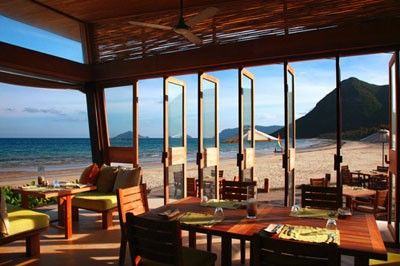 Nowadays tour companies try to catch different market segments in the tourism industry in Vietnam. Luxury tour companies are different from standard tour companies. For one thing, they are not for the holidaymaker looking for a cheap package rate. For another, they offer access to remote places, knowledge, insight and plenty of flexibility.
Equally important, if not more so, is the emphasis put on a client's style, elegance and comfort. The food, wine and accommodations (even in the middle of remote Sapa or in the Mekong Delta) are usually spectacular and unique. But then again, because the trips cost so much and the clientele has such high standards and expectations, they have to be.
Whether you are planning a golf trip in Dalat, white-water rafting in Sapa, a family vacation in Nha Trang or Danang, helicopter ridesover Halong Bay or cycling through the Mai Chau valley and mountainous areas Sapa, choosing the right company to work with can make all the difference.

Besides knowing the nicest places in the best restaurants, local guides and fine art shops or museums, these companies are also experts in alleviating the stress of travel. Everything is done for you. No hassles await you at borders, no unknown visas are required at the last minute, no dinner reservations go unmade, and no one has to worry about getting his laundry washed.
If you choose to have a representative from the company (whether called a guide, escort or tour director) accompany you on your trip, you will invariably find yourself in the hands of an extremely friendly, knowledgeable individual whose sole purpose in life is to make your trip the best possible.

"This is also smart business. In the world of high-end travel, word of mouth is extremely important. Few companies have the budget to advertise heavily and rely largely upon word of mouth to generate customers. If a client comes back from Vietnam raving about our luxury tour, he will be much more likely to sign up with the same company for a future trip-as well as to recommend it to his fellow friends." said David Nguyen, sales and marketing manager of Luxury Travel Ltd, Vietnam's first luxury tour operator.

Booking an organized trip eliminates the hassle of planning, and since prices are broken down upfront, clients know exactly how much they will be spending. Of course, potential travelers need to read the fine print, as some tours only cover the cost of hotels and certain meals, while some excursions, entertainment and transfers may be extra.

"Today's luxury travelers want to be entertained and stimulated, rather than simply pampered. They seek action and simplicity. They also want off the beaten path experiences, crave efficient and seamless travel, value for their money and a return on travel investment in a post credit crunch environment. More families of multi-generations travel together, and they like fun, shorter trips, mixed with the exotic, a bit of adventure. They are interested in local culture and authentic experiences. Our travel programs are designed to catch this trend. We expect 30 percent growth in 2013." said Pham Ha, Founder and CEO of Luxury Travel Ltd.

Some people fear that a pre-planned trip can eliminate the sense of discovery from travel, which is a valid point. Choosing whether to go on a tour or not depends on what kind of traveler you are, but the upscale companies are building flexibility into the itineraries.
Most companies offer "private escorted tours" as well as bespoke ones, so clients can choose how much guidance and support they want. Some only create custom-made itineraries, which are ideal for a group of friends or a family traveling together.

Flexibility is extremely important to most luxury tour clients. While some people prefer to follow a set itinerary, others may want to stray a bit. After all, these are usually highly successful people who haven't gotten where they are by following the crowd.
There is also plenty of flexibility for all tours. Travelers are free to request helicopter tours, cycling excursions to craft villages, scuba diving or snorkeling trips, reservations at the finest restaurants in the land, meetings with renowned artists, chefs and designers, shopping recommendations, spa reservations, tours with special-interest lecturers, and exclusive access to local activities and cultural events.
Each day, tours are designed with flexibility to suit travelers' personal interest, schedule and energy level.
"The best companies will be happy to accommodate you. Want to climb Mt. Fansipan but then maybe add on a week-long beach vacation afterwards in Six Senses Ninh Van Bay Nha Trang? No problem. You're the customer. We want your trip to be everything you want it to be!." Comments Pham Ha,