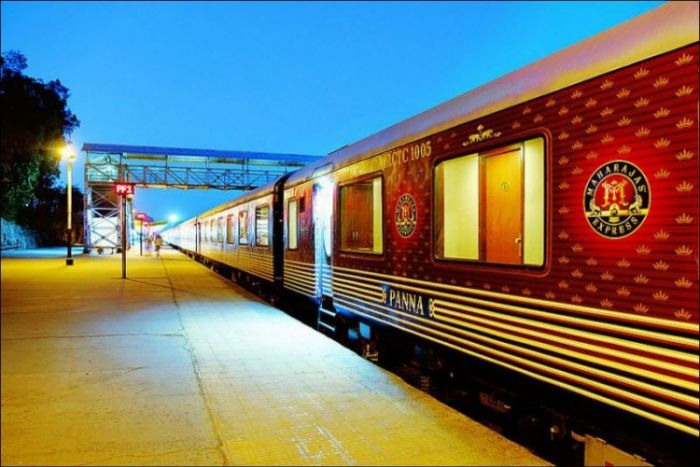 Indian Railways Catering and Tourism Corporation's premier luxury train service, the Maharaja Express is all set to start on its first Gems of India journey tomorrow, i.e. 17 October 2012. The train will depart tomorrow night from the Safdarjung Railway Station. Every year, the Maharaja Express attracts thousands of visitors to its majestic interiors and world class on-board services. There are still some seats available for the inaugural run while the journeys around Christmas and New Year's Eve are almost sold out.

The Gems of India journey is 3 night, 4 day tour and is essentially a shortened version of Maharajas Express' longer itineraries and shows its guests around the Golden Triangle of India – The Delhi, Jaipur and Agra corridor. The Gems of India itinerary makes the most of the limited time and includes an exhibition Polo match, a trip to the Taj and a wildlife excursion to Ranthambore National Park as the highlights. The train has also won lavish praises due to its special provisions for accommodating handicapped guests. The next two journeys are scheduled on November 13 and December 12 this year, after which there are five more departures planned for rest of the season next year.
About the Company :
Indian Luxury Trains (ILT) is a trusted resource for luxury train travel and add on tours for exclusive Indian holidays based in New Delhi, ILT offer bookings for Royal Rajasthan on Wheels, Palace on Wheels, the Golden Chariot, Deccan Odyssey, the Indian Maharaja, Maharaja's Express along with news, reviews, brochure and newsletters.

Indian Luxury Trains (ILT) is a division of Indian Holiday Private Limited®, a National Tourism Award winning company recognized by Ministry of Tourism, Government of India. You can rely on us as a trusted resource with 22 years of domain experience in inbound tours to India. We are also associated with travel bodies IATO, PATA, ASTA and IMTA.

Contact Us:
Indian Luxury Trains
Rakesh Agrawal
70, L.G.F, World Trade Centre,
Barakhamba Lane New Delhi-110001
Tel: +91-11-2568 6868
Fax: +91-11-2568 7110
Mobile:+91-9717179408
Booking inquiry: query@indianluxurytrains.com
General inquiry: info@indianluxurytrains.com
Website: www.indianluxurytrains.com